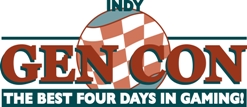 GenCon 2012, the best four days in gaming begins on August 16. That's only 19 days from today. This year I'll be making the 9 hour road trip from Toronto to Indianapolis with Marc Talbot (aka Alton from 20ft Radius). This will be my fifth consecutive year at GenCon but it's his first. I'm expecting this year to be my best GenCon yet and I've got a wide variety of events scheduled. Of course some of the best parts of any con are the things that aren't scheduled ahead of time so I've made sure to leave plenty of gaps in my itinerary.
Dungeons & Dragons
Many people feel that when they go to a gaming convention they should avoid playing anything that they can just as easily play at home. There is certainly logic to this rationale, but I like to think that if you really enjoy playing one particular game (in my case D&D) then you should try to get at least a few games in while at GenCon. After all this is my vacation and I want to have fun. It's also important to note that gaming is not just about the game itself. Meeting other people who enjoy the same games you do is a big part of the con.
This year I've got a lot of D&D in my schedule (shocking, I know), but most of it is not something I could just play at home. I've got two LFR convention specials lined up, the D&D Open Tournament, Fourthcore Team Deathmatch, and the Drow adventure West Wall.
As this is the Year of the Drow for Wizards of the Coast I'm expecting that all the new adventures will feature Drow in one way or another. As anyone who reads Dungeon's Master regularly knows I'm a huge fan of all things Drow so this is going to be a good con for me.
Living Forgotten Realms
Every year I've been to GenCon I've played LFR. The character I created at my very first GenCon has made appearances at every GenCon since. He's high paragon now so I don't know if I'll have the opportunity to play him again this year. Last year there were almost no other players running PCs above level 14 which made playing my level 18 character impossible. As he's level 20 now he'll only get to see action if a few other hard-core LFR players bring their highest paragon level PCs. Here's hoping.
Last year there was a very poor showing for the LFR games I played in. I don't know if people were bored with LFR, bored with 4e, or just had better things to do. I suspect that this will be the last year we'll have LFR in its current incarnation at GenCon so I really want to get in a few more good games with the characters I've worked so hard to develop. Here are the LFR adventures I've signed up for this year.
Thursday, August 16
8:00 a.m.
RPGA1235194
SPEC4-5 – Rising Darkness (level 1-10)
Friday, August 17
7:00 p.m.
RPGA1235209
SPEC4-6 – Raging Darkness (level 11-20)
Saturday, August 18
7:00 p.m.
RPGA1235166
WATE4-3 – The Devil's Denouement (level 1-10)
Although I have a ticket for this slot I fully expect to blow this one-off. It conflicts with the finals of the Fourthcore Team Deathmatch (my first priority) and the Ticket to Ride finals (my second priority). It also falls on the final night of GenCon which is often the best night to socialize and get rip-roaring drunk. If all of that falls through I have this ticket in reserve, just in case. I like to be prepared.
I'm assuming that this adventure will be run much like the convention delves of previous cons. Regardless I'm really looking forward to playing in this 2-hour adventure where you get to play the evil Drow attacking the good heroes. If it's set up like delves from previous years then there is value in playing it more than once, often with different adventure objective, new maps, and a chance to develop and advance your character. With this in mind I've signed up to play this four times over the course of the con. If I enjoy it I'll try to play all four slots, if not I'm sure I can find something else to do during those times (like play board games)
Fourthcore Team Deathmatch (FTDM)
Saturday, August 18
10:00 a.m.
RPG1232043
Fourthcore Team Deathmatch, Entry Round
I must admit that the Fourthcore Team Deathmatch is one of the events I'm most looking forward to this year. I had the good fortune to play in two practice tournaments this summer and I've run a couple of the maps with my home group. If you're not familiar with FTDM then I encourage you to check out the article I wrote after my first tournament, When PCs Fight Each Other – Fourthcore Team Deathmatch.
Joining me on Team Moose Hockey Maple Syrup Eh? are Marc (my GenCon travelling companion) and Dan. Dan is friends with the guys who are running the event and has played in a few other FTDM sessions himself, so we certainly have experience on our side. The three of us even played as a team in one of the practice tournaments and have been fine-tuning our line-up based on what worked and what didn't. Rumour has it we're the favourites. We're still looking to fill the fourth seat on our team so if you're free for this slot and want to participate email me and we'll see what we can do.
2012 D&D Championship
At my first GenCon I played in this tournament and went all the way to the finals. I haven't made it back since, but it's certainly not for lack of trying. This year each party will consist of five 22nd-level pre-generated characters in a race against the clock in the Drow city Undrek'Thoz. Wizards promises to provide more details on their website, including characters, approximately two weeks before the event.
Thursday, August 16
7:00 p.m.
RPGA1235296
D&D Championship: Trial by Shadow
True Dungeon
Every year I hear about how great True Dungeon is from everyone who does it. I finally broke down and bought tickets this year. I'm not a fan of LARPing but I hold out hope that this is worth the price of admission. I know Marc is really looking forward to this so I agreed to do it since this is his first GenCon.
Friday, August 17
2:37 p.m.
TDA1235866
True Dungeon: Draco-Lich Undone
Board Games
My love of board games has increased tenfold over the past few years. In addition to having regular RPG nights I've finally managed to convince my wife and social peers that we should have a regular board game night. It's been a tremendous success and has fueled my love of board games even more. That being said I've left plenty of open space on my GenCon schedule to play games in the board game hall. I do have a couple of scheduled events (see below) but I'm most looking forward to just trying out a bunch of new games, especially the new Starr Trek Settlers of Catan (yes, I'm that big of a nerd).
Thursday, August 16
2:00 p.m.
BGM1230419
Ticket to Ride: USA, Tournament Qualifier
Friday, August 17
5:00 p.m.
BGM1231094
Zombiegeddon
Seminars
Every year I sit in on a few seminars and let me tell you they're usually pretty awesome. This year I've only signed up for two so far but I'm sure I'll drop in on a few more. If you've got any recommendations please leave me a comment below.
Saturday, August 18
1:00 p.m.
SEM1233074
D&D Next: Creating the Core
3:00 p.m.
SEM1233075
The Future Look of D&D
This is the famous preview seminar where the folks at Wizards unveil their plans for the following year. The expectation is that they'll announce the official release of D&D Next for GenCon 2013, which won't come as a surprise to anyone. I'm actually more interested in hearing what else is one tap, specifically regarding the public play programs like D&D Encounters and Lair Assault. This is the first time in the past three years that Wizards has not had a separate public play seminar so I hope they're not pulling the plug when they switch over to D&D Next. We'll see in a few short weeks.
I should also mention that although seminar tickets are free and they don't even bother asking to collect your tickets at most seminars, this one is so popular that they're always booked to capacity and then some. Last year a lot of people were pretty ticked off when they asked everyone without tickets to leave while those with tickets funneled into the auditorium. I learned my lesson and actually got a hard ticket this year (my first time ever) to ensure I get in and get a good seat.
The Future of Dungeons & Dragons Keynote Address
Wizards of the Coast announced that they would host the first-ever GenCon keynote address on Thursday, August 16 at 7:00 p.m. They promise an unprecedented look into the future of Dungeons & Dragons, including the evolution of the game, the re-birth of a fantasy setting and the next generation of art. As much as I'd love to attend this I've already got another event scheduled for that time slot, and unfortunately it's not something that I can easily change. It's too bad this was announced so far after event registration began (like months after).
A part of me suspects that this keynote address was added to the con as a way to push the D&D Next play-testing. I'm speculating here, and I admit that I might be WAY off base but hear me out. What if there Wizards looked at the advanced registration for their D&D Next events and realized that there was less enthusiasm than they expected? Perhaps in response they decided to bring out the cheerleaders and hype the next new thing and encourage people to go and play while at GenCon. After all how embarrassing would it be if they have a whole room dedicated to D&D Next and it was never full? What do you think; am I crazy or does this sound plausible?
For the record I'm not bashing D&D Next or Wizards, I'm just a bit annoyed at the late addition of what's being touted as such an important address. What I've seen so far of D&D Next has excited me and I am looking forward to seeing where it goes from here. However, I'm not planning to do any D&D Next events while I'm at GenCon because I'm doing plenty of play-testing at home. I'm just saying.
Social Media
I have finally joined the 21st century and bought a Smartphone. I'm planning to provide regular updates, including pictures, throughout GenCon so be sure to follow me on Twitter (@ameron_dm). I just opened the account so bear with me as I struggle to get the hang of it between now and GenCon.
Don't forget that meeting new people is one of the most important parts of any con, so be sure to introduce yourself to as many fellow gamers as possible. If you can find me, be sure to say hello. I'll be handing out Dungeon's Master business cards to everyone so that should make it easier to separate me from the crowd.
What are your plans for GenCon? Do we have any games together? Would you like to join my FTDM or D&D Championship team? What new games or seminars would you recommend?

Looking for instant updates? Subscribe to the Dungeon's Master feed!