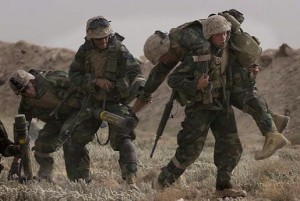 Pop quiz: Your ally just took massive damage and fell unconscious, what do you do? If you're the leader this is an easy one; use one of your healing powers and revive your fallen comrade. If you're any other role your answer had better not be leave him for the leader. When a PC falls during combat it's everyone's responsibility to bring him back into the fight – not just the leader. Admittedly the leader is usually the one that can revive unconscious PCs easiest and fastest, but you're part of a party, a team, and everyone should look out for one another. Don't shrug your obligation to your teammates and let a dying ally make death save after death save while you keep fighting.
Now I know there will be times when it might make more sense for the striker to keep attacking or for the defender to just keep the bad guy locked down, especially if either of them has an incredibly low Heal check, but these should be the exceptions. Regardless of circumstance unconscious PCs should not be forgotten or ignored. Dismissing your dying ally is the same as leaving him behind.
When combat rages on and a PCs falls unconscious the DM will generally leave the PC alone and move on to targets that still pose a threat. Only in rare circumstances should the monster keep hitting fallen PCs until they're dead-dead (negative bloodied). But just because the monsters have stopped attacking your buddy doesn't mean he's safe. After all as long as he's not dead-dead he can still be targeted by blasts, bursts and other area of effect attacks, not to mention really nasty monsters that have no qualms about making sure that PC never wakes up. Yet a lot of players treat unconscious PCs as nothing more than furniture or dungeon dressing. Just because a PC is down doesn't mean he's out of the fight.
Every character can try to revive an adjacent ally with a successful Heal check. Yes it does take a standard action (something most players are reluctant to give up for a non-attack action), but it's still better than nothing. Nobody wants to be the guy with an unconscious character so help each other. Every character will be the guys bleeding out at some point in their adventuring career so set precedent early in the campaign and demonstrate teamwork. Help the fallen! Revive unconscious allies as quickly as possible.
In a recent adventure a PC fell and before the heroes could help him the monsters forced the party back. Now the enemies stood between the party and the unconscious ally. The party made no effort to get their fallen comrade. The attitude was "We'll get him when the fight's over." The fight took seven more rounds. Fortunately the player rolled a series of amazing death saves and didn't get a single strike, but that's not the point. Had his dice run cold, the PC would have died before the encounter was over. The PCs on their feet left him to die. Of course, had he failed a couple of death saves they might have taken different tactics and tried to get to him earlier, but should that matter? Should a fallen characters with hot dice who doesn't fail any death saves just be left behind? Do PCs with cold dice that fail their death saves deserve more immediate attention?
I guess this is one of those fine lines when doing the right thing in-character isn't necessarily the best thing out-of-character. In the example above the only way one of the conscious PCs could get adjacent to their fallen ally would be to provoke an opportunity attack as they moved around a monster. Sure it was possible that if that opportunity attack connected the result could be another unconscious PC (extremely unlikely, but certainly possible), and this is why the players didn't take actions to move their PCs over to their comrade and aid him. Their meta-knowledge of how the game mechanics work stopped them from having their characters, in-game, risk their lives to help the man down. I understand why they might have made these choices but I think that in some situations you have to do what's best in-character regardless of risks. Helping your allies should be at the top of that list.
How important do you think it is for PCs to help their fallen allies during combat? Do you take risks, in-character, such as provoking opportunity attacks to help fallen allies? Do you think helping the fallen should be exclusively the leader's responsibility? Where do you draw the line when deciding who's going to help and who will keep on fighting? Does the PC's Heal check factor into your decisions making? Would you ever leave a man behind?
Related reading:

Looking for instant updates? Subscribe to the Dungeon's Master feed!