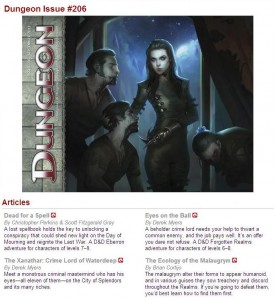 I've always said that writing for this blog is a lobour of love. It is its own reward. While that is indeed true, in the back of my mind I've always secretly hoped that it would give me the experience and exposure needed to write for Wizards of the Coast. Well, that dream is becoming a reality in September as Wizards will be publishing two of my submissions.
Way back in April 2011 Wizards reached out to a wide field of up-and-coming writers asking if they'd be interested in contributing to Dragon Magazine or Dungeon Magazine. Many of these would-be authors, myself included, had no professional writing experience aside from what we posted on our gaming blogs. Needless to say I jumped at the chance to contribute to the D&D cannon.
The Table of Contents for Dungeon #206 (September 2012) is now live on the Wizards of the Coast website. I don't know when in September my articles will be live, but when they are I'll let everyone know.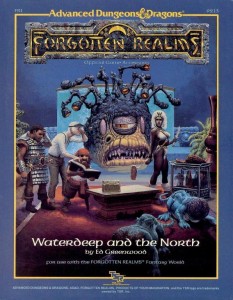 In my article "The Xanathar: Crime Lord of Waterdeep" I got to reinvent the famous Beholder, his most senior lieutenants, and some of the inner workings of his secret organization. When I was in high school I played many adventures in Waterdeep and The Xanathar was a big part of my most memorable campaigns. I drew on many of these experiences to create something I hope you'll find interesting and useful for your campaign.
In the adventure "Eyes on the Ball" I was asked to come up with a situation where a group of adventurers would willingly aid The Xanathar and his organization. The old adage my enemy's enemy is my friend immediately came to mind. In this heroic tier adventure The Xanathar extends a temporary hand of friendship to the heroes (along with generous payment) if they'll help him rid Waterdeep of an even greater evil than a Beholder crime lord.
I've got to admit that it's very exciting to see these articles on the Dungeon ToC and know that they're finally coming out. After they're live I'll share some of the behind the scenes work that went into creating them included early character designs, rough maps and other tidbits that ended up on the cutting room floor.

Looking for instant updates? Subscribe to the Dungeon's Master feed!