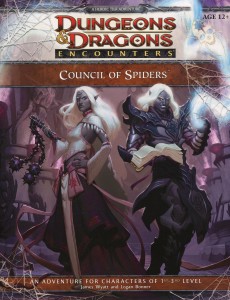 The end is near; at least the end of this season of D&D Encounters. This week marked the finale of the Council of Spiders. The party was looking for Valan Jaelre, the instigator of the recent unrest in Menzoberranzan and possibly one of the leaders of the Council of Spiders. Valan's defeat (and death) could quash many fires, especially if he revealed who else he was working with. The PCs were in the right place at the right time, but the task ahead was going to be difficult.
Last week the PCs ventured through the slums of Menzoberranzan to find Valan's hideout. They had an unexpected encounter with a Priestess of House Melarn who was apparently one of Valan's partners. The PCs defeated the rogue Priestess and her entourage before heading down a staircase and into Valan's lair.
Unfortunately we had a very poor turnout for our grand finale. The level 3 table had a DM and three players, and my level 6 table had a DM and three players. Yet another example of why everyone in the FLGS should play the same level characters and not let some group play up. Rather than combine for a table of six or seven, we had to run two tables of three. My group had a Drow Rogue/Blackguard (f), Drow Druid (m), and Drow Wizard Bladesinger (f) all of whom were affiliated with Bregan D'aerthe.
As the PCs reached the bottom of the staircase they realized they were in a catacombs or some kind of forgotten shrine to Lolth. Around them were the bones of long-dead Drow now covered with dust and spider webs. From a nearby altar to Lolth a cloud of brown smoke appeared. From the haze the PCs could feel the malevolence and power oozing from it. This was a Yochlol Demon, a handmaiden of Lolth. For one to appear in this way and in this place was unheard of. This was either a sign of Lolth favour or her severe displeasure.
The Yochlol spoke to the PCs telepathically. "Prove yourselves to the Goddess, mortals! How do you obey the Spider Queen's will?" it asked. Each character had the opportunity to respond telepathically. The right answers would earn them a boon; the wrong answers Lolth's bane.
This was a really interesting way to give the players a chance to do some role-playing. Because the answers were happening simultaneously and in secret, there was no fear of reprisal from the other PCs. In the case of my party they all agreed on a common course of action during week 6, but when asked to explain why they were here and how they planned to act, they all had different ideas of what was best for them and for Lolth.
The Blackguard supported the Council of Spiders only because Lolth demanded it (no boon or bane), the Bladesinger supported the Way of Lolth but opposed the Council of Spiders (boon +1 to attack rolls), and the Druid just wanted the Demon Weave created (boon +2 to saves).
Once the handmaiden completed its test it vanished and Valan's allies attacked the PCs. Initially the PCs held back at the first level, trying to gain cover and draw Valan's forces upstairs. The Druid and Bladesinger dropped a couple of zones on the stairs trapping the Hex Knights. Valan quickly moved in and dropped his burst 2 Webbed Miasma, engulfing the whole party (all three of them).
While trapped in the web one of the Spellspinners managed to use his blast 5 Shadow Web on the webbed PCs making their lives even more difficult. The players realized that they needed to get out of the shooting gallery and down to the next level. The Druid used two summoning powers in two consecutive rounds to beef up the party's numbers and provide the PCs with cover while they maneuvered through the difficult terrain.
The Bone Spiders made the simple task of getting downstairs more difficult than it should have been, but a Magic Missile and shuriken eventually took them out and cleared a path.
The Hex Knights, still trapped on the stairs, when toe-to-toe with the summoned creatures and the Bladesinger but didn't last for very long despite their really good defenses.
While the party faced the Hex Knights and the first Spellspinner on the stairs, Valan and the other Spellspinner carefully stayed out of charging range and fired into the melee. The Bladesinger was the first PC to fall unconscious, but the Druid had her back on his feet in no time.
Damaging conditions were the real enemy in this fight. The monsters weren't hitting all that often but the ongoing necrotic, ongoing psychic, ongoing poison and slowed effect quickly took their tool. The PCs just couldn't shake the effects on the first round so most of the time each effect did 5 damage for two rounds before it was shrugged off.
When Valan realized who the PCs were (his Simulacrum fought them last season) he recognized that he could be in real danger if he stayed and fought. Just as he was about to run, the Bladesinger dazed him. On each subsequent round the Druid managed to hamper Valan's movement but knocking him prone or slowing him. Valan had the Spellspinner run interference and try to draw fire for a round but it didn't work.
The PCs were determined to stop Valan from escaping. They faced him twice last season and in both cases he got the better of them. Although they knew if they let him flee they'd all live, they were willing to give their own lives if it meant stopping Valan. With two summoned creatures and three PCs against one opponent it was still a remarkably balanced fight. Valan had gone pretty much unscathed the whole fight while the PCs were all well below their bloodied value.
Good tactics by the Druid continued hampering Valan, effectively stopping him from getting a full move action. The party slowly chipped away at his remaining hit points while he kept try to flee. When he realized he wasn't likely to get away he changed his tactics and focusing fire on the most wounded PC. However, by then it was too late. Even when he hit the PCs he wasn't able to drop them. Between healing potions and second wind they all remained on their feet and eventually beat Valan senseless.
The party's desire for revenge outweighed any immediate need to kill Valan. They interrogated him before causing him a slow and painful death. (Although this is not something I usually allow in my game, I thought it fitting given the history of these PCs and Valan.)
They learned that Valan was supposed to meet with Gromph Baenre, the Archmage of Menzoberranzan. They were not able to conclusively confirm that Gromph was a member of the Council of Spiders, but his willingness to meet them spoke volumes. They also found a coded letter that proved Valan was taking orders from a senior member of House Nuryndin, the 48th house of Menzoberranzan. Among Valan's belongings they also found the Spellfire Manacle. This was an item blessed by Mystra which contains the power of Spellfire.
Valan's defeated was a big step towards averting a Drow civil war. After the PCs report what happened and provide the proof they discovered, the Council of Spiders agreed to align with Lolth's will and the fighting over the creation of the Demon Weave simmered down. The Drow put aside petty rivalries for now and focused on the greater tasks that Lolth has in store for them. (See D&D Encounters: War of Everlasting Darkness – Preview.)
I really liked this final encounter. I thought it made great use of the environment and terrain. The fact that the combat didn't just take place in one big open area (like last week) was a huge plus. It let the PCs and villains use tactics to make the combat a lot more interesting. The hazardous webs with biting spiders gave anyone with forced movement powers additional options when they hit, something we haven't see that much of this season.
This encounter reminded me a lot of an encounter from last season's Web of the Spider Queen in which the PCs began at the top of a crypt and had to fight while they descended the stairs and rounded corners. This encounter was also good because the PCs had a very clear objective: find and kill Valan. It was simple but effective.
My only complaint about this encounter was that it didn't really seem to provide a satisfying conclusion to the adventure. There was only a short paragraph that basically said "good job, crisis averted." I really would have liked to see more detail provided, if only to close the story loop more completely.
Next week I'll post my Council of Spiders Report Card in which I take a look at the season as a whole. But for now I want to know what you thought of the final encounter. Did you find it too difficult or too easy? Did anyone suffer a TPK? Did anyone else feel that the ending seemed flat – almost like something was missing? Did any DMs have Valan flee? What did the PCs do in that situation?
Recounting Encounters Podcast
Each week I record a podcast with Marc Talbot (Alton) from 20ft Radius in which we recount that week's experiences with D&D Encounters. We share the highlights from our respective FLGS and we talk about what worked, what didn't and what we might have done differently.
Actual Play Podcasts
We continue to record our D&D Encounters sessions and make them available to you for download every week. These recordings are made in a loud, crowded game store so at times it may be difficult to hear everyone. Some language may be inappropriate for all ages, although we try to keep it as family-friendly as possible.

Actual Play Podcast at Harry T North (Week 8)
Play Now
|
Play in Popup
|
Download

Actual Play Podcast at Dueling Grounds (Week 8)
Play Now
|
Play in Popup
|
Download
Visit the Dungeon's Master D&D Encounters Archive for all of our ongoing weekly coverage as well as other great D&D Encounters articles and resources.

Looking for instant updates? Subscribe to the Dungeon's Master feed!