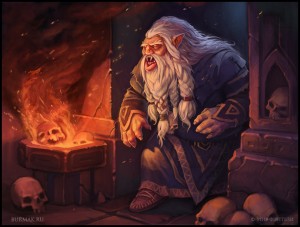 When the DM describes zombies, skeletons or any other undead that attacks the party, how often does he mention what race the creature was in life? How often do you even think to ask?
As a player when I hear "skeleton" I always assume it's a Human skeleton. I never ask if it was originally any other race. The same goes for zombies, mummies, and ghouls. I always just assume that it was human and now it's undead. Even the description in the Monster Manual and online compendium just classifies these monsters as medium undead. But in a fantasy setting there's no reason to assume that every undead you face was once Human. With so many other races represented in the world why wouldn't some undead creatures have once been a race other than Human?
This might seem like a really small detail, but it can really change the way an encounter plays out. Not to mention it can drastically change the mood of the encounter. Think about it, how much more terrifying would a skeletal army be if they were once Minotaurs? What about a zombie horde full of animated Dragonborn corpses? What about Halfling mummies? Or Pixie ghouls? It only takes the DM a few minutes to identify what race the creature was before it became undead yet it can drastically alter how the players perceive the encounter. Where they might rush haphazardly into a group of "normal" skeletons, they may now rethink their tactic once they realize that these undead are special.
Adding the detail of race to undead is a good first step but why limit it to cosmetic changes? Why not take things a step further. What if the Dragonborn zombies could still use their Dragonbreath? What if the Elf skeletons could use their Elven Accuracy? How about a Gnome ghost that could Fade Away? Or a Goliath vampire with Stone's Endurance?
When PCs face off against monsters that are normal living version of the playable races, the bad guys can use their racial abilities against the PCs. Drow opponents can use their Cloud of Darkness, Eladrin can use Fey Step, and Halflings still get their Second Chance. So the question is whether or not the undead versions of these creatures retain these powers.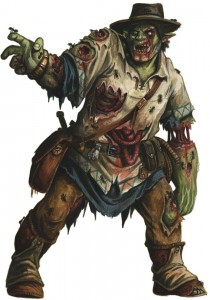 This is really something that each DM will need to decide on for himself, but I for one think it's a great idea. Changing normal Human skeletons into Half-Orc skeletons would let them deal additional damage by tacking on their Furious Assault. When PCs see the zombie Dragonborn using Dragonbreath against them they'll immediately know that these are not typical undead.
Obviously some races have powers that are potentially more deadly than others against the PCs. A teleporting Eladrin mummy doesn't seem as dangerous as an Elvin mummy that can roll twice to hit you with Mummy Rot. I'd gladly face off against a Drow skeleton that could use Cloud of Darkness before I'd want to fight a Dragonborn skeleton that could attack me with Dragonbreath.
If DMs decide to give undead access to the racial powers they had in life, they need to take that into consideration when gauging the monster's power level. I don't think giving them a racial power will always be enough to consider the monsters one or more levels higher, but in some cases it might.
Even though D&D is a fantasy game, there should still be some realism when it comes to undead. Some racial powers obviously won't work in tandem with some kinds of undead. For example, I don't think a Dragonborn skeleton could produce Dragonbreath, nor do I think that a slow, lumbering Halfling zombie should get their Second Chance which is essentially a dodge power. That's not to say that you could never have these combinations of races and undead, but I think the DM needs to give some thought as to how and why this is possible before just saying it works. A creative DM could argue that all undead Dragonbreath is necrotic regardless of what it was when the creature was alive. The necrotic energy could come form their undead essence and therefore allow even a Dragonborn skeleton to have some kind of Dragonbreath.
The intent of giving undead racial powers is not to decimate adventuring parties (although I'm sure that is a possibility); rather it's to serve as a reminder that in the D&D worlds not all undead creatures were Human in life. By giving the DM the option to add racial powers to undead monsters they have to first consider what race that monster was in life. By adding this seemingly small detail to the encounter it adds flavour to what might have otherwise been a boring run-of-the-mill encounter. I guarantee the first time the players see undead using racial powers they'll take note and the encounter will be something that they talk about for a long time.
How often are the original races of undead in your adventures described? Have you ever played in an adventure where an undead that was not originally Human use their racial powers against the PCs? Do you think that giving undead access to their racial abilities makes them too powerful, even if the DM bumps their level up to compensate for the power gain? How likely are you to try this if you haven't done so in the past?
Related reading:

Looking for instant updates? Subscribe to the Dungeon's Master feed!