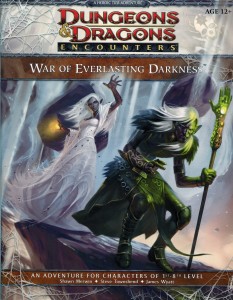 Today Dungeon's Master and 20ft Radius are proud to present a special episode of our podcast, Recounting Encounters. In this episode we talk to Shawn Merwin, one of the authors of this season's adventure War of Everlasting Darkness.
Shawn is a freelance writer and game designer with a long list of impressive gaming credits to his name. His writing credits for Wizards of the Coast include Dungeon Delve, Assault on Nightwyrm Fortress, and Halls of Undermountain. He's also been a very active member of the D&D public-play community having written for Living Greyhawk (LG) and Living Forgotten Realms (LFR) before taking on this season of D&D Encounters.
Marc and I ask Shawn about working for Wizards, being part of a collaborative design team on War of Everlasting Darkness, this season's changes to the D&D Encounters format and of course what's in store for Shawn and D&D Encounters in the future. Whether you're the DM or a player this season, you'll find this interview interesting and valuable.
Follow Shawn Merwin on Twitter @shawnmerwin.
Recounting Encounters is a weekly podcast I record with Marc Talbot (Alton) from 20ft Radius in which we recount that week's experiences with D&D Encounters. We share the highlights from our respective FLGS and we talk about what worked, what didn't and what we might have done differently. Find all episodes of Recounting Encounters on iTunes under 20ft Radius.
Visit the Dungeon's Master D&D Encounters Archive for all of our ongoing weekly coverage and podcasts as well as other great D&D Encounters articles and resources.

Looking for instant updates? Subscribe to the Dungeon's Master feed!