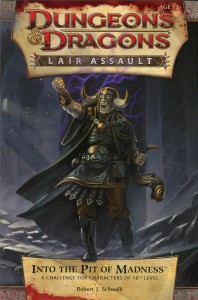 Into the Pit of Madness is the very last Lair Assault. The program was cancelled. However, before it goes away we have one final offering. A level 10 extravaganza that players are sure to love despite its difficulty.
For the grand finale Wizards of the Coast provided an adventure that is likely to be the most difficult and challenging Lair Assault yet. The challenge is so immense that it requires PCs to be at the very top of the heroic tier – level 10 – to even have a chance of success. The fate of the world hangs in the balance ensuring that the Lair Assault program ends with a bang, one way or another.
For those unfamiliar with the Lair Assault program it's a standalone adventure that is designed to challenge elite D&D players, the best of the best. This is one of the rare instances when the DM is truly out to get the players. Most parties will not be successful their first time through, and that's intentional. These adventures are among the most difficult Wizards has ever produced. But don't worry, if you suffer a TPK, this program encourages repeat play. Take what you learn the first time through and use that knowledge when you take on the challenge again and again.
Truth be told there is little role-playing in these challenges. They're tactical combat adventures that reward players with the most optimized and powerful characters. It requires teamwork and coordination. They're tough but exhilarating. This is the seventh and final installment of Lair Assault. Although I'm sad that this program is ending I've had a fantastic time playing and running these challenges.
Into the Pit of Madness was written by Robert J. Schwalb. For those who may not immediately recognize this name, Schwalb is a writer and award-winning game designer. Some of his best-known D&D books include the Dark Sun Campaign Setting and Player's Handbook 3. Clearly Wizards wanted a heavy-weight to create the last Lair Assault and they certainly got one with Schwalb.
The Challenge
An evil cult is trying to free the Chained God, He of Eternal Darkness. If this happens the world will be thrust into Elemental Chaos and destroyed. The stakes have never been higher.
The final Lair Assault returns to the timed format. The PCs will only have 20 rounds to compete the challenge. Looking at what's in store I think time will be the biggest obstacle the PCs face this time. The monsters are certainly powerful but nothing experienced players couldn't defeat if time wasn't a factor. Knowing that they must defeat opponents quickly I think we'll see a lot of creative tactics to speed things up.
There are two parts to the adventure, but there is no time to take a short rest between the two. In the first part the PCs face the cultists as they perform their ritual. The cultists may be spell casters but they are not helpless nor without additional protection. Once the cultists are defeated the PCs need to destroy the Essence of Evil before the Chained God is freed from his prison. However it's not a simple task. The lower level of the dungeon is divided into elemental nodes. The heroes will have to face some or all of the monsters in each of the nodes, possibly on their own as hinted in the Glory tracker below.
When the adventure begins the PCs hear a strange whispering in their minds. They can choose to listen to the words by spending a minor action. Doing so allows them to spend up to two healing surges and regaining the use of two encounter powers. Each time they do this they must roll on the Madness Table and accept one of the eight consequences. For the most part they offer a benefit and a drawback. Don't worry none of the bad things are instant death, but some really suck. Each time a PCs listens to the whispering they get a different effect up to a maximum of all eight.
This is certainly an interesting way to keep PCs alive long enough to get to the final encounter but beware of negative consequences. There's a reason Glory is awarded for not accepting any Madness effects and for completing the challenge with three or more.
Character Creation Tips
This is a challenge for level 10 characters. All published D&D sources are legal when it comes to choosing feats, powers, themes and equipment. When equipping your PC you can have one item level 11 or lower, one item level 10 or lower, one item level 9 and 4,200 gp to spend on pretty much anything else. However, you can only have two consumables (level 10 or lower). Don't forget that magical ammunition counts as a consumable. Only one item in your inventory can be a rare item. This is the standard used for character creation for every Lair Assault so far so this shouldn't come as any surprise to returning players.
This time around the knowledge skills will be of paramount importance. There is a lot of strange magical stuff going on. You can make checks to try and identify what some of the stuff is and how it works. Some checks can only be attempted by PCs trained in the appropriate knowledge skill, but most just need a really high number (which will be easier to hit if you're trained). Stealth is almost useless in this challenge unless you're exceptionally creative. Athletics is always useful for jumping and climbing no matter what kind of challenge is put in front of you. In the Glory tracker it mentions elemental nodes. If you find yourself in the water node you may end up submerged in which case a good Endurance check could be helpful.
When I've run and played the last few Lair Assaults a striker-heavy team has done remarkably well. I think Wizards has taken huge steps this time around to reward more balanced parties. There are a lot more minions this time around as well as fights with plenty of combatants. I believe that having a good controller and strong defender in the party will pay off this time a lot more than it did in the previous few assaults. Of course a strong offense is never a terrible idea if you want to stick with all strikers.
When it comes to feats you should consider the most obvious ones first. Choose feats that will increase your defenses, increase your hit points, allow you to heal (most likely a leader multi-class feat), give you resistances, or provide a bonus to your saves.
Smart equipment selection will play a huge part in a successful outcome this time around. Resistances are going to be of paramount importance. Many of the monsters are level 10 or higher which means their damage output is significant. Anything you can do to avoid blows or reduce damage will help. It's safe to say that when the word Madness is in the adventure's title some of the monsters will do psychic damage. We also know form the Glory tracker that some or all elemental types will be a part of this challenge so resistances against the four classic energy types should be strongly considered.
Fortune cards are legal for play during Lair Assault. For this challenge there is one really big change regarding Fortune Cards – you can have four copies of the same card in your deck. I don't know if this will encourage more players to use these cards or not, but it will certainly reduce the random factor.
Glory
Since the characters we use for Lair Assault are throw-away characters earning XP isn't really a meaningful way of rewarding players. Glory is the solution. These points are like video game achievements. You earn 10 Glory points every time you complete a pre-determined objective. Each time you play you can earn more glory since it's based on the player and not the character.
There is a possible 200 Glory to earn and most of the objectives are well known ahead of time (see the tracker below). There are also four secret objectives that will yield 10 Glory a piece. Your DM will reveal these to you after the adventure is over if you've actually done any of them.
DM NOTE: Do not distribute the Glory trackers provided with the adventure! For some reason the four secret awards are already printed on the back. Print the PDF I've provided below and distribute them when you're ready to play. If you distribute the Glory trackers provided with your DMs kit it will give the PCs some really big hints about how to overcome some of the most difficult aspects of the challenge.
Into the Pit of Madness: Glory Tracker (PDF)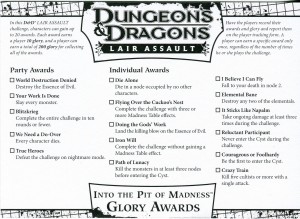 | | | |
| --- | --- | --- |
| General Awards | Description | Glory |
| World Destruction Denied | Destroy the Essence of Evil. | 10 |
| Your Work is Done | Slay every monster. | 10 |
| Blitzkrieg | Complete the entire challenge in ten rounds or fewer. | 10 |
| We need a Do-Over | Every Character dies. | 10 |
| True Heroes | Defeat the challenge on nightmare mode. | 10 |
| Individual Awards | Description | Glory |
| Die Alone | Die in a node occupied by no other character. | 10 |
| Flying Over the Cuckoo's Nest | Complete the challenge with three or more Madness Table effects. | 10 |
| Doing the Gods' Work | Land the killing blow on the Essence of Evil. | 10 |
| Iron Will | Complete the challenge without gaining a Madness Table effect. | 10 |
| Path of Lunacy | Kill the monsters in at least three nodes before entering the Cyst. | 10 |
| I Believe I Can Fly | Fall to your death in node 2. | 10 |
| Elemental Bane | Destroy any two of the elementals. | 10 |
| It Sticks Like Napalm | Take ongoing damage at least three times during the challenge. | 10 |
| Reluctant Participant | Never enter the Cyst during the challenge. | 10 |
| Courageous or Foolhardy | Be the first to enter the Cyst. | 10 |
| Crazy Train | Kill five cultists or more with a single attack. | 10 |
| Secret Awards | Description | Glory |
| Secret 1 | SPOILER | 10 |
| Secret 2 | SPOILER | 10 |
| Secret 3 | SPOILER | 10 |
| Secret 4 | SPOILER | 10 |
Official Instructions
Below are the official instructions provided by Wizards of the Coast with the Lair Assault DMs kit (just in case you're worried that I didn't cover everything).
Lair Assault: Into the Pit of Madness runs from March 1 – May 31. Good luck!
Related reading:

Looking for instant updates? Subscribe to the Dungeon's Master feed!