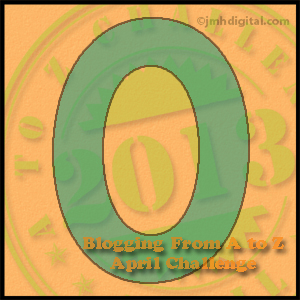 Optimize, to make the best or most effective use of a situation, opportunity or resource.
The mechanics of 4e D&D practically demand you optimize your character and your party. Failure to do so can result in some unfortunate consequences. Monsters are designed based on the assumption that you have created your character to gain maximum damage output. Failure to do this, while not catastrophic, can lead to a less than ideal experience.
Throughout April Dungeon's Master is participating in the Blogging from A to Z Challenge. The challenge is to write a new article ever day in April, excluding Sundays. That's 26 articles over the course of the month. To make things even more interesting the title of each article will begin with a different letter of the alphabet. Today "O" is for optimization as we explore the reasons behind why players may optimize their characters.

Nothing says you need to create a character that is fully optimized. In fact there are great role playing reasons why you may decide to do the opposite. Creating a less than ideal character from an optimization standpoint can lead to some great role playing opportunities. It may also lead to your character being the most memorable in the campaign. However, unless you are willing to be unorthodox using your actions during combat you are going to notice that you don't hit as often or as hard as you might like. In my experience this reduces the enjoyment factor of 4e considerably. At its heart, 4e is designed around a combat engine and as a result you want to exploit this for your own benefit.
Optimizing your character for play is not a difficult task. It is also something that we have covered extensively here at Dungeon's Master. As a result I am not going to provide you with a how to guide. However, I will point you in the right direction in case you'd like a little help finding the best synergy for you character. The following articles are good places to start:
Deal the Most Damage – This is an older article and some of the information has been errated. However, it will put you in the correct frame of mind for how to start thinking about optimizing your character.
Exploiting Racial and Class Powers: Dragon Breath – Another article to get you thinking about synergies between abilities and feats. The character in this article is one of the most ridiculous characters I have ever played in terms of taking a concept and running with it.
4e Character Optimization – If you really want to see what others are doing, or explore some powerful builds, head over to the D&D Forums and take a look.
Now that you're thinking about how to optimize your character let's talk a little bit about why you might want to do that. Primarily because it's about the ability to dish out lots of damage, take a lot of punishment or contribute to the game in a way that is above and beyond what might be expected. In my last campaign we had a healer who could heal you when he was dead (Ok, not really, but it sure felt that way some nights). The short of it is you want to optimize your character because it will make you shine. Other players will be in awe and wonder what race/class/power/feat/item combination you put together that is so awesome. Some people will call you a cheater, saying that what you've done simply isn't possible, but you will know the truth.
The fact is, if you are going to optimize your character you have to do one of two things. Either visit the 4e Character Optimization Forums and use a build you discover there or put some time in with the Character Builder. I'm a fan of option #2, I like messing around to determine what synergies I can discover and how far I can push a particular idea. Often I'll start out with a concept and then I will see just how good I can make the character. Can I optimize it to a point that the character will really shine and be fun to play.
There is a down side to optimizing your character. Simply put, you need to know the type of game your DM will be running. I once built a highly specialized character that focused on powers with the charm keyword. The idea was based around a role playing concept and while I loved the character it simply didn't stand up to a very rigorous combat campaign. Which brings me to the next point, talk with your DM about your idea. Your DM should be saying 'yes' to you, but there may be something that you are planning that could break or seriously unbalance the campaign. Best to check ahead rather than be told that you need to change an aspect of the character after.
I would be remiss if I didn't mention Lair Assault while talking about optimizing characters. While the program has been cancelled by WotC, which in my opinion is a shame, you can still play the adventures. Lair Assaults demand that not only your character be fully optimized, but that the parts also be built to work together. There is no dead weight in Lair Assault; every decision you make about the character matters. From your background, theme, attribute allocation, powers and items: everything matters. A non-optimized character in a Lair Assault is just asking for an early death which might earn you Glory but won't help you defeat the adventure.
An aspect of optimization that often gets overlooked is party composition. In a Lair Assault this really matters. Having two leaders in a Lair Assault will likely result in a loss of damage output. While you will have the benefit of a few extra heals, ultimately you may be doomed to failure. In a regular campaign party composition doesn't matter as much. The benefit is the DM can tailor the encounters to the party, finding ways to challenge you and other ways to reward you. That being said, having five leaders in a party might get boring fast.
It is also important for players to know their own role. Nothing is more fun to watch than two defenders who keep over-riding each others marks. Knowing who should be doing what in a given encounter does a few things. First it makes the party more efficient; you should win more encounters having used fewer resources. Second, you will avoid duplication of roles. The two defenders mentioned earlier will have clear objectives on who to mark and when.
The final aspect of party composition is selecting powers that create synergies not just for yourself, but for other members of the party. If one member of the party can do extra damage when an enemy has ongoing damage, it makes sense for another party member to select a power that inflicts ongoing damage. One of the downsides to 4e and Character Builder is that most characters tend to be built in isolation. Player's show up with their uber-optimized power character which is great, but the result is that all the other characters are designed to work most efficiently in a contrary manner.
What experience do you have with optimizing your character? Do you try to ensure that there is good party composition, or are you more laid back in your approach?

Looking for instant updates? Subscribe to the Dungeon's Master feed!