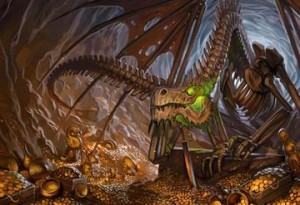 On June 15 you are invited to join fellow gamers from the Greater Toronto Area (GTA) at George Brown College to participate in the D&D Game Day adventure, Vault of the Dracolich.
The adventure uses the new D&D Next rules and level 4 pre-generated characters will be provided. No previous experience with D&D or D&D Next is required. The mechanics are extremely simple and easy to learn as you play.
Game Day is a multi-table role-playing event that brings your community of players together for a shared gaming experience.
The 2-5 hour adventure places each participant in an epic quest to retrieve a magic item hidden away by a powerful Dracolich. Players will be divided into multiple tables, each with their own Dungeon Master, with an event coordinator leading the action.
Admission is free. There will be prizes and giveaways on the day of the event. Raffle tickets will be sold on site. Prizes include dice, books, minis and more.
Sign up by leaving a comment below or contact me by email (Ameron at dungeonsmaster dot com). You do not need to sign up in advance, but anyone who does will receive a free raffle ticket.
June 15 is also Free RPG Day and everyone who plays will get at least 1 free item from the Free RPG Day kit while supplies last.
Time
Marshalling starts at 12:00 p.m.
The adventure begins at 12:30 p.m.
Place
200 King St East
George Brown College
St. James Campus
6th Floor Gymnasium
Outside food and drink welcome. You are responsible for your own garbage, so please pick up after yourself. Thank you.
All are welcome to stick around after the D&D Game Day adventure is finished to play D&D with the Pathfinder Society or to play board games.

Looking for instant updates? Subscribe to the Dungeon's Master feed!