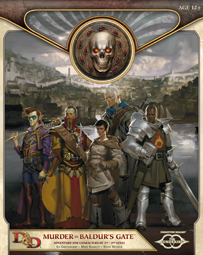 After 14 seasons the free ride is over. Starting in August, with Murder in Baldur's Gate, the D&D Encounters program is changing… significantly. Some of the changes are good, some are bad. I leave it to you to decide where you stand and whether or not these changes will affect your involvement with the D&D Encounters public play program.
The big news is that the adventures will no longer be provided to you or your FLGS for free. DMs will now be required to shell out $34.95 to purchase their own copy of the adventure. That's right; if you want to be the DM and run the adventure for the public play program it will cost you, or the people in your gaming group, 35 bucks for each copy of the book.
If you're like me one of the reasons you've volunteered to DM for D&D Encounters over the years is because you got the materials for free and when it was all over you got to keep the adventure. So why would I suddenly be willing to pay for the same thing I used to get for free? How do I not see this as a slap in the face from Wizards? Give me one good reason why I would even consider buying the adventure? Read on and you'll find many good reasons.
First and foremost the adventure is compatible with 3.5e, 4e and D&D Next; no more of this "download the D&D Next conversion" step that's required today. It would seem that all three editions are given equal treatment in the adventure. The book itself seems to be more than just a run-of-the-mill adventure like we've been getting. Here are the specs currently available online:
Murder in Baldur's Gate: Sundering Adventure I (product description)
96-page hardcover (size 7.09 × 9.06)

64-page setting book describing Baldur's Gate and its inhabitants
32-page adventure book

Four-panel, foldout DM screen keyed to the adventure
Illustrated folder
There's no mention of separate maps, but if you're running this for 3.5e or D&D Next the 1-inch grid maps aren't necessary so I don't fault Wizards for not providing them. If you're running this for 4e you'll have to draw them out yourself or use dungeon tiles.
One thing that I noticed about the Murder in Baldur's Gate cover image Wizards provided on their website is that there is no D&D Encounters banner, logo or anything to indicate this is part of the public play program. If you didn't know better you'd think this was just another D&D hardcover like so many others on the shelf, and I suspect that's what Wizards wants. Although their hope is that this adventure be played Wednesday nights at your FLGS there doesn't seem to be the structure or format that we've come to recognize or expect from D&D Encounters. Could this be the beginning of the end of D&D Encounters or is it just a new and different way to present the materials while making a few bucks in the process?
Regardless of what direction the D&D Encounters program is heading, there will still be some support for the public play component beginning with the launch weekend. Murder in Baldur's Gate begins on August 21, but during the weekend before that (August 17-18) there is a special introduction adventure that sets up the new season. This adventure is free and will be included in the kits provided to your FLGS. The kit will also have a few other items of note.
2 copies of the short introductory adventure
2 packs of non-player character cards for the DM
20 exclusive player maps
20 exclusive Murder in Baldur's Gate d20s
Launch weekend coincides with GenCon so many of the DMs and players will likely be in Indianapolis and will miss the fun at the FLGS. The good news is that the launch weekend adventure is running all weekend long at GenCon (using the D&D Next rules) so people at the convention don't have to miss out.
Murder in Baldur's Gate is just the beginning. The next five seasons of D&D Encounters (assuming that's what it will still be called) will follow the events of The Sundering, the next big crossover event at Wizards of the Coast. The heart of The Sundering will occur through six novels, each covering different characters and locations throughout the Forgotten Realms. However, from what Wizards has hinted, players will get to help decide the outcome of The Sundering based on the results of their play experiences during the five adventures. I'm sure we'll hear more about this soon.
So there you have it. You know what I know. D&D Encounters is changing. The adventures will be sold like any other book to anyone who wants to pay up. DMs no longer have exclusive content so be mindful of players who seem to know too much about what's going on.
Personally I'm really hoping that my FLGS will reward offer the longstanding DMs by eating the cost of the books and giving them to us for free, or at least at a significant discount. After all, I know that some DMs have brought in a lot of players and those players have in turn bought stuff and generated revenue for the stores. As long as the public play program continues to provide the FLGS with revenue it might not otherwise receive I think they can absorb the cost of a coupe of books every 13 weeks.
Based on what we know so far what is your reaction to this news? If you're faced with paying $34.95 for the adventure or quitting D&D Encounters what will you do? How many people think that this is going to outright kill D&D Encounters? How many people think that making the adventure available in 3.5e, 4e and D&D Next might actually bring new players to D&D Encounters and public play?

Looking for instant updates? Subscribe to the Dungeon's Master feed!