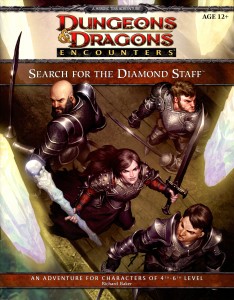 We have once again concluded another season of D&D Encounters. The season 14 adventure, Search for the Diamond Staff, had its ups and downs and we're going to look at many of them today as we put together our report card on the season.
This report card will follow the same format I've used many times before; I'll start with the good and then move on to the bad. However, as this was the first time we used the D&D Next rules for D&D Encounters I'll do a special good/bad breakdown of the elements unique to the playtest rules.
Without further ado here are our thoughts on season 14 D&D Encounters: Search for the Diamond staff. Let us know your thoughts on the season as a whole in the comments below.
Good
You don't have to fight
This season of D&D encounters allowed and even encouraged the PCs to resolve challenges by means other than fighting. In some cases the author provided direction to help the DM if the heroes talked their way past a fight; in other cases it was up to the DM to wing it. The absences of a "kill everything" mentality made a huge difference to the tone of this season. The players in my groups (most of whom are D&D Encounters veterans) liked that they could do what they wanted and not what the adventure expected of them. I kept hearing "this season feels a lot more like a home game" which I think is high praise.
Puzzles
This season the party was faced with traditional old-school D&D style puzzles. These were designed as more than just run of the mill skill challenges where players could simply roll dice and find the answer. The puzzles were complex and required some ingenuity and creativity. Creating puzzles that challenge the players and their characters is a fine balance and those presented in this adventure nailed it. After completing session 7 in which the PCs had to face the statues of the five Elves I heard players saying "this is what D&D used to be like" and "this kind of thing happens a lot in my home games."
We're not rookies
For the second season in a row the PCs did not start as wet behind the ears level 1 noobs; they all started at level 4. This provided the heroes with a few more hit points and additional abilities. Starting above level 1 keeps players who never miss a D&D Encounters session coming back season after season. The good thing about beginning at level 4 is that it's not so complex that is scares away new players. It also allows two PCs of the same race and class to differentiae themselves based on the choices they made each time the gained a level.
Straight forward plot
The simple plot is good because it allows new players to jump in during any session without too much explanation needed. We had new players join us a few times this season and each time the recap took only about 30 seconds. This is particularly important as we're seeing a lot of new players come out to try D&D Encounters using the D&D Next mechanics.
New monsters!
This season we got to fight monsters we hadn't seen before at D&D Encounters, most notably a Flesh Golem and Chitiens. Even though the Uvaeren Dragons looked like Dragons (which we've faced during many past seasons) they were more constructs than draconic so we'll count them as new monsters too. Congratulations Wizards for leaving your comfort zone and not using undead or Drow. Now if only we can get rid of all those evil cultists.
Bad
Lame introduction
Think way back to week 1 when the PCs first arrived in Hap. They had time to explore the village and interact with the locals. Since the PCs were supposed to head out the following morning, this interaction seemed unnecessary and forced. Some players said that their PC would head to bed early since it was the last time they'd have a real bed for weeks to come. This made sense. Yet the adventure assumed the PCs would want to make friends with the locals so we wasted time going through the motions. When it came time to fight the Orcs (the highlight of the session) everyone was glad to be done with the "getting to know you" part of the night. Afterwards many players even asked why that was necessary. In my opinion it was not. It was merely a time sink that should have been reworked or cut out.
No more cults!
I honestly can't remember the last season of D&D Encounters in which the PCs didn't have to face off against some kind of evil cultist or evil priestess. I realize that religious zealots are easy go-to humanoid villains that don't necessarily look like villains, but how many cults exist in the Forgotten Realms? Wizards, please give the cultists a rest. If you need humanoid villains that look normal go with corrupt politicians, or unscrupulous merchants, or members of a thieves' guild. Enough with the cultists!
Experienced DMs only
One thing I'm always critical of when I do my report card is how easily a new DM can jump right behind the screen to run the adventure. At first I thought that the adventure was simple and linear and that would make it really easy for a new DM. However, as the season progressed I realized that a lot of what was described required the DM to really describe the scenes vividly for the players since very few visual aids were provided. Creative and quick thinking DMs likely drew maps to help the players; however, I doubt a brand new DM would think to do that. As the season progressed I realized that most brand new DM were going to struggle; I'm a very experienced DM and I struggled through some sessions. As much as I liked this season I definitely felt it was designed for a more advanced DM.
D&D Next
Good
Game day tie-in
For starters the game day adventure, Vault of the Dracolich, was amazing. Everyone I know who participated in it loved it. Those players who continued running the same PC they used during game day into this season of D&D Encounters really appreciated the continuity. By having even one or two PCs in the party who were part of game day made things way easier for the DM. The PCs knowledge and familiarity of the game day events allowed the DM to provide information in a way that didn't seem forced. When game day PCs recognized details from that adventure in this season of D&D Encounters they often had additional options that other parties would not have.
When the Diamond Staff was originally taken from Imani in Hap those PCs who had risked their lives (and in some cases lost friends) to the Dracolich or his minions on game day felt obligated to retrieve it. To let it fall into the wrong hands after everything that was sacrificed to get it would be a travesty. Honour demanded the staff be recovered. This provided DMs with additional hooks that they could use and exploit during the season.
The three pillars of gaming
For those not in the know, the three pillars of D&D are exploration, role-playing, and combat. D&D Encounters always has plenty of combat. Recent seasons have provided more opportunity for role-playing if the players choose to do it. Using the D&D Next rules this season meant combat was fast. In a couple of occasions the fight was over in less than 15 minutes. If the players wanted to really feel like they were getting their money's worth (so to speak) they knew they should spend more time on the non-combat parts of the game. Focusing more on exploration and role-playing resulted in a fantastic gaming experience that really set this season apart from the previous ones.
Bad
Resting
Clearly the adventure was written with the 4e mechanics in mind. I have no problem with that. However, in 4e a short rest is only five minutes whereas in D&D Next a short rest is 60 minutes – that's a pretty big difference. Most times when the adventures stated that the PCs had time for a short rest, they meant five minutes, not an hour. DMs had to either change the short rest time for D&D Next parties or deny them the rest. We opted to forego the resting. It worked, but it meant that some encounters were tougher than they were designed to be. This is a big part of why my parties tried to talk their way past monsters on numerous occasions.
Final Verdict
As much as I enjoyed this season of D&D Encounters I think the parts I liked best were tied into using the new D&D Next mechanics and not really so much because of the adventure itself. In fact, the parts of the adventure that seemed to go over best with my groups were the changes I made (thanks in part to suggestions from folks on the Wizards' forums). Had I run this using 4e I think my impression and grade would be considerably lower simply because the previous two seasons offered such strong materials.
I do acknowledge that there were some pretty great parts to this adventure, especially session 7 where the PCs had to explore the Vault of Song, by pass the trap and then fight the Dragons (which I changed to one gargantuan Dragon). However, the parts I disliked about it such as the lame intro, and the expectation that the DM was be a master of his craft, are big strikes in my book. Looking at the whole adventure and balancing everything out I think I have to give this adventure a generous 7 on a d10.
I'd like to thank Harry Tarantula North in North York and Silver Snail in downtown Toronto for hosting D&D Encounters every week. If not for their support we wouldn't have a place to play or the material needed to run the games. Remember that your FLGS doesn't make any money for hosting D&D Encounters. So the next time you need a gaming resource be sure to purchase it from your FLGS as a way to thank them for supporting the D&D Encounters program.
What were your impressions of this season as a whole? What stood out as the best and worst parts? What score would you give this season of D&D Encounters? Do you agree or disagree with any of my good or bad points? Share your feedback in the comments below.
Visit the Dungeon's Master D&D Encounters Archive for all of our ongoing weekly coverage as well as other great D&D Encounters articles and resources.

Looking for instant updates? Subscribe to the Dungeon's Master feed!