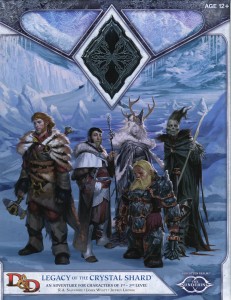 The games we should have played during week 5 and week 6 were canceled due to Christmas and New Years. The plan was to pick things up this week and try to get back on track. Unfortunately four of my five players were unable to play this week due to extended vacations, bad weather, and illness. So for the third week in a row I did not run my usual table.
However, two of the other three DMs did have a chance to get their games back on track this week. I grabbed a pre-gen and joined one of the D&D Next tables. The choices this party made so far this season took them on a very different path than my group. This party had spent a lot of time in Bryn Shander with a short detour to the Dwarven Valley and the bandit's cave hideout. This week they were back in Bryn Shander in looking for the missing Speaker.
The party already had the following PCs: Tiefling Rogue, Dragonborn Ranger, Halfling (Kender) Rogue, Human Cleric, and Human Monk. The character I got was a Half-Orc Barbarian.
The DM gave me a few minutes to give my PC a name and when I drew a blank he assigned me with the name Kyle. Going with that I dubbed him Kyle Reece. The Half-Orc was plagued by terrible nightmares where the autonomous Warforged race gained dominance and took over the world of men. In these dreams Kyle remembered something about a net dropping from the sky to imprison his people.
I had fun getting a chance to play and the party welcomed the addition of a combat character with full hit points and serious damage output. My character only had an 8 Intelligence so I played him as a bit dim. During one encounter he recognized the danger of a magic sigil on a door but had no idea how to avoid the danger. He decided to recite the only magic words he knew ("please" and "thank you") as he ran through the door. As luck would have it he was the only one to make a successful saving throw when the sigil was activated.
New week I'll be back behind the DM screen. I'm going to try to jam pack as much into that session as possible. I'm really concerned that there aren't enough weeks left to get everything done that needs to get done by the end of this season. I may have to limit the options I present to my group and somewhat force their hand to keep them on the right track during the next few weeks.
Recounting Encounters Podcast
Even though I didn't run my table this week, Craig did run his so we went ahead and recorded another episode of Recounting Encounters. After the brief recap we talk about next season. Some details we now know, others are purely speculation.
Recounting Encounters is a weekly podcast I record with fellow Toronto DM, Craig Sutherland, and Marc Talbot (Alton) from 20ft Radius in which we recount that week's experiences with D&D Encounters. We share the highlights from our respective FLGS and we talk about what worked, what didn't and what we might have done differently. Find all episodes of Recounting Encounters on iTunes.
Note: New episodes of Recounting Encounters will be available in our D&D Encounters Archive and on iTunes on Wednesdays moving forward. Now DMs can listen before they play.
Visit the Dungeon's MasterD&D Encounters Archive for all of our ongoing weekly coverage as well as other great D&D Encounters articles and resources.

Looking for instant updates? Subscribe to the Dungeon's Master feed!