It's fair to say I was a decent athlete in my teenage years, but I was never the best player on the team. Growing up, I knew that there was no way I'd ever play sports professionally. However, as a gaming nerd, I've always thought it might be possible to get a job in the RPG industry, or specifically to get the chance to work for Wizards of the Coast.
A couple of years ago I got the chance to write some articles for Wizards as a freelancer, and that certainly got me a bit closer to living the dream. Last week I applied for a contract position with Wizards of the Coast as one of three D&D Organized Play Administrators. It's not a full time job, but it's a chance to make a meaningful contribution to the game I love and the public play program that I participate in every week.
The job description was unlike any I'd ever seen before. Requirements for this position included deep knowledge of the Dungeons & Dragons game and its community, five year minimum experience playing and Dungeon Mastering one or more editions of Dungeons & Dragons, thorough knowledge and passion for Dungeons & Dragons, and be able to attend one major D&D convention annually. As a serious gamer and champion for D&D public play, it was as if this posting was practically written for me personally.
To apply for this position each applicant was asked to submit these three things:
Professional resume
Gaming resume
Cover letter explaining what position you're applying for and why we should select you.
A gaming resume? What's that? I guess they wanted to know how deeply I was in to gaming. Since this was a job related to D&D public play I also figured they wanted me to indicate how much experience I have with the existing D&D public play program. Seems like a reasonable request to me. Now all I had to do was come up with a gaming resume.
I realized that a strong gaming resume might give me an edge over other qualified applicants so I decided to get creative. I decided to make my resume look like an old school, hand drawn, D&D dungeon. It took me more hours than I care to admit to put this together, but in the end I feel that I nailed it. I should know by next week if I got the position or not. Wish me luck.
Ameron's Gaming Resume (PDF)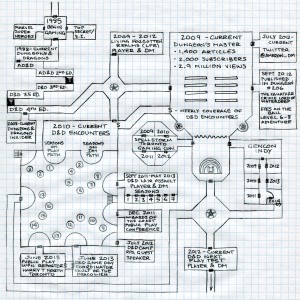 Note: I intentionally blacked out my home address and phone number in the PDF posted above.
What do you think of my gaming resume?

Looking for instant updates? Subscribe to the Dungeon's Master feed!