We did it. Today Dungeon's Master hit 3 million pages views. Every day when I log into the blog's back end I review our stats to see how we're doing. I knew we were getting close to the 3 million mark and today, between the time I left work and the time I got home, we crossed that threshold. I'm blown away by this milestone.
We started Dungeon's Master on February 1, 2009. It took us 31 months to reach 1 million page views. It took us another 17 months to reach 2 million page views. And it only took another 15 months to reach 3 million. Here we are 1,888 days since we first launched this little gaming blog and we've still here and still going strong.
We couldn't have come this far without you, the readers. So today I'd like to say a very special thank you to everyone who's ever visited Dungeon's Master, especially those who visit regularly and comment often. Your feedback and support are a big part of what keeps us motivated to continue writing for this blog. We couldn't have done it without you. Thank you.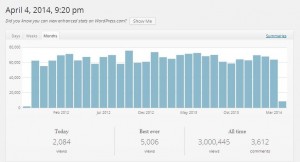 Related reading:

Looking for instant updates? Subscribe to the Dungeon's Master feed!