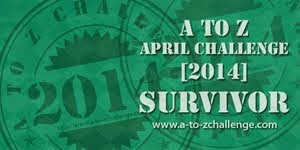 Throughout April Dungeon's Master participated in the Blogging from A to Z Challenge. This was our second year participating so you'd think we'd have known what to expect. We were wrong. The Blogging From A to Z Challenge was a lot of fun, but man, it was a lot of work. Certainly more than I remember from a year ago.
This time around we thought we'd pick a theme in order to make things easier for ourselves. Every article we ran in April was filled with brand new adventure hooks, something all DMs find useful. In retrospect focusing on just one theme tied my hands more that I thought it would, but we still managed to get through the full run of A to Z by month's end.
I'd like to give a huge shout out to Joe Lastowski (The Average Joe). He volunteered to write a few adventure hooks articles for us and I don't think I would have made it through the full month of 26 articles without his help. Thanks, Joe!
Now that the Blogging from A to Z Challenge is over it's time for the obligatory round-up article. Below is a list of all 26 articles we ran throughout April. With each article containing between 5-10 adventure hooks that's well over 200 hooks to inspire any DM. I strongly encourage DMs to bookmark this page so they can come back and draw inspiration the next time they need an idea for a random encounter or a full-fledged campaign.
The Blogging from A to Z Challenge 2014
Dungeon's Master Round-up
Since the Blogging from A to Z Challenge began on April 1st (April Fool's Day) I decided to run a joke article that previewed what was to come. I wanted to include it here just in case you missed it on April 1.
April Fool's Preview: Blogging from A to Z Challenge – Preview

Looking for instant updates? Subscribe to the Dungeon's Master feed!