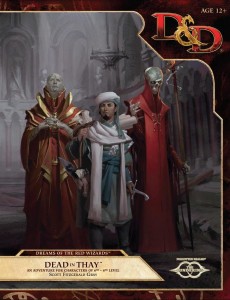 Last week the party faced a Red Wizard Lich whom they destroyed, an ooze the size of a room which they managed to talk their way past, and a Red Wizard alchemist from whom they stole a Glyph Key and managed to escape unscathed. Let's see if they'll be as fortunate this week.
At Hairy T North in Toronto we ran three tables: table 1 (DM: Craig) had five players, table 2 (DM: Hillel) had seven players including one person brand new to D&D, and table 3 (DM: Tim) had eight players including me.
Our party had the following members this week: Tiefling Wizard, Human Cleric, Elf Cleric, Warforged Monk, Halfling (Kender) Rogue, Gnome Druid, Gnome Mage (currently Walking Dead) and Dwarf Barbarian (my character).
Ooze Grottos
The party began this week's session in the hallway leading north out of the Spawn Vats (#63). We quietly advanced and peeked into the next room we passed, the Ooze Temple (#62). We spotted Deathlock Wights carrying buckets with steaming contents around the room. We didn't want to know what was going on or what was in the buckets (although we did make a few low brow jokes about some possibilities). Fortunately the monsters didn't see us so we kept heading north.
Bone Room (#61)
Scattered around the room were three large piles of bones. In one corner was a Black Gate and down a hallway we could see a White Gate. A Wight approached us as we entered the room and asked us who we were and why we were here. We managed to convince him that we sent by the Red Wizard we'd encountered last week and were to deliver a message. He agreed to let us pass unmolested.
At that moment the Black Gate activated and an Elven Cleric stepped out (welcome new PC). Her presence clearly upset the Wight despite our attempt to keep him calm and passive. We knew he'd turn on us any moment so we piled into the Black Gate and left the room.
Since my character was the one with the master Gate Key I had to decide where we were heading next. In previous session a couple of the other players said they liked the look of the rooms shaped like stars. That was as good a place to go as any so I sent us to the Black Gate in room #44.
Far Realm Cysts
Caverns of Chaos
Chaos Lair (#44)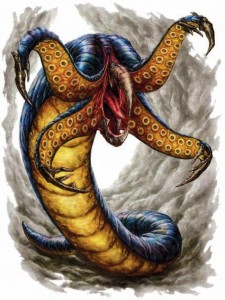 We stepped out of the Black Gate and into the room. It was pitch black so we used magical light to see. The room was shaped like a giant star. We were at the top of five levels, each about 10 feet lower than the one before it. On the next level down we saw two Gricks (although the party didn't recognize them since this group never went to Harpshield Castle last season).
Before moving ahead we took a minute to examine the Glyph Key we'd acquired last week. It turned out one of the areas it was attuned to was the Temples of Nature zone in the Temples of Extraction. Score one special Glyph Key for team heroes! We immediately copied it to the other two Glyph Keys and divided them among the party.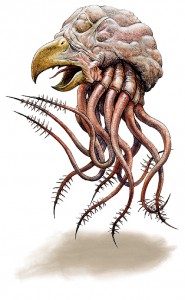 With the keys sorted out, we peered over the ledge and used ranged attacks to hail missiles and magic down on the monsters. They didn't stand a chance although I later learned that the DM did increase their hit points in order to make the encounter a bit more challenging for a party of eight.
We climbed down and the repeated this tactic when we saw two more Gricks on the next level down. The results were the same – a resounding and relatively easy victory.
At this point we noticed a floating monster near the ceiling in one of the star point caverns. It was a Grell although we had no idea what it was, just that it looked scary and was flying. However, it didn't seem to pay us any mind so we ignored it for now.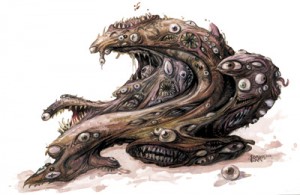 We descended another level and peered over the ledge. This time we saw two Gibbering Mouthers. The PCs didn't know what they were but continued using the same tactics to attack. This sequence of combat got the Grell's attention so now we were fighting on two fronts.
The Grell targeted the softer spellcasters at first but the melee combatants quickly moved in and took care of business, dropping the Grell after just three rounds. The Gibbering Mouthers were unable to climb up to our level so they were at our mercy. The Monk and Rogue jumped down to engage them in melee and did a great job of defeating them without taking much damage.
Eldritch Altar (#45)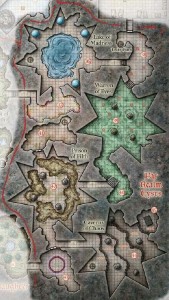 With all the monsters defeated we cautiously proceeded down to the final level. In this area was an altar made of jet-black stone. Carved on the sides were faces that we recognized as ours. On top of the altar were shadowy images of weapons and equipment which exactly matched the items in our combined inventory.
The Clerics and Wizards put their combined knowledge to work but were stumped as to what this altar was all about other than it radiated powerful transmutation magic.
The Monk and my Barbarian were worried about what some chaotic PCs might do next so we climbed back up to the top level of the room and waited at a safe distance.
After shooting the altar with arrows and magic the Human Cleric bravely (stupidly) advanced towards the altar. He touched it. Nothing happened. He placed his weapon on the altar. Nothing happened. Someone suggested he place a magic item on the altar. He would not. And then I shouted that he should try placing a potion on the altar; that was a magic item. He agreed and produced a Potion of Diminution (shrinking potion) from his backpack and placed it on the altar. Nothing happened… at first.
After a minute a flash of energy shot out from the altar through the potion and blasted the Druid. Her body fell lifeless to the ground. The nearby PCs checked and her body was alive but unresponsive. The Cleric picked up the potion and could hear the Druid's voice calling from within the vial.
It seemed that her soul was now trapped in the potion. The Cleric was going to pour the potion down the Druid's throat but first decided to just place the vial in her hand. She immediately awoke. However, she realized that if she let go of the potion her body would slump over and her soul would be again trapped in the potion vial. Seeing only one solution she drank the potion and let go of the empty vial. It worked! But she was now 1/10 her normal size, which for a Gnome was already quite small.
With no other immediate threats and no one else willing to tempt fate by messing with the Altar, the party climbed back to the top of the room which is where we'll pick things up next session.
Thoughts
This was another great week for my table. It was a bit slow with eight players, but the combat in D&D Next is usually so quick it's not really a big deal. This is a close-knit group so their pretty relaxed and enjoy the social aspect of playing as much as the mechanics.
I applaud the DM for having the good sense to give the Gricks's more than the 9 hit points listed in the monster section. They were still pretty easy to defeat but at least they survived a couple of rounds each and did manage to get a couple of hits in before dying. It was refreshing to have a week were we weren't just running and getting the crap kicked out of us.
Finding the Glyph Key attuned to the Temples of Extraction was a huge win for our table and the groups playing at our FLGS. When the opportunity presents itself we'll meet up with the other parties and copy our Glyph Key to theirs ensuring that we can all get to the Temples of Extraction at the end no matter what else happens between then and now.
One thing that still seems to be challenging for our group is the lack of loot. Only one PC in the party has a magic weapon so far. We know that some monsters have resistance or immunity to non-magic weapons so we're hoping to get better swag before we encounter any such creatures. I believe the other groups at our FLGS are having this same problem and it's crushing them. We'll see if we get lucky in the coming weeks.
Where is your group in the Doomvault? What path have you followed so far this season? Have you have any PC deaths yet? Any TPKs?
Additional Resources
Recounting Encounters Podcast
Listen to Derek Myers, Craig Sutherland, and Marc Talbot (from 20ft Radius) recount our weekly experience at D&D Encounters. We share the highlights from our respective tables and we talk about what worked, what didn't and what we might have done differently. Find all episodes of Recounting Encounters on iTunes.
Note: New episodes of Recounting Encounters will be available in our D&D Encounters Archive and on iTunes on Wednesdays moving forward. Now DMs can listen before they play.
Actual Play Podcasts
We continue to record our D&D Encounters sessions and make them available to you for download every week. These recordings are made in a loud, crowded game store so at times it may be difficult to hear everyone. Some language may be inappropriate for all ages, although we try to keep it as family-friendly as possible.

Actual Play Podcast at Harry T North (Season 18 Week 4)
Play Now
|
Play in Popup
|
Download
Visit the Dungeon's Master D&D Encounters Archive for all of our ongoing weekly coverage as well as other great D&D Encounters articles and resources.

Looking for instant updates? Subscribe to the Dungeon's Master feed!