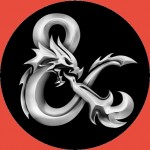 Thursday has been the day we post our D&D Encounter adventure recap for years. But when 5e D&D was officially released the D&D Encounters schedule was tweaked giving your FLGS a lot more time to complete the adventure; more time that most needed. At my FLGS it only took us about 10 weeks to complete Hoard of the Dragon Queen, episodes 1-3. With the official D&D Encounters part of the adventure was done, we stopped the recaps. But that doesn't mean we've been sitting around doing nothing.
Each week Marc, Craig and I have continued recording new episodes of our podcast, Recounting Encounters. We don't focus on weekly recaps any more, but we still have a lot to talk about. Sometimes we talk about problems we've experienced at our gaming table and how we've resolved them, other times we explore various interpretations of the new 5e rules. The point is that you can still catch our podcast every week until the new season of D&D Encounters begin in mid-March. Until then we'll be sure to talk about things that will help your D&D game whether you're a player or a DM.
Here's a recap of the shows we recorded over the past few months. We did miss a few weeks coming into the holidays but we're back to weekly recordings (in fact we're recording a new show tonight). If there's a particular topic you'd like us to explore leave a comment below or contact me by email or Twitter.
Recounting Encounters Recap
In this episode we review the first three Adventurers League modules, DDEX1-1, Defiance in Phlan, DDEX1-2, Secrets of Sokol Keep, and DDEX1-3, Shadows Over the Moonsea. We had a chance to play all three at GenCon and then Craig and I have run all of them more than once at our FLGS since then. We try to keep the discussion spoiler-free while providing DMs with some insightful tips.
In this episode I run down a list of 10 things that have been issues at my 5e gaming tables. Some good, some bad, all challenging. The guys kick around some ideas and solutions.
In this episode we discuss table etiquette. These are things that every person at the gaming table should be mindful of during play. These may sound like a lot of common sense things, but you'd be amazed how big an issue a lot of them have become in some FLGS where I've played.
In this episode we talk about how DMs can get the most out of 5e D&D. We share some idea for taking that power that's back in the hands of the DM and keeping things fun and consistent where possible.
In this episode we share some holiday-themed adventure hooks. We also talk about ways to scratch that gaming itch over the holidays or any time your gaming group can't make it.
Find all episodes of Recounting Encounters on iTunes.
[jetpack_subscription_form title="Looking for Instant Updates?" subscribe_text="Subscribe to the Dungeon's Master Feed for up to date info from your favourite D&D site." subscribe_button="Sign Up Now"]