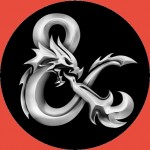 On September 9 we began the new season of D&D Encounters – Out  of the Abyss. As D&D Encounters returns to a regular weekly schedule and everyone gets back to playing more or less the same encounters each week we'll get back to doing new Recounting Encounters episodes every week. Links to the weekly show will be included in the weekly recap articles (the week 1 recap will be posted shortly).
So what have we been doing over the past few months you may be asking? Over the summer some groups at our FLGS continued with Princes of the Apocalypse, and by the end most were at very different points in the adventure with none anywhere near the end. Other groups gave up on PotA once the material in the free DM PDF was completed. Tables at our FLGS who stopped decided instead to run D&D Expeditions to fill the time on Wednesday nights.
With everyone doing different things and playing different games we found it difficult to keep to a regular Recounting Encounters schedule with meaningful content. But we did manage to record a few new episodes. Today we're sharing those podcasts. You can click the links below to listen or download each episode. These are also now available through iTunes.
We hope you enjoy our Podcast and we hope you continue to listen to our show. As we continue to play through Out of the Abyss and the Rage of Demons Expeditions we'll continue to let you know how our experiences went. We'll also keep you informed about what's happening in the world of D&D and Neverwinter.
We welcome your feedback and comments. Please leave your comments below and tell use what you like, what you don't like, and what you'd like to hear us discuss in future shows. You can also reach us by Twitter or email.
Recounting Encounters Recap
The GenCon 2015 Episode – It truly is the Best 4 Days in Gaming. This year we had a great time (well, most of us did) and we tell you all about it. We talk about playing in two different D&D Epics and we talk about the pitfalls that came with the D&D All Access Pass this year.
The Princes of the Apocalypse Report Card – As the D&D Encounters season concludes and we get ready for the launch of Rage of Demons, we look back on the season that was and we review Princes of the Apocalypse. We do a frank and fair review in which we talk about the good, the bad, and the ugly of this adventure. Let us know if you agree with our assessment.
The Elemental Evil Expeditions Reviews – In a previous podcast we reviewed DDEX2-1 through DDEX2-4. In this show we review DDEX2-5 through DDEX2-16. We share what we believe to be the best and worst parts of each adventure. We try to keep these reviews as spoiler-free as possible. Do you agree with our assessments?
Find all episodes of Recounting Encounters on iTunes.

Recounting Encounters: August 6, 2015
Play Now
|
Play in Popup
|
Download

Recounting Encounters: August 20, 2015
Play Now
|
Play in Popup
|
Download

Recounting Encounters: September 3, 2015
Play Now
|
Play in Popup
|
Download
[jetpack_subscription_form title="Looking for Instant Updates?" subscribe_text="Subscribe to the Dungeon's Master Feed for up to date info from your favourite D&D site." subscribe_button="Sign Up Now"]