On Friday we comb through our extensive archives to find an older article that we feel deserves another look. From February 20, 2013, Dungeon's Master once again presents: What is the Town's Attitude?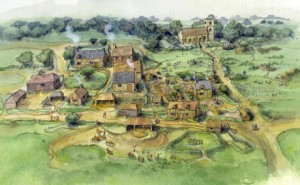 A lot of D&D adventures begin with the PCs arriving in town. In most cases it's someplace the PCs have never been before so everything is new – the people, the locale, and the problems. This is just a natural part of the adventurer's life; going from place to place, getting in adventures and helping people along the way.
I'll admit that I've run many adventures that start just like this. It's not a bad thing, but it is a bit boring. The longer you play D&D the more often this will happen and the more trivial each town will seem as you continue on your quest for adventure.
After playing through this scenario for the umpteenth time during last week's D&D Encounters introduction it occurred to me that a clever DM can turn this traditionally boring introduction into something a lot more interesting by adding one little detail – the town's attitude towards strangers.
{ 1 comment }