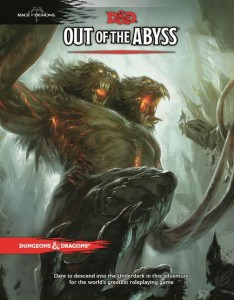 It's been a few weeks since I've had a chance to play or DM D&D Encounters. Games have proceeded at the two FLGS where I'm playing this season, but neither of my tables ran for the past two weeks. Sometimes real life just gets in the way of fantasy role-playing and you have to accept it.
When last we left the heroes they'd made a daring escape from the Drow outpost, Velkynvelve. The party's Orc Fighter expected to die and wanted his sacrifice to be meaningful. He fought as many Drow as he could, engaging the two priestesses and numerous guards. In the end he remained behind, battling any Drow pursuers as he tried to give the rest of the party and the accompanying NPC prisoners a chance at escape.
This week at Face to Face Games in Toronto we ran five tables. We had 22 players and five DMs. My group of four consisted of the following members: Half-Orc Barbarian, Dragonborn Fighter, Elf Wizard, and Human Rogue. The Dragonborn Fighter was a replacement character for the player who lost his Orc Fighter in the last session.

Actual Play Podcast - Episode 2, Session 1 (Face to Face Games)
Play Now
|
Play in Popup
|
Download

Recounting Encounters - Rage of Demons Episode 3
Play Now
|
Play in Popup
|
Download
{ 0 comments }