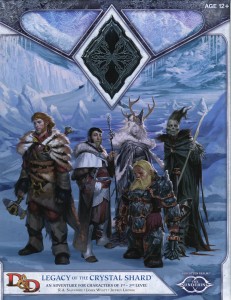 Legacy of the Crystal Shard is different than any other D&D Encounters adventure we've seen so far – and I mean that in a good way. Although it does bear some similarities to previous season and holds true to some of the conventions you've come to expect from the D&D Encounters program, it takes a huge leap into new territory as we'll describe below. My initial impression is that this will either be the very best or very worst season of D&D Encounters; there will be no middle ground.
The adventure itself is part of The Sundering, the ongoing series of stories happening throughout the Forgotten Realms. It's the second of fives D&D Encounters adventures that tie in to The Sundering, the first being last season's Murder in Baldur's Gate. This adventure builds on the events of R.A. Salvatore's original Icewind Dale trilogy. Although it's not necessary for the DM or any of the players to have read these books, if they have it will give them with additional insight this season (so read them if you haven't because they're fantastic!).
Legacy of the Crystal Shard is presented as edition-neutral and can be run using 3.5e, 4e, or D&D Next mechanics.
{ 10 comments }