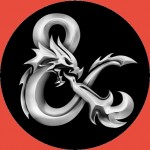 On September 9 we began the new season of D&D Encounters – Out  of the Abyss. As D&D Encounters returns to a regular weekly schedule and everyone gets back to playing more or less the same encounters each week we'll get back to doing new Recounting Encounters episodes every week. Links to the weekly show will be included in the weekly recap articles (the week 1 recap will be posted shortly).
So what have we been doing over the past few months you may be asking? Over the summer some groups at our FLGS continued with Princes of the Apocalypse, and by the end most were at very different points in the adventure with none anywhere near the end. Other groups gave up on PotA once the material in the free DM PDF was completed. Tables at our FLGS who stopped decided instead to run D&D Expeditions to fill the time on Wednesday nights.
With everyone doing different things and playing different games we found it difficult to keep to a regular Recounting Encounters schedule with meaningful content. But we did manage to record a few new episodes. Today we're sharing those podcasts. You can click the links below to listen or download each episode. These are also now available through iTunes.

Recounting Encounters: August 6, 2015
Play Now
|
Play in Popup
|
Download

Recounting Encounters: August 20, 2015
Play Now
|
Play in Popup
|
Download

Recounting Encounters: September 3, 2015
Play Now
|
Play in Popup
|
Download
{ 0 comments }