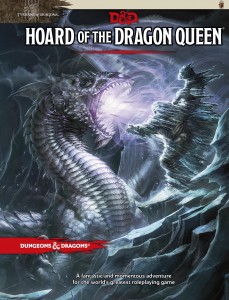 In episode 1 the Cult of the Dragon attacked the town of Greenest in search of gold, silver, and other valuables. The Human Cultists were accompanied by Kobolds, Drakes and even a Blue Dragon. Thanks to a daring band of adventurers, the town and many of the locals were saved. The evildoers eventually retreated; carry what loot they could as they fled south. The PCs took a much needed, and well deserved rest before following the cultists to retrieve what possessions they could and discover more about what motivated these attacks.
Note: I've decided to adjust the way I denote the title of these posts. Since the adventure is divided into episodes (chapters) I felt it made a lot more sense to indicate what episode my post covered. With different groups completing episodes at different speeds this should make it easier for DMs to find notes on the exact session they want.
As we continue to attract new players at Hairy T North in Toronto we've had to open another table – that brings us up to six. The numbers broke down like this: table 1 (DM Craig) six players, table 2 (DM Hillel) had five players, table 3 (DM Tim) had six players, table 4 (DM Derek) has six players, table 5 (DM Chris) has six players, and table 6 (DM Wayne) had four players. That's six DMs and 33 players. We had to move into the space where folks play Magic and ask the Magic players to cram into the space where we used to run D&D Encounters.
My table had the following PCs, all returning from previous weeks: Tiefling Bard, Drow Sorcerer, Tiefling Warlock (formerly Tiefling Bard), Halfling Rogue, Elf Rogue, Dragonborn Fighter. The Halfling Rogue was still level 1, but the rest of the PCs were all level 2.

Actual Play Podcast at Hairy T North (Season 19 / Episode 2 / Session 1)
Play Now
|
Play in Popup
|
Download
{ 12 comments }