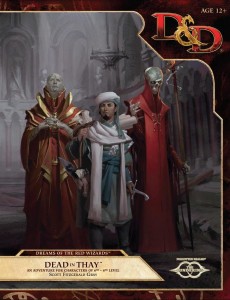 The heroes are still running around the Doomvault dungeon wreaking havoc and killing Red Wizards, but now the PCs know they need to disrupt the black gates if they want to reach the Phylactery Vault and stop the Lich-lord, Szass Tam. Last week my party teleported from gate to gate disrupting them as they went. This week they planned to continue with this plan, but faced tougher obstacles on their journey.
At Hairy T North in Toronto we continue to see new players every week. The release of the D&D Starter Set for 5e and the release of the D&D Basic Rules on the Wizards of the Coast website have peaked the curiosity of many players. We expect to see an influx of new players who want to try the new edition, and this week we got three.
We ran four tables again this week: table 1 (DM Craig) had six players including one of the new players, table 2 (DM Hillel) had five players, table 3 (DM Tim) had six players, and table 4 (DM Derek) had five players including two of the new folks. My group had a Human Cleric/Mage, Gnome Mage, Human Monk, and the two new players used the Elf Mage and Halfling Rogue pre-gens.

Actual Play Podcast at Hairy T North (Season 18 Week 9)
Play Now
|
Play in Popup
|
Download
{ 2 comments }