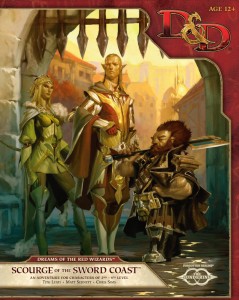 This week we started season 17 of D&D Encounters. The adventure is called Dreams of the Red Wizards: Scourge of the Sword Coast. It's the third of five adventures that crossover with The Sundering storyline. Scourge of the Sword Coast is also billed as part 1 of 2 adventures that concludes next season with Dead in Thay.
The PCs began play this season at level 2. Wizards of the Coast has only provided support for D&D Next despite rumours that they would keep supporting 3.5e and 4e through this season.
At Harry T North in Toronto we're running four tables this season; three using D&D Next and one using 4e. This season I'm running a D&D Next table. My party had the following characters this week: Half-Orc Mage, Drow Paladin, Elf Rogue/Cleric, Elf Ranger, and Half-Orc Paladin. We're also saving a seat for another regular who couldn't make it this week so we'll top out as a party of six.

Actual Play Podcast at Harry T North (Season 17 Week 1)
Play Now
|
Play in Popup
|
Download
{ 3 comments }