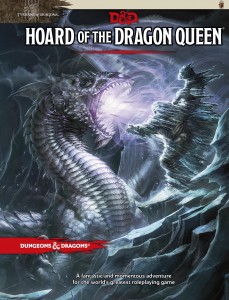 The party defeated the half-Dragon and his five fanatical Barbarian underlings in the Dragon Shrine during the last session. Most of the PCs were pretty banged up so they took another short rest before advancing to the Dragon Hatchery this week. Fortunately none of the creatures still inside the caverns stumbled upon the PCs while they rested so after an hour it was down the stairs into the bowels of the cave.
We ran four table this week at Hairy Tarantula North in Toronto. Three groups are nearing the end of Episode 3 while the fourth table has already moved on to Episode 4. Our usual fifth which has also already moved onto Episode 4 decided to play on a different night beginning this week. It's good for us because it frees up some space and it's good for them because they're now on a night where there's nothing else going on at our FLGS giving them free run of the place.
This week I had seven players at my table, six of my regulars and one brand new player. The new players had a lot of experience with D&D 2e and 3e, but none with 5e. The table rounded out as follows: Elf Rogue / Arcane Trickster (4), Dragonborn Fighter (4), Halfling Rogue / Assassin (3), Tiefling Bard (3), Tiefling Warlock (3), Elf Ranger (3), Human Fighter (1).

Actual Play Podcast at Hairy T North (Season 19 / Episode 3 / Session 4)
Play Now
|
Play in Popup
|
Download
{ 1 comment }