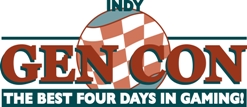 With only a few days until GenCon, many of the gaming blogs will be sharing their list of dos and don'ts for making your GenCon experience great. Today and tomorrow Dungeon's Master offers some tips on what you can do to help make everyone else's GenCon experience great.
While you're busy trying to enjoy the best four days in gaming make sure that you're not ruining someone else's. Although most gamers I've met are pretty well behaved, there are some who are completely oblivious and don't realize that their poor behaviour will have a negative impact on those around them. So be mindful of others when you're at GenCon (or at your local FLGS for that matter) and give this article from the archives another once over.
Originally published on July 16, 2012, Dungeon's Master once again presents Don't Be a Dick – 4 Tips for Following Wheaton's Law.
{ 0 comments }