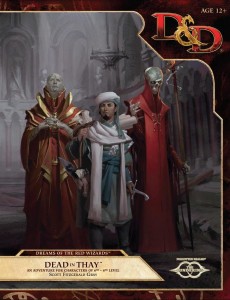 This week we kicked off the start of D&D Encounters season 18 at Hairy T North in Toronto. Dead in Thay is the sequel to Scourge of the Sword coast and picks things up a few weeks after the events from last season finish. The PCs are at the Floshin Estate. Sir Isteval, Sir Darfin Floshin, and Jekk are all there too and they're ready to strike back at the Red Wizards of Thay.
A renegade Red Wizard named Mennek who opposes the Thayan lich lord Szass Tam has agreed to help the PCs strike a powerful blow against him. Szass Tam plans to use the portal beneath Bloodgate Keep to move his army of undead troops across the realms and ravage the Sword Coast. The heroes were gathered together so that they could make a preemptive strike and close the Bloodgate permanently.
The first encounter of this adventure is designed to be run as the Launch Weekend event. Unfortunately we were unable to run it on the weekend so we ran it as the first session of the season for our regular group. Despite a lot of regular players being away for this first session, we still had 17 players divided between three tables, all of which are using D&D Next rules this season. I acted at the coordinator and DM. At my table we had the following PCs: Half-Orc Paladin, Half-Orc Cleric, Dwarf Fighter, Elf Ranger, Elf Mage, Human Bard.

Actual Play Podcast at Harry T North (Season 18 Week 1)
Play Now
|
Play in Popup
|
Download
{ 13 comments }