On Friday we comb through our extensive archives to find an older article that we feel deserves another look. From April 25, 2013, Dungeon's Master once again presents: Venger.
My first exposure to Dungeons & Dragons was through the Saturday morning cartoon in 1983. I was 9 years old at the time and the show fascinated me. I could relate to the characters because they were around my age. The fantastic elements of D&D – the magic, the monsters, and the adventures – left tremendous feelings of wonder and awe on my young and impressionable mind. When I was invited to actually play D&D in the years to follow, I was immediately on board.
I'm sure I wasn't the only player who created characters that mimicked the heroes from the show. This was likely due in part to my limited experienced with the game and limited knowledge of the choices available. But it was just as likely because I thought those characters were cool.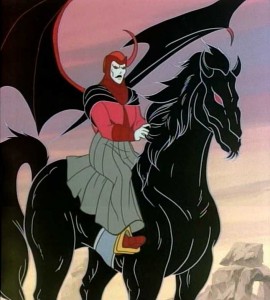 The other thing I wanted to do as soon as I started playing D&D was to fight Venger. According to the title sequence of the D&D cartoon, Venger was the force of evil in the world of Dungeon & Dragons. He wasn't just some bad guy, he was THE bad guy. Forget fighting Bullywugs, Orcs and even Dragons, point me in the direction of Venger! I never got my chance to fight Venger, and after a little while I realized that I didn't need to fight him to enjoy my D&D experience, but a part of me still wants to take him on. After all he is a great villain.
{ 4 comments }