On Friday we comb through our extensive archives to find an older article that we feel deserves another look. From March 7, 2011, Dungeon's Master once again presents: Summoning and Banishment.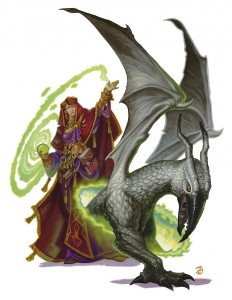 Generally when a character uses a summoning or banishing power there is no real though about how the power works. A creature is either summoned from a distant plane of existence to do your bidding or a dangerous foe is removed from combat for a short period of time. However, since most powers that summon or banish are arcane or psionic in nature, there is certainly room for customization that can make for some very interesting role-playing.
Without changing the mechanics of how summoning or banishing powers actually work, the players and DM still have a tremendous about of flexibility when it comes to describing how these powers function within the game itself. Think of it as flavour text, but don't stop there.
Consider for a minute the consequences and repercussions of summoning a creature to fight your battles or to banishing an incredibly deadly foe to some distant plane, even if it's only for a very brief time period. A little imagination can add a lot of flavour to your game the next time a character uses one of these powers.
{ 1 comment }