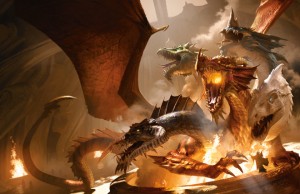 With the release of the new 5e Dungeons & Dragons comes a new look and feel to D&D public play. D&D Encounters as we know it is changing as it becomes part of the broader public play program known as the D&D Adventure League.
The first adventure in the Tyranny of Dragons story arc is Hoard of the Dragon Queen. The D&D Encounters adventure, which your FLGS can download for free, provides enough material to advance PCs from levels 1-4. The story continues for PCs of level 5 and above in the for-sale product of the same name, Hoard of the Dragon Queen, on sale August 19.
As part of the new 5e public play kick off game shops everywhere will be receiving Tyranny of Dragons Kits full of great free stuff for DMs and players. Today we're going to share everything that you can expect to find inside including Faction Packs for players, and DM packs that include magic item certificates. Read on.
{ 25 comments }