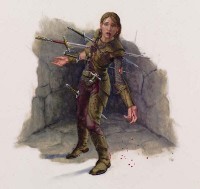 As we transition from 4e D&D to 5e D&D we have seen significant changes to the way D&D works. The new edition has cherry picked some of the very best aspects of all previous editions to bring us into a D&D sweet spot called 5e. To make this work some things were left out, even things we felt made the game better. For example, the bloodied condition.
For those who may not have played 4e or who are so immersed in 5e they've completely forgotten what 4e was like, a creature is considered bloodied when it is reduced to half its maximum hit point. So a monsters with 40 hit points is considered bloodied when it's down to 20 hit points or less.
I realize that conditions were streamlined and eliminated where possible for 5e so I understand the rationale for not including it as part of the initial base rules, but personally I liked knowing when monsters and PCs were bloodied.
{ 22 comments }