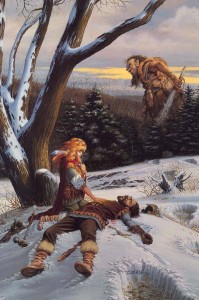 One of the challenges most commonly faced by adventuring parties is the ability to heal wounds quickly and easily. Time heals all wounds, but in the heat of battle time is a precious commodity. You're not likely to leave the fight and rest for a few days when you can keep swinging your blade or slinging your spells in hopes of defeating the foe in front of you right now. That's where magical healing comes in.
In 4e D&D the leader classes took on equal responsibility for healing. The powers to heal were abundant, minor actions that you could throw around from great distances. Let's face it, in 4e any party with a half-competent leader shouldn't have suffered many losses. Between Healing Word (or the equivalent) and Second Wind there was plenty of healing to go around. Healing was fast and easy.
As appealing as this abundant healing was to some players (me included), it was a radically different approach than what we'd seen in previous editions of D&D. Traditionally in D&D the Cleric was the healer. Other classes had abilities and powers that let them provide supplemental healing but the Cleric was usually the primary medic. This is the direction that magical healing has taken in D&D Next – it's back to the Cleric as party healer with Paladin, Ranger and Druid providing back-up support.
Making the Cleric special again by giving them exclusivity in the super healing department is fine with me. However, most healing is now limited to a range of touch. The Cleric has to get up close and personal to heal the wounded or revive the fallen. This is how things used to work and it looks like this is how things will work again. Fair enough. But after playing 4e for so long it's tough to go back to the idea that healers are hands on.
{ 10 comments }