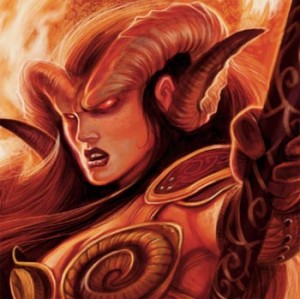 The descendants of ancient bargains with infernal powers, Teiflings are often misunderstood. It is assumed that they are dangerous, cunning and untrustworthy people. While this is true for some, Teiflings make valuable allies. Their innate Charisma assists them in putting their opponents off guard and their Intelligence allows them to tactically size up a situation before they act.
Last week we covered Dwarves, the best race, today let's take a look at this infernal race. You may also want to check out Mark's write-up on why he thinks Humans are the best race over at Dice Monkey.
Attribute Bonuses
Tieflings receive a bonus to Charisma and Intelligence. This gives Tieflings a leg up on other races when it comes to social and knowledge skills. With social skills being some of the most used skills at my gaming table this allows the player who selects Tiefling as a race to have a greater opportunity to participate.
The following classes use one of these two attributes as their primary attribute. Four classes use Charisma: Ardent, Bard, Sorcerer and Warlock. Four classes use Intelligence: Artificer, Psion, Swordmage and Wizard. Eight classes use Charisma as a secondary attribute and six classes use Intelligence.
Skill Bonuses
Tieflings gain a + 2 bonus in Bluff which complements nicely with the bonus to Charisma. With these innate bonuses the player who selects a Tiefling could consider forgoing skill training in bluff due to these bonuses. Or go the other way and maximize the ability to deceive others.
Racial Benefits
Fire Resistance
Teiflings receive some good racial benefits. The most useful in my mind is fire resistance 5 + one-half your level. All players should look to gain resistances to different damage types as they level and the Tiefling has that benefit built in. Having resist fire 20 at level 30 is nothing to scoff at. As a Teifling fighting the iconic red dragon isn't quite as terrifying for you as it will be for other races.
Bloodhunt
As a Tiefling you will always want to know who is bloodied on the battlefield. Bloodhunt gives you a + 1 racial bonus to attacks against these foes. This is a great benefit as every enemy in every fight is going to be bloodied at one point or another. If you select a class that is a striker you'll likely be steal killing a lot.
Infernal Wrath
This encounter power grants a bonus to attack against an enemy who has hit you since your last turn. If you hit, you add your Charisma modifier as extra damage. Combine this with Bloodhunt and that's + 2 to hit and with the Tiefling bonus to Charisma there should be some extra damage coming.
I think it's fair to say that most people should think twice before attacking a Tiefling.
Class Considerations
Tieflings have a lot of options for class selection which span all four roles. Typically Tieflings are seen as scoundrels and the Rogue, Sorcerer and Warlock class play to this stereotype. In fact the Warlock and the Tiefling were practically made for one another. There is just something about a race born from an infernal heritage and a class that makes a bargain for power.
Tieflings also make intriguing Rogues, with their skill and Charisma bonus the artful dodger is a great choice. Of course this only plays to the stereotype that Tieflings are untrustworthy. Teiflings make great strikers, most notably with the Warlock and Sorcerer classes.
Tieflings don't have the attributes that most defenders need, indeed their stats are only geared towards the Swordmage. However, having played a Teifling Paladin I can say that they provide very interesting role playing opportunities.
Tieflings also make enabling leaders, with the Bard, Ardent and Artificer being the lead contenders. Don't overlook the Warlord though, while Tieflings don't have the strength they do have the two secondary attributes that the Warlord requires.
Classes That Have Charisma As Primary Attribute
Ardent
Bard
Sorcerer
Warlock
Classes That Have Charisma As A Secondary Attribute
Assassin
Barbarian
Battlemind
Cleric
Paladin
Rogue
Warlord
Classes That Have Intelligence As A Primary Attribute
Artificer
Psion
Swordmage
Wizard
Classes That Have Intelligence As A Secondary Attribute
Avenger
Bard
Invoker
Shaman
Warlock
Warlord
Classes That Use Charisma Primary, Intelligence Secondary
Classes That Use Intelligence As Primary, Charisma Secondary
Classes That Use Both Attributes As A Secondary Attribute
In total 19 of 25 classes use the Tiefling attribute bonuses in one way or another. This gives you the player a great deal of options. Naturally, some combinations are going to be more beneficial than others but there is certainly a great deal of flexibility available.
Do you enjoy playing Tieflings? Have I missed a favourite class that you enjoy pairing with the Tiefling? What drew you to the class, was it the infernal heritage or the racial benefits?

Looking for instant updates? Subscribe to the Dungeon's Master feed!