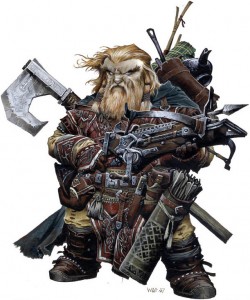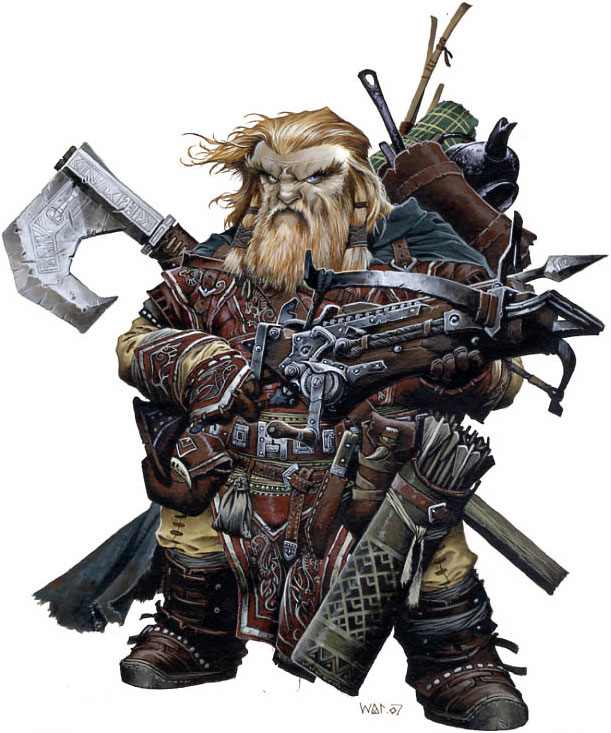 Surly, gruff, uncouth and belligerent. Nothing could be further from the truth when speaking about Dwarves. Insightful, tough, resilient and reliable are better words to describe Dwarven kin. In looking at the characteristics of this noble folk you realize that not only would you enjoy an evening of pints with a Dwarf, but you also want them watching your back. Of course we shouldn't neglect to mention those beards. Phenomenal stuff! Let's take a deeper look at the toughest of races.
Dwarves receive the most beneficial set of racial bonus and I'll break those down in terms of what it means for you as a player.
Attribute Bonuses
Dwarves receive two great attribute bonuses in Constitution and Wisdom. These are perhaps the two best attributes to receive a bonus in. All characters benefit from more hit points and healing surges, and the only two skills that the character sheet has listed with passive numbers are both on Wisdom.
If we break down the numbers of what classes use these two attributes, we see that only one class, the Battlemind, uses Constitution as a primary attribute. Six classes use Wisdom as a primary attribute, the Cleric, Avenger, Druid, Invoker, Shaman and Seeker. Ten classes use Wisdom as a secondary attribute and 12 classes use Constitution.
Skill Bonuses
Dwarves receive a +2 bonus in two very useful skills. Now perhaps you'll disagree on how useful Endurance is as a skill. Perhaps you'd be right. However, receiving a +2 bonus to Endurance and a +2 to its keyed attribute can't be overlooked. This allows you to make other choices during skill training. Let's be honest, no one wants to train Endurance, but when you need to make a check in this skill it usually matters. Having a +2 racial bonus to the skill and a +2 bonus to the keyed attribute offsets the need to train it.
Racial Benefits
In my mind Dwarves have some of the most useful racial benefits. The first thing that stands out is that these powers aren't encounter powers. Some of these powers can be used multiple times in an encounter. Unlike other races who can only use their racial power once per encounter. Let's take a closer look.
Poison
Any bonus to saving throws is a good thing. While this bonus won't come into play every time you make a saving throw, when poison is in the mix having a +5 modifier swings things heavily in your favour.
Dwarven Resilience
Probably one of the best racial benefits in the game. Dwarves don't need to give up a standard action to use their second wind. A minor action will suffice, this makes Dwarves much more versatile in combat.
Stand Your Ground
With the tactical nature of 4e combat, being able to control your movement is like having an ace up your sleeve. The Dwarven racial feature Stand Your Ground allows you to reduce forced movement by 1 square. This gives Dwarves a greater degree of control when forced movement comes into play, frustrating opponents with their sheer resilience and stubbornness about being moved. Add in the ability to make an immediate saving throw to avoid falling prone and Dwarves are a force to be reckoned with on the battlefield.
Class Considerations
The player who selects a Dwarf as his race has a great deal of classes available to them. Stereotypically Dwarves are known as great warriors on the battlefield. With the racial bonuses in 4e, Dwarves do make great Fighters. The attribute bonuses Dwarves receive allow them to focus on increasing Strength since Constitution and Wisdom are taken care of.
If we consider class choice from a role perspective Dwarves make excellent defenders. Racial benefits allow Dwarven defenders to stay in the thick of things where they belong. There is a reason that stereotypes exist, there is usually a grain of truth to them. In this case the stereotype does hold true.
Dwarves make decent strikers. Their primary attributes aren't geared towards many of the strikers primary attributes, with the exception of the Avenger. Dwarven attribute bonuses only work to the advantage of the Monk and Ranger.
The only leader classes that Dwarves excel at are Cleric and Shaman. They certainly have the appropriate bonuses to allow them to play the Warlord or Artificer. With the exception of Cleric you will probably find that your Dwarf only makes a mediocre leader.
Surprisingly Dwarves make decent controllers. Primarily from the divine and primal powers. Wisdom is a primary attribute for the Druid, Invoker and Seeker. I can say from personal experience that Dwarves make excellent covenant of wrath Invokers.
Classes That Have Wisdom As A Primary Attribute (6/25)
Avenger
Cleric
Druid
Invoker
Seeker
Shaman
Classes That have Wisdom As a Secondary Attribute (10/25)
Ardent
Artificer
Battlemind
Fighter
Monk
Paladin
Psion
Ranger
Warden
Wizard
Classes That Have Constitution As A Primary Attribute (1/25)
Classes That Have Constitution As A Secondary Attribute (12/25)
Ardent
Artificer
Assassin
Barbarian
Bard
Druid
Fighter
Invoker
Shaman
Swordmage
Warden
Warlock
Classes That Use Wisdom As Primary, Con As Secondary
Classes That Use Con As Primary, Wis As Secondary Attribute
Classes That Use Both Attributes As a Secondary Attribute
Ardent
Artificer
Fighter
Warden
In total 21 of the 25 available classes use the Dwarven attribute bonuses in one way or another. This makes Dwarves a well rounded choice for any class. Naturally, certain combinations will work better than others, but you can be assured that your Dwarf will be able to handle themselves in almost any situation.
Do you play a Dwarf? What drew you to the race? Was it the attribute bonuses, the racial benefits or the role playing opportunities that Dwarves bring to the table?
Related reading:

Looking for instant updates? Subscribe to the Dungeon's Master feed!