For the past five years the group at Dungeon's Master have used MapTools as the primary means for displaying our combat encounters. To say that MapTools has changed the way we play the game would be an understatement. In a previous post, Desktop Killed The Tabletop Game, I wrote about how software like MapTools has the ability to change the way the entire hobby is played and I still believe that to be true. I believe that a blend of software and hardware, such as what the Surface Scapes project is doing, will also revolutionize the way we play our hobby. Perhaps not in its current form, but certainly we are seeing the beginnings of how technology can be applied to Dungeon & Dragons and bring our minis and maps to life.
As I mentioned, the Dungeon's Master team has usied MapTools for many years. It's been great in assisting us in keeping our game going. When a member moved beyond driving range it allowed him to continue to log in and play D&D with the rest of us. The experience wasn't exactly the same, as he wasn't sitting at the table, but he was able to participate and we were all able to keep in touch. Through a robust set of macro's the software also allows you to track conditions, hit points, healing surges and numerous other aspects of the game. One of the trick with minis is finding ways to creatively mark each mini with the appropriate conditions. MapTools eliminates that problem.
However, it introduces a new problem to the mix. As everything is fairly automated, it means that player's have less to do in between combat rounds and an active Internet connection can lead to trouble. As our member who moved away has made the decision to no long play D&D due to other obligations we've been left with the dilemma, do we still need MapTools for the original reasons we started using it?
The answer is clearly no, we do not. However, we've grown dependant on many of the features that are available to us through the software. However, the other night the decision was made not to use MapTools and instead to use a large battle map with minis. I was surprised by how refreshing the experience was.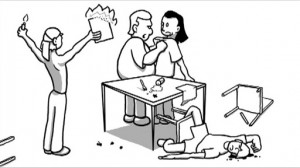 Technology is a double edged sword. It can assist us, making many tasks light work. However, it can also provide us with a distraction that pulls away from our productivity. Now, before I go further I want to stress I'm an advocate of MapTools and other mapping software. It holds an important place in the game and demonstrates what is possible given time and some creativity to make the hobby better.
Let's take a look at the pros and cons of Maptools and using a battle map with minis.
Pros
MapTools
The DM is able to prep maps ahead of time. Building line of sight features in. All monsters are also able to be placed hidden on the map, with hit points able to be tracked through the software.
Vision tools are available, allowing the fog of war to be removed as the PCs move about the map. The line of sight feature mentioned above eliminates discussion about whether or not a PC could be seen or not.
Top down view of the battlefield allows for a dynamic view of the encounter.
Blast and burst templates are able to be marked and clearly seen. Difficult terrain can be drawn onto the map.
Battle Map
Maps are drawn ahead of time. Standard graph paper can be used or dungeon tiles. Alternately a large battle map with dry erase markers.
The battle is viewed in 3D, giving a true sense of the scale of the battle and the size of the combatants.
Cons
MapTools
Finding suitable maps can take time. Creating suitable maps takes time and requires a degree of skill.
Usually requires an active Internet connection which can lead to player distractions.
Technology doesn't always work as intended and for something to not connect properly can lead to time spent trouble shooting.
If the Internet goes down, so does your game.
Battle Map
Tracking conditions can be cumbersome.
Unable to see when a creature is bloodied unless its mini is marked.
Maps need to be hand-drawn or dungeon tiles need to be purchased. Can result in maps always looking alike.
You may not always have the correct mini, making your red dragon appear as an earth elemental so that the size is correct.
I'm sure there are plenty of other pros and cons to both methods of mapping. MapTools and minis have been used by our group to great effect and we enjoy what each delivers. At the end of the day I don't think there is a single right answer on which platform to use. Rather it's a question of what works best for your particular group.
In the end a hybrid approach might be best. With a flat panel monitor lying on the table displaying a map. PC minis could be used and the DM can still track hit points through the MapTools software.
How has your group experimented with different mapping applications? What have you had success with and what has been a downright disaster?

Looking for instant updates? Subscribe to the Dungeon's Master feed!