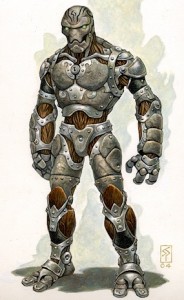 Warforged, and by extension constructs, are the most difficult races to play. But it's this difficultly makes them extremely appealing to many gamers. The Warforged represents the best physical qualities that humanoids have to offer, yet they lack their fundamental weaknesses. They are, to put it bluntly, superior by design.
Today marks our 600th post. When we've hit significant milestones at Dungeon's Master in the past we've tried to relate the number of that milestone into that article. Our 100th post was a list of 100 Great Things About D&D. For our 300th post Wimwick and I each created King Leonidas from the movie 300. Post 404 was all about Errors I've Made as a DM. With the 500th post looked at extreme wealth, the Fortune 500 of D&D.
Inspiration for 600 hit me when I was watching Terminator: Salvation on DVD. One of the Terminators they fought was the T-600 – an extremely powerful combat model. I've always believed that Keith Baker came up with his idea for Warforged after watching one of the Terminator movies. So with that in mind the 600th post seemed like the ideal time to take a closer look at Warforged in 4e D&D.
Ever since I first read the original Eberron Campaign Setting I fell in love with Warforged. I was fascinated by the idea of a race of artificial soldiers constructed for one purpose – to fight. Yet now they find themselves redundant in a world without war.. Living people already have an extremely difficult time establishing an identity for themselves, but imagine how much more difficult it must be for these constructed beings.
When it comes to role-playing a Warforged in search of his identity, I've always felt that they fall into two distinct groups. They either want to become more like their creators, more Human and life-like, or they want to forsake the idea that they are anything like their creators and seek meaning in their artificiality.
 
More Human Than Human
When most of us play Warforged characters we likely fall into this first category. The Warforged understands that he is an artificial being made to fit into the world of humanoids. Although many Warforged will strive to develop a sense of self-identity and independence they are still willing to work within the confines of the world that man have created.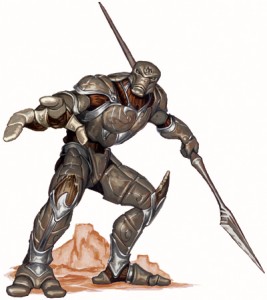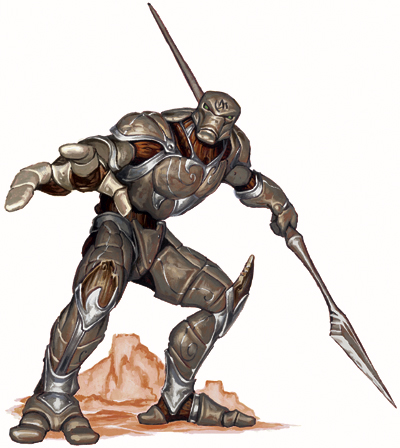 The level and degree to which Warforged try to assimilate will vary depending on the character's goals, history and class. Warforged with superior strength and size are more likely to find acceptance fulfilling roles where these advantages are more beneficial. However, the advantages provided by their physical design can also be problematic in other circumstances.
Take for example a Warforged soldier built for melee combat. His body resembles that of a man in heavy plate armor. As a soldier, body guard or labourer his size is a great advantage. However, this same Warforged may find social interaction more difficult because his size is intimidating. A humanoid soldier can remove his armor when not in battle, thereby fitting in during peacetime. The Warforged cannot do likewise. However, the Warforged does have options for changing.
A Warforged can make modification to their body given the proper resources. When they find that their physical appearance no longer suits their long-term goals, they can make drastic alterations.
Take for example a Warforged who strives for social acceptance. Since most Warforged were designed to excel in physical melee combat they have bulky, armored bodies. This can be disconcerting and off-putting to other living people when the Warforged tries to immerse himself in a social setting. Should a Warforged decide that his bulky exterior is no longer advantageous for his new goals he can have his body reconstructed and manipulated to better suit his needs.
Regardless of what the Warforged strives to accomplish with any outward changes, he is always conscious that he lives in the world of men. In order to establish himself within the Human community, he must take steps to ensure that his form still resembles the normal and acceptable form that all humanoids have. Even though adding two more arms may provide a significant combat advantage, this is not something that a Warforged with this mentality will opt to do if he hopes to blend in. Deep down he still realizes that it's a Human world and that any place he hopes to carve out for himself needs to happen within the established social standards.
Sometimes Warforged searching for identity that fall into this first classification find it hard to understand their freedom. Many will look for a "master" to provide guidance. Some opt to remain in the military, taking comfort in the rigid hierarchy. Others may find direction through religion. Some still may end up as hired goons working for less savory individuals. I've seen a few great Warforged characters that join adventuring parties simply to have someone else make the decisions.
Steel is Strong, Flesh is Weak
On the other end of the Warforged identity spectrum are the radical and extreme thinkers. They want to embrace everything that their artificiality allows. Although they were created by men, resemble men and live in a world of men, they don't feel that they have to fit into the definitions created by men. Why limit yourself to just two arms, two legs or even one head? Why even take a humanoid form at all?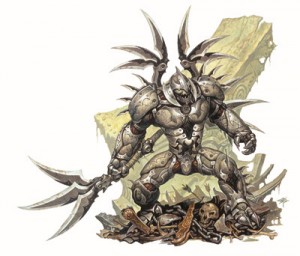 This type of Warforged will not hesitate to replace limbs with weapons if they feel it will give them an edge in combat. They'll make whatever physical alterations to their body that they want. Most will opt to retain the humanoid form simply to take advantage of the things Humans have created, but that's likely the only reason for doing so.
Once these Warforged received the spark of life that granted them sentience there was no looking back. They often see themselves as superior to their creators. After all, flesh is weak. Men need to sleep, eat and breathe. Eventually a man will die form old age or disease. The Warforged represents only the best qualities of men and isn't limited or restrained by men weaknesses.
The Lord of Blades certainly falls into this end of the spectrum. He believes he's a god, chosen by divine right to lead the Warforged race. The Lord of Blades has made radical alterations to his appearance by adding blades all over hit body.
Playing a Warforged
Obviously some of the examples I've presented above are quite radical and deliberately extreme. From the point of view of your PC, some of these concepts just aren't going to work at most gaming tables. If you're a Warforged extremist who feels superior to all living creatures and strives to make the world a better place for your brethren at the expense and sacrifice of breathers, you're going to find it difficult to maintain any kind of positive relationship with the other non-Warforged members of the party. In fact you're going to need a pretty good reason to explain why they'd even accept you into the party in the first place.
But that's not to say that less extreme versions of these characters won't work. In fact some of the best role-playing I've experienced has been between Warforged and breathers. Some of the best Eberron novels include this kind of identity struggle at the heart of the story. I strongly recommend you pick up James Wyatt's Draconic Prophecies trilogy for an excellent example of a Warforged who does some serious soul-searching.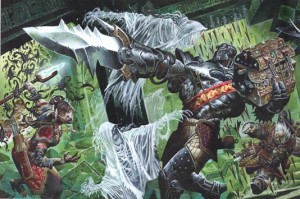 The thing that I find most challenging when playing a Warforged is that they're not alive as we understand it. They are sentient, but their perspective of the world is bound to be different from living races. Although Humans, Elves and Dwarves are all different races, they are all still living creatures and share basic similarities. No matter what kind of background characters from these races may have experienced they still share some common understandings as living beings. Warforged can try to emulate and imitate these characteristics, but they are still artificial.
Any discussion about the identity of an artificial creature is bound to be lengthy and complicated. I've admittedly only touched the surface. For most players, this is about as much of a philosophical debate as they're interested in having when it comes to fleshing out their character. After all D&D is just a game. As long as you, the player running the Warforged, have an idea of who he is and at least a general idea of his ambitions and goals that should be enough. For some of the more hardcore gamers running Warforged character, this kind of debate just helps you get into the character better.
Despite my own opinions of Warforged characters, the final call on how to play him is yours to make. If you're playing a Warforged, run him as you see fit for your game. If my look at the Warforged identity helps you better define your character then I've done my job.
Where do you stand on Warforged? Do you think that they are (or can be) as radically different as I've described? Or do you think that they are more like their creators than I've given them credit for? What interesting character quarks have players at your table come up with for their Warforged?
Click on the Eberron tab above the Dungeon's Master banner to find all of our great Eberron articles and resources.
Related reading:

Looking for instant updates? Subscribe to the Dungeon's Master feed!