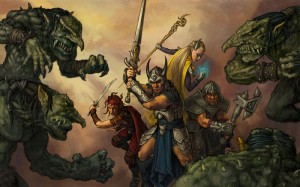 Defenders soak up damage. Leaders heal the wounded. Strikers inflict devastating amounts of damage. Controllers manipulate the battlefield.
A character's place in a D&D party is largely defined by the role the class associates with. We've all been in situations where we have needed an opponent dazed so we could move without provoking an opportunity attack or so we could gain combat advantage. We've all wanted an opponent moved so that we wouldn't start our turn in its aura and subsequently take damage that would drop our hit points below zero. In short, we've all needed the benefit of a control power at some critical point during combat. The question is which control power is best?
Now, I'm not asking if a Wizard is better than an Invoker. Instead, what I want to know is what is the best condition a controller can apply on his attacks?
For a recent home game I created a new character that was primarily a highly specialized controller. You can read about the process I used to create the character in a recent post: Move Over Character Builder. The design and subsequent play of this character has led me to question what the most effective control power is.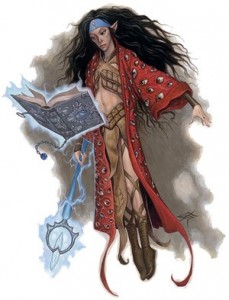 I asked Ameron this very question and I received the expected answer. The best control power is stun, however it is rare. I can't say I disagree. I hate being stunned and love it when the enemy is. However, given its rarity we need to look beyond just one stun power and dig a little deeper to find the best control power. I would argue that the best control power is damage.
Never in my time playing D&D have I been told not to inflict damage. Never have I been told I have dealt too much damage. Damage, and the ability to deal a lot of it, is the ultimate way to control the battle. The best part about being a controller is that you usually get additional control conditions with your damage. You also generally target multiple opponents with your attacks.
Now I will admit that the average controller is not going to deal more damage than the average striker. With burst damage and builds that focus on destroying single targets, strikers are the undisputed masters of high amounts of damage. However, controllers can do something that strikers cannot and that is target multiple foes with their attacks. If, as a controller, you can maximize your damage output you will find that you are the envy of many a striker.
Admittedly at the lower heroic tier your controller may not appear to be anything other than a glorified minion killer. However, as you advance into the paragon tier that begins to change. As more feat slots open up so to do the opportunities to select feats and magic items that allow you to maximize your damage.
The Dungeon's Master home game is on the threshold of entering into the epic tier. As this level of play is where I am currently playing the game I decided to do a small test. Creating a level 18 Wizard I looked to see how high I could get my damage output. I ended up with a +22 to all damage. Given a Wizard can normally attack in a burst or blast that's a substantial amount of extra damage to multiple opponents. I compared this to the Ranger in our party. What I found was that the Ranger was doing more damage on average, however the Ranger's damage was only being applied to one target (or two if Twin Strike hit both times).
What this comparison really emphasized was that as characters progress in level the line between what each class and role does begins to blur. The absolute exception to this is the leaders encounter healing powers, which are exclusive to the leader role.
In considering what is the best condition a controller can apply I won't disagree with Ameron. I'll always take a stun, however I'd like that mixed with a healthy dose of damage.
What conditions or effects do you like your controller to apply? Is a strong offense better than dazing and forced movement? Have  you found a balance of powers or a series of attacks that can keep your foes off guard?
Related reading:

Looking for instant updates? Subscribe to the Dungeon's Master feed!