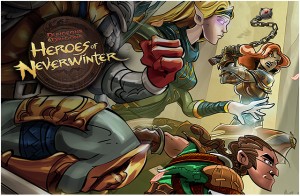 Heroes of Neverwinter continues to enjoy success on Facebook. As part of the ongoing promotion of the game Dungeon's Master is pleased to offer 25 Adventure Bundle codes to our readers.
If you'd like to receive one of these codes all you have to do is leave a comment below telling us which Dungeon's Master article you've most enjoyed and why. With over 800 articles in our archives there are plenty to choose from.
Dungeons & Dragons: Heroes of Neverwinter Adventure Bundle includes the following:
Ointment of Defense x 1: Just a small dollop of this milky ointment is enough to coat one's armor and impart its enchanted defensive properties. Its effect last for the entirety of the Adventure during which it is consumed.
Spider Egg Souffle x 1: A rare gastronomical indulgence of the moonstone mask inn.
Kobold Incense x 1: Produces a pungent smoke that only Kobolds could enjoy.
Healing Kit x 1: This healing kit allows the user to aid wounded allies.
One Adventure Bundle is available per comment, double and duplicate comments will be ignored.
D&D: Heroes of Neverwinter is developed by Atari and is available to play on Facebook.

Looking for instant updates? Subscribe to the Dungeon's Master feed!