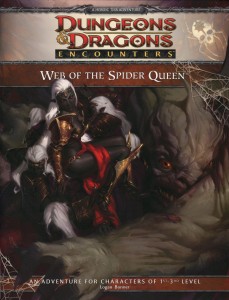 Chapter 2 began with the party refreshed and recovered from the perils that they faced through the first five encounters. If they had not already level up, everyone should have been level 2 for this chapter. Having completed their extended rest they were once again back on Valan's trail in an attempt to recover the Pendent of Ashaba.
This week's encounter was very different than most players expected. There was no combat; it was a series of puzzles and skill challenges. The last time this happened was way back in D&D Encounters season 1. I'm sure some players hated it while others reveled in the opportunity to actually role-play their character for a change.
The no combat, all skill challenge encounter had the added benefit of being short. At the two FLGS where I play all tables finished in under an hour with most taking about 45 minutes. I'm sure the short encounter was designed this way intentionally to allow DMs in the U.S. to either play two encounters this week and get ahead, or play two encounters two weeks from now catch up since stores (in the U.S) will be closed on Independence Day.
Our numbers continued to swell and were up to 14 players and 2 DMs at my FLGS. This meant two tables of 7. Here's how my table shaped up.
Drow Fighter
Drow Rogue #1
Drow Wizard (Bladesinger)
Drow Cleric
Drow Druid
Drow Rogue #2
Kobold Druid (Sentinel)
Our sessions are getting longer and longer with the extra players. We're thinking that it might be time to recruit a new DM and break into three tables. This would mean two tables of 4 and one table of 5. I actually prefer smaller groups but it could pose problems if we start seeing absences throughout the summer. I think we'll go one more session with the big tables and then make the call.
After wandering the caverns for a while the PCs eventually came to a dead end. In front of them was a huge face carved into the wall – the face was a strange mix of dragon and demon. Magical fire sprung to life illuminating its eyes, and in its mouth was a shimmering wall. Magical runes inscribed in the floor spell out the following message in a language the PCs understood: "Enter and pass the tests in the name of the Queen of Spiders."
Unfortunately this was just dungeon dressing. There was nothing to be gained from investigation and no other way past the mouth (which really annoyed my players). When the PCs eventually enter the mouth they are teleported into individual rooms.
The dimensions of each room were identical: 10ft x 20ft x 15ft tall. On one of the shorter sides was a door, but the PCs were unable to gain the leverage needed to open it from their side. The rooms were dark but in each was a magical inscription. Above each door was a grate through which the PCs could hear one another. I didn't like this detail so I removed it. I felt that the PCs needed to face each challenge alone especially since there were only four challenges for eight rooms.
In order to give all players an equal challenge any time two players had the same challenge, I asked one to leave the table while the first players had a go of it. I asked all the players to remain silent while each PC faced their challenge. After all, the other PCs couldn't help (based on how I choose to run it). At first they remained silent but by the third or fourth test they were getting restless and started offering suggestions despite my request not to.
Test of Shadows
"The path to the Spider Queen is in darkness."
Black and white tiles covered the floor of this room. In opposite corners were red tiles. The PCs needed to first step on a red tile and then cross the room, stepping only on black tiles, before stepping on the other red tile. The key was to do it in complete darkness.
PCs could use Dungeoneering or Arcana to help them memorize the pattern while the room was lit and then cross in darkness. Along the way they needed to make Athletics or Acrobatics checks to keep from stepping on the wrong tiles. Any misstep resulted in 1d6+3 lightning damage. As all the PCs in my party were Drow this challenge was a cakewalk.
One ingenious solution that came up at my FLGS had a PC secure his rope along the floor mapping out a safe route along the black tiles. It was a great idea that the DM ruled as an automatic success. I'm always amazed at player ingenuity.
Test of Deceit
"Look Lloth in the eyes and provide the answers She demands. She shall see the truth in your words and reward you accordingly. 1) Why do you come to this realm? 2) What is the great purpose of your life? 3) What talent serves you best?
In the room was a statue of Lloth with red and violet gems for eyes. The key here was to realize Lloth is the goddess of lies and didn't want honest answers. PCs needed to lie convincingly and the more outrageous the lie the higher the Bluff DC. Answering truthfully resulted in a blast from the red gem eye for 1d6+3 fire damage. Failing to lie convincingly resulted in a blast from the violet eye for 1d4+2 necrotic damage.
Once the PCs realized that honesty was not the best policy they had little trouble overcoming this challenge. I mistakenly read the name of the challenge to one of the players so he immediately realized his PC should lie. My mistake blew the challenge for him. Ooops.
Test of Spiders
"Lure your prey onto the web, then impale them on your fangs. Three shall feed your ambition."
Dusty ropes were strewn across the ceiling like a giant spider web. The ropes were coated with a sticky dust. Undead rats ran along alcoves near the ceiling. In the centre of the room were three large spikes crusted with dried blood and rat bones strewn around the bases.
The PCs needed to coax the rats onto the webs and then once the rats were coated with the dust grab them (or kill them) and impale three on each of the spikes. Doing so without the dust resulted in a ray shooting the PCs for 1d6+3 fire damage.
This was my least favourite of the challenge. I found it was really awkward and the players didn't really understand what to do. The intent seemed to be that they would bait the rats onto the webs and then kill them. Anyone with rations had no real difficulty. One of the PCs stuck with this challenge had only a weapon and armor listed on his character sheet so I ruled that he had no food on him. (Honestly, who builds a character and doesn't purchase an adventurer's kit?)
Test of Demons
"Lloth shall one day lead the armies of the Abyss before her, its generals attired with their proper tools of war."
In the room was a stature of a Balor (although it was not named, the PCs needed to make a monster knowledge check). On one wall was a rack of weapons: battleaxe, longsword, flail, mace, spear, and whip. Four gems were embedded into another wall: yellow with a lightning bolt, blue with a snowflake (cold), green with a dripping blade (poison), and red with fire.
The PCs needed to place the correct weapons (longsword and whip) into the demon's hands. They then needed to press the correct gems (yellow and red) to activate the correct charge on the weapon. Failure to equip the right weapon resulted in that weapon attacking the PC for 1d8+2 damage on a hit. Failure to press the correct gem or doing so before both weapons were in the demon's hands resulted in a ray of that energy type striking the PC for 1d4+2 damage.
It was difficult for the players to separate their out-of-game knowledge from their character's in-game knowledge. One player knew immediately that it was a Balor and knew the correct weapons to use, even though we could argue that his PC did not know.
The PCs could make a knowledge check to know the correct weapons and energy type, but I thought that made things way too easy. I revealed the correct weapons on a success but not the energy type.
Freedom!
When the PCs all completed their tests they appeared in a hallway. The ceiling above was carved to look like Lloth while the doors were her eight legs. PCs could help trapped allies still struggling by opening their door. This required a Thievery or Athletics check DC 25. Failure meant 2d6+4 lightning damage. My group needed to free the Druid's animal companion and fortunately made the check. At the other end of the hallway were cages. This is where any PC who failed three checks during their challenge would have ended up. The bars could be opened with a Thievery or Athletics check but there was no penalty for failing.
The encounter ended with the heroes reaching a cavern of the true Underdark. The cavern they overlooked was aglow with phosphorescent fungus. The adventure has a Drow priestess calling out to the PCs to surrender but this didn't seem like a tactically sound plan to me so I left it out. I ended with the PCs at the top of the 10ft ledge. Next week they can figure out how to descend and then we'll get to the Drow and the call for surrender.
I really liked this week's session. Only a couple of PCs took damage and even that was negligible. It was a far cry from the near TPKs they've had in the previous few weeks. Some players liked the session more than others, but that's to be expected. It really served as a good reminder to some players that power-gaming for combat isn't always a good idea. There's more to D&D than hack and slash and more encounters like this one will emphasize that for newer players. Wizards please include more skill change weeks moving forward.
What did you think of this week's no combat skill challenge encounter? Did your players love it, hate it, or fall somewhere in the middle? Would you like to see more encounters like this? What kind of wacky or ingenious things happened during your challenges?
Summary Sheet
Last week I introduced a summary sheet for DMs to print and hand out to the players after each session. My intent was to get this week's sheet posted Wednesday morning, but I ran into some technical difficulties. The Chapter 2 Reward Summary is now up to date and I've included the details up to and including the week 7 encounter.
Podcasts
This week we've got two actual-play pod casts (as usual) and Alton from 20ft Radius and I have recorded another weekly review in which we discuss what we liked and didn't like about this week's encounter. This one's a bit longer but I think we had a lot of great experiences at our tables and really wanted to share some of those highlights. Please visit 20ft Radius and listen to the Week 6 Podcast. Be sure to comment and let Alton know what you think of his podcast and his site.
We continue to record our D&D Encounters sessions and make them available to you for download every week. This season I'm going to try to record the games at both FLGS where I play so that you can hear how two very different groups handled the same encounter. These recordings are made in a loud, crowded game store so at times it may be difficult to hear everyone.
D&D Encounters: Web of the Spider Queen (Week 6) – Podcasts
Visit the Dungeon's Master
D&D Encounters Archive
for all of our ongoing weekly coverage as well as other great D&D Encounters articles and resources.

Looking for instant updates? Subscribe to the Dungeon's Master feed!