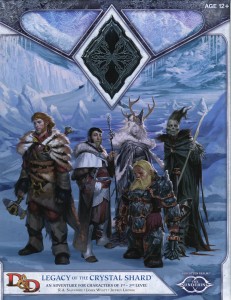 During the last session the PCs battled the Bear Tribe warriors at the Evermelt oasis atop a glacier, but they didn't find the captives they'd come to rescue. When we began this week's session they interrogated the prisoners who told them to jump in the pool. The Assassin took the advice literally, dove into the hot spring head first, and disappeared!
At Harry T North in Toronto our numbers are holding steady around 20 players. We had three new players this week, but had a few regulars out with illness and work commitments. The other DMs ran D&D Next tables with four, five and eight players. At my 4e table we ran with four again as we seem to keep rotating who's in and who's out.
Present this week was the Revenant (Eladrin) Assassin, Gnoll Barbarian, Tiefling Paladin, and Dragonborn Cavalier. The Halfling Rogue stayed with the Elk Tribe warriors and guarded the captive Bear Tribe warriors. Fortunately Hengar joined the PCs just in case they needed additional help.

Actual Play Podcast at Harry T North (Season 16 Week 3)
Play Now
|
Play in Popup
|
Download
{ 1 comment }