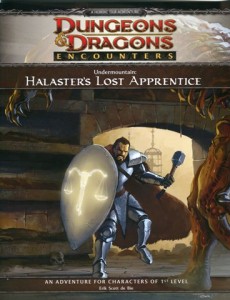 Before starting D&D Encounter week 9, I had a tough decision to make. Last week we had a total party kill (TPK). I had to decide if I wanted to resurrect my Gith Monk and keep playing him for the remaining four weeks or if I should play a totally different character? I weighed the pros and cons very carefully all week.
Pros – I've played this character for eight sessions. He and I have history. I know is powers and I've finally got a good sense of who he is. He's got a magical weapon, a big advantage for a striker. He's also earned about 40 renown points and could easily hit 50 before the end of the 12 weeks.
Cons – He died last week earning exactly 0 XP. Even if I opt to return him to life he'll still only be level 1. Since there are no more opportunities for an extended rest he'll stay level 1 for the four remaining encounters. He'll also incur the modified D&D Encounters death penalty which is -1 to all rolls until he reaches one milestone (so the end of week 10). That pretty much offsets the +1 enhancement bonus from the magic weapon.
Weighing these options I decided to shelve my Monk and come at the final four encounters with a brand new character. Introducing the Human Warlord. One thing we've sorely lacked at my FLGS are leaders. We finally had a player show up with a Cleric a few weeks ago, and that helped considerably. But the Warlord I've created is an equal mix of offense and defense. And he has healing magic, so there's that too. After playing him for just one encounter I know I made the right choice.
D&D Encounters is a 12-part adventure from Wizards of the Coast and it's played out one encounter each week over 12 weeks.
Continuity Problems
One of the things I've enjoyed thus far with D&D Encounters is the ever-changing party make up. We've had between 7 and 20 players show up from week to week at my FLGS. We usually end up with enough players for three tables. That being the case I've made a point of switching between tables every few sessions. This let me play under three different DMs and let me get a chance to play with just about everyone by the end of the 12 weeks. But I learned this week that the very design of D&D Encounters that's led to the flexibility I've enjoyed thus far may be partly responsible for the TPK we experienced last week.
Before this week's game we had an informal discussion with the DM. Since some of the players at my table didn't play last week they wanted to a) know what they missed and b) hear all about how they dodged death. During our conversation the DM (who couldn't play last week) mentioned that the PCs could have taken actions to weaken one of the monsters during the last fight. Specifically if we'd asked for aid, in-character, a benefactor would have appeared and suppressed a monster's damaging aura. Without the aura I think we would have survived, or at least had a fighting chance last week.
This news came as a complete surprise to the players (me included). How would we have possibly known to ask for aid? The DM said that there were clues over the past few encounters, but none of us remembered the clues to which he referred. It turned out that some DMs really played up these clues and other did not. What really seemed odd to me was that the biggest, and apparently the most obvious clue was apparently provided in the encounter from week 4.
If D&D Encounters played out like an LFR adventure we'd get four encounters each night. In that situation asking the players to remember details from the previous few encounters isn't a big deal. But with four weeks of real time between the clue and the payoff it's tough to expect that the players would remember a detail that seemed unimportant at the time.
I think this is a failing in the way that D&D Encounters is set up. Each encounter needs to be self-contained. If we're supposed to really remember something that will drastically affect our likelihood of survival then we need something to jog our memory.
I want to be perfectly clear that this rant is in no way a jab or criticism again any of the DMs. They've been doing a superb job. I know them all pretty well and I'm the first to sing their praises. They each have a unique style and are all excellent DMs. My criticism is in the adventure's design, not the way it was run.
Another One Bites the Dust
I've said it before and I'll say it again – karma, dude, karma. I'm a big believer that what goes around comes around, especially in D&D. This week we saw another shining example of this phenomenon. You call it bad luck, I call it karma.
Before the first encounter began one of the players who missed last week's TPK was joking that he was going to be the only guy at the table to get his renown points for surviving eight encounters. He didn't say it in a mocking or malicious way, it was just an off-the-cuff remark that we all laughed at. Unfortunately the gaming gods do not like to be mocked and before he could even act in the first round he'd fallen unconscious and was making death saves.
On my turn I used Inspiring Word to heal him, but before his turn came around again he was attacked and brought below his negative bloodied value. After only one and-a-half rounds, the guy who avoided the TPK last week was dead. Karma.
Other than this unfortunate character death in round two, we had a great time and little difficulty defeating this week's encounter. In all fairness the DM did scale it down a little bit. After all, we were a party of six (well, five) level 1 PCs. Apparently the adventure assumes that most or all of the PCs will be level 2 by this time and the difficulty of the encounters has been ramped up accordingly. Even with the reduced power level the monsters still hurt when they hit. We were luck that we all read the article on Wizards of the Coast this week, Tactics 101: Player's Strategy Guide Excerpts about Focusing Fire on one monster at a time. Following this strategy made all the difference.
Visit the Dungeon's Master D&D Encounters Archive for all of our ongoing weekly coverage as well as other great D&D Encounters articles and resources.
Has anyone else changed characters since beginning D&D Encounters? Was it because your first character died, did you just want to try something new, or was your change motivated by a missing role at your gaming table?

Looking for instant updates? Subscribe to the Dungeon's Master feed!