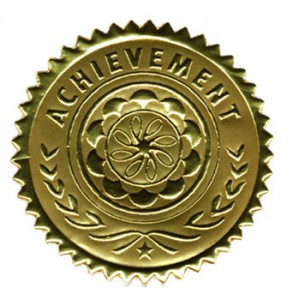 Breaking news! As you already know Player Rewards are being eliminated from organized D&D game play at the end of 2010. The big question is what's replacing it? Today we have the answer. A reliable source (who has asked to remain anonymous) provided the Dungeon's Master team with some specific details. Today we're sharing everything we have and asking you to weigh in with you thoughts on these upcoming changes.
Achievements are on the horizon for 4e Dungeons & Dragons. The new achievement system is officially launching in January 2011. One of the lead developers of the achievement system had this to say about it.
"The new achievement system is going to shine; we can't wait to reveal it to our fans. Giving players tangible goals to achieve while playing D&D, aside from killing orcs and ruining the well laid plans of DMs, achievements are going to enhance and change the way the game is played forever! I just wish I could say more, but I've already said too much!"
We've learn that when a player earns an achievement they can draw a card from the new Achievement Starter System that will be released in Q4 of 2010. There will be additional boosters released that feature all new rewards for gaining an achievement. Rewards range from a +1 on the next d20 roll to gaining 10 temporary hit points. Some cards even allow an expended daily power to become reusable.
One of the features of the achievement system that I keep hearing about is the collaborative nature of the system. DMs and players are encouraged to work together to create achievements that are tailor-made for their own campaign. For example, DMs can award achievements after players successfully cleared every dungeon. Rumoured to be in the works is a way to increase the difficulty of a dungeon to "ultimate level," thus increasing the replay ability and reducing the overall amount of work a DM needs to do.
Below are a few sample achievements players can earn.
Minion Killer
Kill 10 minions with one burst or blast power.
Weapon Master
Train in 5 different superior weapons, plus training in weapon expertise, weapon focus and weapon master.
Nine Lives
Fail two death saving throws before being stabilized nine times.
The Explorer
Train Endurance and Nature, then move your mini over every inch of the world map your game is played in.
Death's Replacement
Deal over 300 points of damage with one attack.
The Diplomat
You have +12 in miscellaneous bonuses to your diplomacy skill.
Friend of PETA
Over 30 levels of play your beast companion must take no damage.
Educated
Train in all five knowledge skills.
Half-Breed
Play a half-orc or half-elf.
Pack-mule
Have 50 items recorded in your characters inventory.
The Meta-Game Puzzler
With a character that has a minimum of 18 intelligence, when faced with a difficult puzzle say "I'm not this smart, but my character has an 18 intelligence so he should be able to figure it out."
Don't worry DMs, there will be achievement rewards available exclusively for you. After all you can brag about how many TPKs you've run your group through, or you can pull out your achievement and show it off to your fellow DMs.
Spoiler alert!There's one more achievement that is so game-changing that we felt the need to use inviso-text to hide it. Only drag your mouse over the hidden text to reveal this achievement if you can't wait for until the official announcement coming in December.
The Skeptic
Realize that this post is totally false and that the Dungeon's Master team is just having fun.

Looking for instant updates? Subscribe to the Dungeon's Master feed!