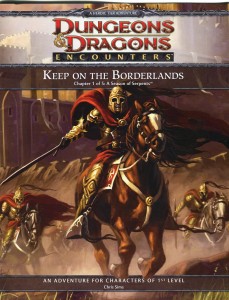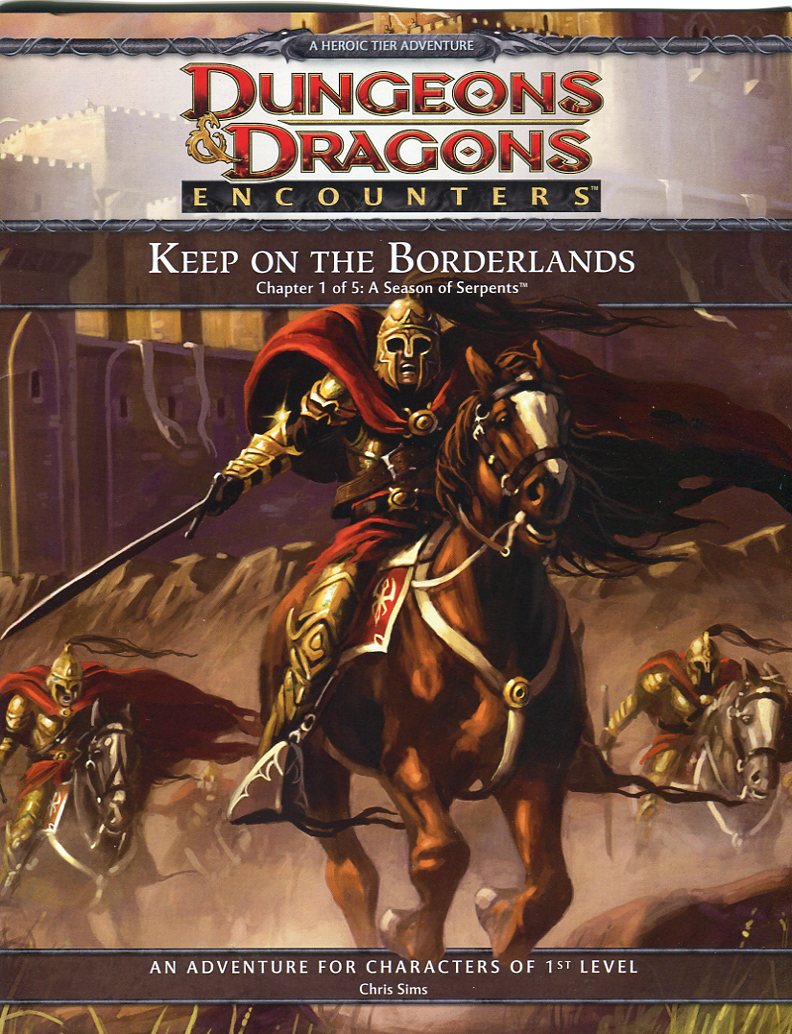 D&D Encounters season 3 begins today. Using new rules from the D&D Essentials line, the season 3 adventure is a re-imagining of the D&D classic, Keep on the Borderlands. The adventure is broken into five chapters, each one running four weeks (yes, that's a total of 20 weeks for those of you doing the math).
Players are encouraged to create their own characters using the new D&D Essentials rules found in the recently released Red Box. Wizards of the Coast hinted that Character Builder would be updated with the Essentials materials in time for everyone to make suitable PCs for D&D Encounters season 3. Unfortunately that didn't happen. So unless you've picked up the Red Box and are happy making a character without character builder, then for at least the first week you'll have to use one of the six pre-generated characters provided.
For your convenience we've scanned the pre-gens and provided them for download below. View each one individually or download the six pre-generated characters as one PDF.
See below for level 2 versions of these characters. We've also got level 3 characters available for download.
Berrian
Male Eladrin
Wizard (Mage)
Level 1, UnalignedDownload (2.2 MB)
Eldeth
Female Dwarf
Fighter (Slayer)
Level 1, GoodDownload (2.5 MB)
Hagen
Male Human
Cleric (Storm Warpriest)
Level 1, GoodDownload (2.6 MB)
Merric
Male Halfling
Rogue (Thief)
Level 1, GoodDownload (2.5 MB)
Quinn
Male Human
Fighter (Knight)
Level 1, GoodDownload (2.4 MB)
Sola
Female Elf
Cleric (Sun Warpriest)
Level 1, GoodDownload (2.4 MB)
I haven't spent a lot of time reviewing these pre-generated characters yet (I only picked up my kit yesterday). Hopefully Wizards did a more thorough review of these sheets than they did of the Dark Sun ones used for season 2. Based on my initial review, these characters look at least a little bit more optimized than our six Dark Sun friends were.
UPDATE
On the Wizards of the Coast, Dungeons & Dragons forums Roger Davis (posting as hoofrog) provided PDFs of all six pre-generated character for download.
Level 3 characters are available now for download as PDFs or character builder files.
Visit the Dungeon's Master D&D Encounters Archive for all of our ongoing weekly coverage as well as other great D&D Encounters articles and resources.

Looking for instant updates? Subscribe to the Dungeon's Master feed!