Mr. Pink: Hey, why am I Mr. Pink?
Joe: Because…
Mr. Pink: Why can't we pick our own colors?
Joe: No way, no way. Tried it once, doesn't work. You got four guys all fighting over who's gonna be Mr. Black, but they don't know each other, so nobody wants to back down. No way. I pick. You're Mr. Pink. Be thankful you're not Mr. Yellow.
Mr. Pink: Mr. Pink sounds kinda wimpy. How 'bout if I'm Mr. Purple? That sounds good to me. I'll be Mr. Purple.
Joe: You're not Mr. Purple. Some guy on some other job is Mr. Purple. Your Mr. PINK.
Mr. White: Who cares what your name is?
Mr. Pink: Yeah, that's easy for your to say, you're Mr. White. You have a cool-sounding name. Alright look, if it's no big deal to be Mr. Pink, you wanna trade?
Joe:Hey! NOBODY'S trading with ANYBODY. This ain't a city council meeting, you know. Now listen up, Mr. Pink. There's two ways you can go on this job: my way or the highway. Now what's it gonna be, Mr. Pink?
Mr. Pink: Alright, I'm Mr. Pink. Let's move on.
Joe:I'll move on when I feel like it… All you guys got the message?… I'm so mad, hollering at you guys I can hardly talk. Pssh. Let's go to work.
– Reservoir Dogs
Ever have one of those nights? Two of your players keep butting heads, constantly arguing about what the party should do. Perhaps one of your players is trying to play someone else's character, constantly telling them what to do. The player thinks they are being helpful, but really the player has become The Gaming Jerk. You can see the writing on the wall and things aren't going to end well. What do you do?
Maybe you have another problem. A player constantly disagrees with your rulings. Sometimes they are right, sometimes wrong but you're trying to keep the game moving. You're following the Eight Rules That Will Make You A Better DM, but you aren't having any luck with this particular player. It seems they are taking more delight in slowing down and ruining the gaming experience for everyone at the table than just moving on. How do you handle them?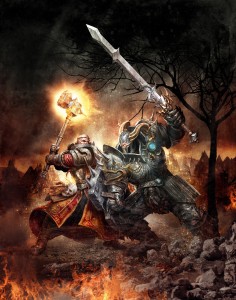 The quote above from Reservoir Dogs illustrates how a simple disagreement can catapult into a discussion that could derail your game. Luckily for you, you're Joe the DM, and that means you ultimately call the shots and your rulings are final. But how do you communicate that and maintain the peace at the table?
You Are The Authority Figure
As the DM you are the authority figure at the table. This doesn't mean you are the oldest, wisest, smartest or even most mature. It does mean you are in charge. You don't have to know the rules better than everyone else, though you should have a good grasp of them. Your job is to keep the game running, and to make it challenging and enjoyable. You are a facilitator. Without you, there is no game. So when a player or players develop a conflict it's your role to maintain the peace and keep things moving. If you make a decision, even if it is the wrong one, that's it done and settled. The details can be addressed after the gaming session and if you're wrong I hope you would be humble enough to admit it and move on.
Often rookie DMs will get intimidated by experienced players at their table. These DMs often get pushed around and let these experienced players dictate the resolutions. This is ok to a point, just be sure to speak up. If you don't and you disagree with a decision down the line you may find that you opinion isn't being listened to or considered which is not the situation you want.
If You Have To Address A Conflict
As the DM other players at your table are going to look to you to handle any conflicts that occur at the table. This is especially true if you are playing in a LFR or D&D Encounters where the players may not have known each other before they sat down to play. There are multiple ways to handle any type of conflict and how you decide to address the situation will depend on your unique situation.
If the game is a one-off or convention game and you are never going to see these players again let the table know that your decision is final. The players can stop their bickering and the adventure can proceed. Be forceful and keep the game moving. You don't need to be right, although it helps. You do need to be confident and assertive.
If the game is re-occuring such as D&D Encounters, make your ruling and then speak to the disruptive player after the game or before the next week session starts. Simply let them know you found their behaviour disruptive and ask them to tone it down or cut it out.
For groups that meet regularly the process for addressing a conflict is usually handled differently. Normally, the ruling made stands and things are worked out in between gaming sessions. If a player is being rude or offensive other players will put them in their place and things move on. The Dungeon's Master team has been gaming with the same core group for over 10 years. When a dynamic like this exists and the players at the table are friends as opposed to just players at the table, the process for resolution again changes. A disagreement over a game isn't worth a friendship and so things are normally resolved quickly and without difficulty.
Conflict at the gaming table is a distraction and it isn't fun for anyone involved, which is everyone at the table. As the DM you want to be assertive and keep things moving. Address concerns as needed and remind your players why they are gathered around the table. D&D is a game and we're there to have fun regardless of any difference we may have in how an event or encounter is interpreted.
Have you ever had a full scale confrontation at your gaming table? How did you handle it? As a DM do you tend to let other dominate players run the table or do you put your foot down and remind everyone who is in charge?

Looking for instant updates? Subscribe to the Dungeon's Master feed!