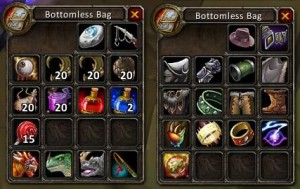 As an adventurer you discover all kinds of interesting items. Some of the items are mundane and others magical. The most obvious items are your weapon and armour. As you advance, your helm, glove, boots and cloak are all replaced by magical items that you have discovered. Eventually a point of saturation is reached and the only way to increase your power level is by gaining the next version of your current item. Advancing your magic weapon from +1 to +2 and so forth.
As your character advances in level wealth continues to accumulate and there is the ability to find or purchase additional magic items. Many of these items are consumables, but are still worth obtaining. I am a fan of items that require healing surges to power them. Especially for those defenders who have more healing surges than they could ever likely spend during the normal course of adventuring.
Listed below are six items that I obtain, where appropriate, for my characters. They provide characters with some extra punch and a level of survivability. Beyond that they are something to spend your gold on.  DDI subscription is required for the links.
The Salve of Power requires a healing surge to power it. What it allows is for a character to regain the use of an expended encounter power. I know there are countless times when I've used an encounter power and then two rounds later I've had an every more advantageous opportunity to use the same power. The Salve of Power allows me to double dip and use a character defining power twice in one combat.

I'm just going to list this items power, straight from the compendium. I'm not sure any further explanation is required.

Power (At-Will): Minor Action. Choose one creature you can see. You learn all the target's vulnerabilities, as well as which of its defenses is lowest.

Ok, I lied I have more to say. While you can gain this information from a monster knowledge check, it's a trained benefit only. Let's be honest most defenders aren't trained. On top of that most defenders have a spare minor action available to them. This item is almost a must have for every adventuring party.

How many arcane or divine powers have the sustain minor option? Quite a few. With a Desert Rose you can use your minor action on the next turn to do something else. Or if you are dazed you don't have to sacrifice your standard action to maintain a useful power. The Desert Rose is available at all tiers and is tied to power level.

Nothing is worse than missing with your game changing daily power. Sure it does damage on a miss and the effect might still go off, but you can't help but be disappointed. The Potion of Clarity can ease the pain of a flubbed attack role. Just drink it before making your attack and if you drop your wand or sword you're covered with a second roll.

The Syllable of Strength makes me want to train all my characters in Abyssal or Supernal. At 200 gp a pop this item grants you a +6 bonus to damage until the end of the encounter. No healing surge or daily item power to burn. The only down side is it takes a standard action to activate. If you know the combat you are about to enter is going to be a prolonged affair, sacrifice your first turn and reap the long term benefit this item will grant.

Every character should have a woundpatch. When you are low on healing surges every hit point gained counts and a woundpatch allows you to gain that extra benefit. The item is tiered at 5, 10, and 15 hit points per tier. At 23,000 pg I'm not sure the epic version is worth it, but the heroic and paragon tier versions definitely provide some added bang for their buck.
What consumables and wondrous items do you equip on your characters? Have they become difference-makers or do they just separate you from the crowd?
Related reading:

Looking for instant updates? Subscribe to the Dungeon's Master feed!