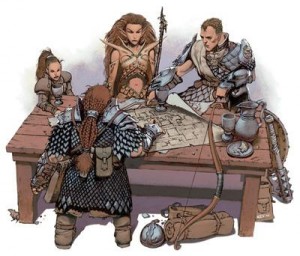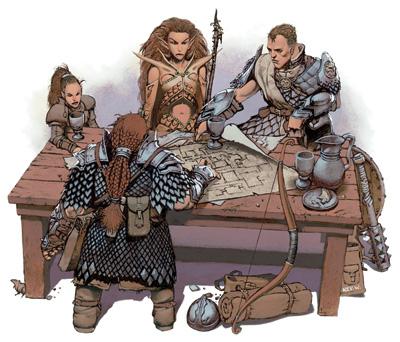 In reading Ameron's reports on D&D Encounters and in my own observations there seems to be a lack of role playing occurring in D&D. Another way of looking at it is, there are good role playing opportunities presented with combat encounters that just seem tacked on providing an excuse for combat.
The pace of 4e D&D combat tends to squeeze role playing out of the equation. I find this happening to the extent that 4e could almost be classified as a tactical combat game rather than a role playing game. The opinion might be extreme, but it does have merit. If you are looking to ensure that more role playing occur at your table and not sacrifice the fun that 4e tactical combat brings consider the points below.
Engaging Story – This might seem like a no brainer, but too many DMs put too little emphasis on the story. If your story is just an excuse to cobble some interesting combat encounters together your players are going to realize this and react accordingly. The result will be a minimum amount of time spent between combat. Don't get me wrong there is nothing wrong with non-stop combat, but if you want role playing it won't work. You need to focus on story first and provide your players with a compelling reason to meet you half way.
Controversial NPC – Introducing a NPC that the players aren't sure about is always a great way to get them engaged in role playing. In a recent campaign I had a NPC who filled the role of the quest giver. He kept the party busy for a while investigating some strange occurrences. However, the players always had the sense that this particular NPC was holding something back, that they were never being told the complete picture. This hunch that the player developed is something I fostered and encouraged. It caused the players to ask questions they might not have otherwise and forced them to explore the motivations of their own characters. As things turned out the players had a reason to be suspicious as this NPC also turned out to be the primary villain of that campaign arc.
Quick Challenging Combat – Combat in 4e is not generally a quick affair. As you climb in levels the amount of time each encounter requires seems to increase. While this is great for creating wonderful, tactical combat that requires a great deal of teamwork from your player it is not good at allowing for deep role playing to flourish. When a combat can take two hours to complete and players really hoping for two combat encounters in a session there is no room from role playing. The trick is to create combat encounters that are challenging, but don't stretch the clock in duration. This can be a two way street, if your players are slow on their turn there isn't much you can do to change things other than punish them.
What has your experience been with 4e and role playing? Does 4e tend to squeeze out role playing opportunities in favour of length combat? What techniques have you used to combat this trend?
Related reading:

Looking for instant updates? Subscribe to the Dungeon's Master feed!