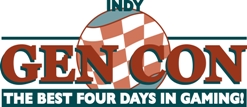 GenCon 2011 is quickly approaching. The best four days in gaming start in just 22 days on Thursday, August 4. This year I'm making the trip to Indianapolis solo. It will be my fourth GenCon. Here's what my schedule looks like. In addition to the events I've already got tickets for, I plan to try and get in on as many rounds of the Convention Delve as I can.
Dungeons & Dragons
As you know (or as you should be able to guess by now if you're a regular reader) the majority of my schedule is filled with D&D games. I was very disappointed to learn that there was only one paragon level LFR adventure being offered this year and I was shocked that there were no epic level games on the schedule.
Living Forgotten Realms
I haven't played much LFR in the past 6 months (except for a few level 1 games) so I haven't any idea which characters I'm going to play for most games. The characters I have that were legal last year will likely need some tweaking in order to be legal this year, most notably regarding their magic items. I honestly have no idea where to even begin looking for the details on how to make my PCs legal. If anyone can help me with this by providing a link in the comments below I'd be greatly appreciative.
I'm teaming up with the same guys I played with last year and we plan to win this time around. The pre-generated characters are apparently level 10, so that should give experienced players like us a huge advantage. Last year the pre-gens were level 25 which most of us had a lot of trouble juggling, especially under a clock. The finals are on Sunday morning, but if we're not among the best of the best competing I've got an LFR adventure scheduled in that slot just in case.
Thursday, August 4
8:00 a.m.
RPGA1126803
SPEC3-3 – Dance of the Sun and Moon (level 1-10)
7:00 p.m.
RPGA1126795
SPEC3-4 – Cerulean Dreams (level 11-20)
Friday, August 5
1:00 p.m.
RPGA1126817
2011 D&D Championship – The Fires of Mount Hotenow (level 10)
The characters are pre-generated.
Saturday, August 6
7:00 p.m.
RPGA1126791
ELTU3-6 – True Blue (level 1-10)
Sunday, August 7
8:00 a.m.
RPGA1126782
ELTU3-5 – It's in the Blood (level 1-10)
Board Game Tournament
When I call myself a gamer I usually mean that I'm a big-time D&D nerd. But in truth I'm a huge board game guy as well. When I get together with my family we always cards or board games. A couple of times a month I get together with my non-D&D friends and we play board games. My latest "favourite game" is Ticket to Ride. So this year at GenCon I've entered the Ticket To Ride tournament. The tournament is in Hall H if you'd like to come and watch or even participate.
Thursday, August 4
4:00 p.m.
Tournament Qualifier (BGM1118231)
Saturday, August 6
12:00 p.m.
Semi-Finals (BGM1118234)
2:00 p.m.
Finals (BGM1118231)
Seminars
Right now I've only got two seminars on my schedule, both hosted by Wizards of the Coast. However, in past years I've picked up a few others during the weekend and some of those last minute additions turned out to be fantastic. If you've got any good suggestions please leave me a note in the comments below.
Friday, August 5
10:00 a.m. – 12:00 p.m.
Playing D&D In Public (SEM1127781)
I assume this will focus heavily on D&D Encounters, D&D Worldwide Game Day and the new D&D in-store play program that begins in September. I think I'm looking forward to this seminar more than some of the games I've got on my schedule. I can't wait to hear more about the new program.
Saturday, August 6
10:00 a.m. – 12:00 p.m.
D&D Product Preview (SEM1127775)
The annual preview seminar is always well attended and a great look at what Wizards of the Coast plans to do over the next year. Will they be introducing a new campaign setting or announcing D&D 5e this summer? We'll know in less than a month.
Social Events
As much as I enjoy playing D&D while I'm at GenCon I have to admit that the social aspect of the con is also very appealing. When I tell my friends and family that I'm going to GenCon I then have to explain what it is and it doesn't take long before their eyes glaze over. Getting together with thousands of other gamers who share my passion for RPGs is absolutely my idea of a good time.
If any of our readers happen to have the same games in the same time-slots as I do, please feel free to join me for some D&D during GenCon. I'm also interested in meeting as many of our readers as I can this year. You know where I'll be so please come and find me. Just look for the guy handing out Dungeon's Master business cards.
I look forward to meeting many of our readers and my fellow bloggers next month in Indianapolis. For those not lucky enough to be going to GenCon don't worry, I'll post updates throughout the convention.

Looking for instant updates? Subscribe to the Dungeon's Master feed!