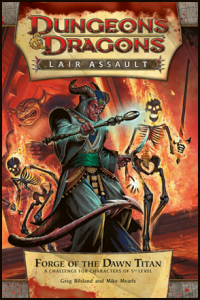 If you'd asked me yesterday what my favourite D&D product was I would have really struggled to give you an answer. Today I can answer you immediately – Lair Assault: Forge of the Dawn Titan. This adventure is awesome! I'm even going to go so far as to say that it's one of the best 4e D&D products released so far. Yes, I believe it's that good.
I don't want to ruin anyone's first time though the adventure so I'm not going to reveal any spoilers. Instead I'm going to share things that the players will learn as soon as they sit down at the gaming table, as well as my thoughts on some of the more interesting aspects of the adventure.
One Encounter
This entire adventure is one giant encounter. The PCs have exactly 4 minutes in-game to get in, accomplish their objective and get out. In the adventure is says 4 minutes (20 rounds), but I suspect that this is a typo. If a round is supposed to be 6 seconds then 4 minutes should be 40 rounds and not 20. We'll wait for a correction notice from Wizards just to be sure. In either case that's not a lot of time when you take into account the time required to get from room to room, especially when doors are potentially locked and booby trapped.
Since this is one massive encounter initiative is only rolled once. The party keeps this initiative throughout the entire adventure. With the clock ticking any changes in the initiative order will eat away your time while one PC delays and waits for the others to act. This might give some players more or less incentive to choose feats like Improved Initiative or feats that improve the Warlord's combat leader class feature.
Monsters and Terrain Features
Remember that every time you play through any Liar Assault things will change, including the monsters. Each time the DM sits down to run the adventure he can pick the monsters he wants to use from a specific pre-defined list. These include monsters ranging from levels 4-10. Yes, most of the monsters are more powerful than the level 5 PCs, including one level 10 creature. Keep this in mind when creating characters. Fighting everything to the death may not be the smartest way to try and defeat this encounter, but doing so will earn you the "Monster Slayer" general award worth 20 glory (but more on that later). Play smart or you're in for a long, tough battle.
Players looking for a real challenge can try to tackle the adventure in "Nightmare Mode." This gives the DM the green light to add more monsters to the encounter. If you manage to survive the adventure in Nightmare Mode you earn the "Epic Win" general award worth 20 glory.
Once again Wizards provided a spectacular map. And as an added bonus they provided terrain tiles for the DM to place each time he begins anew. Even though the dimensions of the room are constant, the obstacles and hazards within will change every time you play.
Character Creation Tips
I'm going to try and reinforce some general ideas here and not give away anything too blatant. Most of what I'm going to suggest is a lot of common sense stuff anyway.
The most important and often used skills are likely to be Athletics, Perception and Thievery. If your class doesn't give you the option to train these skills then think about spending a few extra points in Strength, Wisdom and Dexterity to make up for it. Feats that add to these skills, including multi-classing feats and Jack of All Trades are good options.
Never underestimate the value of Stealth. If you can get the entire party on board, a group of PCs that can all move undetected through the dungeon might actually have a chance of accomplishing the objective before any of the monsters even know that the heroes are there.
When it comes to feats you'll have to throw away some conventional wisdom. Normally I encourage everyone to take Durability, especially if they have a low starting Constitution, but since you're not going to get short rests I don't think running out of healing surges will be your biggest problem. I see Toughness as mandatory for everyone. Skill Training and Skill Focus should also be very high on everyone's feat list.
Knowing that the adventure is called Forge of the Dawn Titan and the fact that there is a Tiefling and Burning Skeletons on the cover, everyone and his mother should immediately try to get items, feats and powers that will provide some kind of fire resistance. Be forewarned that there are mechanics at play that will gimp some abilities, including resistances. Keep this in mind when choosing race. If fire resistance was your only reason for playing a Tiefling, think again before committing.
Creativity and Tactics
There is a lot going on in this adventure. Don't think for a second that you can walk in, kill all the monsters, accomplish the objective and walk out. It's not going to happen, I guarantee it. Remember that you're on the clock so every round needs to bring you closer to the objective. You won't have enough time to kill all 10-16 monsters, disarm all the traps and find the hidden things.
The key to success is going to be knowing when to run and when not to run. There's nothing that says you have to fight any of the monsters. Fight those that you need to but always ask yourself if defeating the monsters is necessary to advance. If the answer is no, then get moving. Bad things happen at specific time intervals so speed is as important as smart tactics.
Make sure you look around. There are a lot of Easter eggs in this adventure. Don't be afraid to try creative and unusual things. Take nothing at face value. The designers are indeed out to kill your characters, but they aren't completely heartless. There are some beneficial things places strategically within the dungeon that will help you. You just have to find them and realize that they are indeed helpful. None of the Easter eggs have signs indicating what they are or how to use them. Trial and error will be your friend.
Glory
There are 20 awards worth up to 200 glory. A player can earn each award only once for this challenge, regardless of the number of times he plays.
| | | |
| --- | --- | --- |
| General Awards | Description | Glory |
| Epic Win | Defeat challenge on Nightmare mode. | 20 |
| I'll Be Back | You get 20 or higher on a death saving throw. | 10 |
| It's Chrtmas | You score a critical hit. | 5 |
| Monster Slayer | Defeat every enemy creature in the dungeon. | 20 |
| Commando | You complete the challenge without using magic items or consumables. | 20 |
| One Shot | You drop a nonminion enemy from full hit points down to 0 hit points. | 10 |
| Racy Group | Your party defeats the challenge with a group in which all the characters are the same race. | 10 |
| Tough as Nails | You complete the challenge without spending a healing surge. | 20 |
| TPK | Every character in the party dies. | 5 |
| It's a Trap! | You disable a trap or hazard. | 5 |
| Challenge Awards | Description | Glory |
| Dungeon Mapper | Your group opens every door in the dungeon. | 10 |
| Give My Regards | You knock an enemy off a ledge or into lava. | 5 |
| I Regret Nothing | You fall off a ledge or into lava. | 5 |
| Lava Nice Day | You die from lava. | 10 |
| Speed Demon | Complete the challenge in five rounds or fewer. | 10 |
| Treasure Hunter | SPOILER | 5 |
| Vell's Foil | Your group defeats the challenge. | 10 |
| Secret Awards | Description | Glory |
| Secret 1 | SPOILER | 10 |
| Secret 2 | SPOILER | 5 |
| Secret 3 | SPOILER | 5 |
Included with each kit is a poster for tracking glory at your FLGS. This is an excellent way to motivate people to try Lair Assault and an even better way to get players who have tried it once to try it again.
Glory Tracker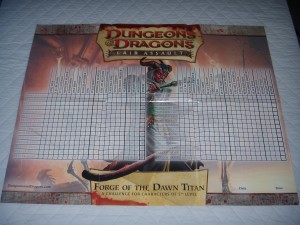 Glory Tracker Close Up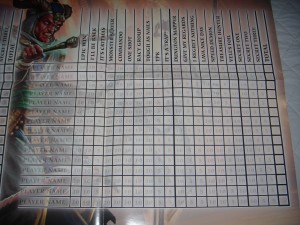 You can attempt to complete Lair Assault: Forge of the Dawn Titan beginning September 1. I'm really looking forward to running and playing this adventure. Once I've had a chance to run or play the Lair Assault a couple of times I'll be sure to write another article sharing my experiences. We'll try to record our sessions and post them as actual play podcasts so that you can listen to our experiences and hopefully learn from our mistakes. Good luck, everyone!
Related reading:

Looking for instant updates? Subscribe to the Dungeon's Master feed!