We vowed that we'd never write a post that was simply "Let me tell you about my character." However, I never made such a promise when it came to our gaming space. So let me tell you about my game room. Better yet, let me show you. As we approach out 800th article here at Dungeon's Master I thought it would be a worth-while exercise to let the readers see where we play and where the blog comes together.
Since moving into my house seven years ago I've hosted the weekly D&D game. Our gaming group is very tight, some of use knowing each other for over 30 years now, and a lot happens over that time. As we grew up and got on with our lives we moved away from the community in which we grew up and started families of our own. We play at my house because it's the most centrally located. One guy drives in an hour from the East and another an hour from the West.
We used to play at the dining room table but my wife put an end to that a long time ago. Now I have a dedicated game room (or as my wife calls it "The Nerd Room"). I have worked hard to put my own stamp on it and make it a place that I enjoy spending time. I've also done my part to make it suitable for a gaming group with seven people.
Below are photos of my game room. Take a look and let me know what you think. After you see my set up let me know just how big a nerd you think I really am.
Panoramic View
We begin with shots of the four corners. These should give you a pretty complete picture of what my game room looks like.
View#1 and View #2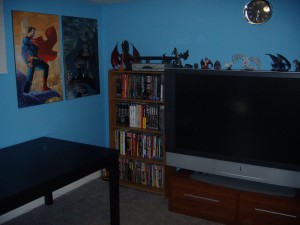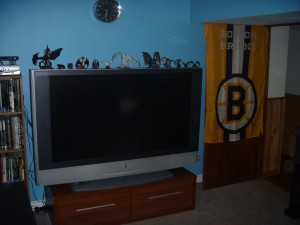 This is what I see when I'm sitting behind my desk. To my left are pictures of Batman and Superman, the middle is the big screen TV (with dragon minis on top), and to my right is my Boston Bruins flag. The black table in the first picture is large enough to sit 8 people around it comfortably, perfect for D&D.
View #3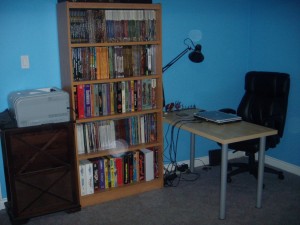 This is where the magic happens. This is where I write my blog posts and watch a considerable amount of TV. During game night we shift the table and the DM gets this seat. Nothing by the best seat in the house for the guy trying to kill your PCs.
View #4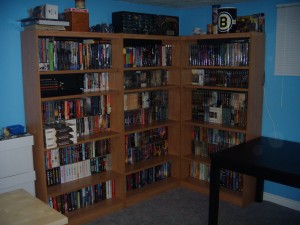 These are my novels. Scroll down for a closer look and a better description of what's on these shelves. On top of the middle bookshelf is the compartmentalized storage unit I use to store for my D&D minis and on top of the bookshelf on the right you'll see my Zombie Dice next to the Boston Bruins bin and my Orcus mini. The white boxes on the left hold back issues of Dragon Magazine and a lot of old D&D modules.
The Dragons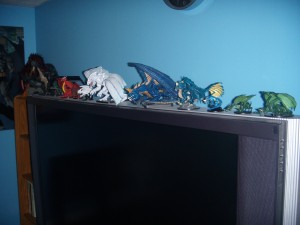 Here's a closer look at my dragon minis. Theses are just the chromatic dragons. There are 13 all together including the five from the newly released Dragon Collector's Set. I should mention that the gargantuan red dragon (on top of the far bookshelf) and the huge black dragon belong to Suddry, one of the other guys in my gaming group.
The Books
When you've been a gaming nerd as long as I have you accumulate a lot of books. I've seen other gaming bloggers post pictures of the books on their gaming shelves and decided to follow suit.
bookshelf #1 – Comic Trades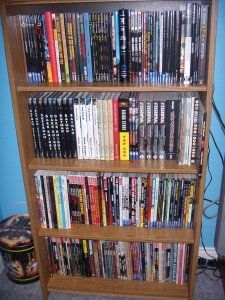 I'm a huge Batman fan so most of the books feature Batman or the Justice League. There's a good showing from Marvel and DC on my shelf (as well as in my 5,000+ issue comic collection) but I do read stuff from some of the other, smaller publishers including Rising Stars from Top Cow, Elf Quest from WARP, DMZ from Vertigo, Walking Dead from Image, TMNT from Mirage Studios, and of course Forgotten Realms from DDP.
Bookshelf #2 – Role-playing Games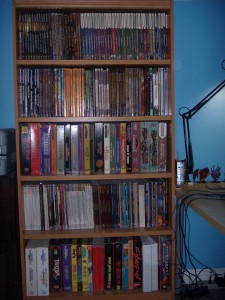 It shouldn't be any real surprise that the vast majority of this shelf contains D&D materials from all editions. However, I'm not a complete D&D snob. I have played a lot of other RPGs, many of which are still on my shelf including Top Secret S./I., Star Wars, Call of Cthulhu, Thieves' World, Outbreak: Undead, Cyberpunk 2020, Elf Quest, Marvel Super Heroes, and DC Heroes.
Bookshelf #3 – Novels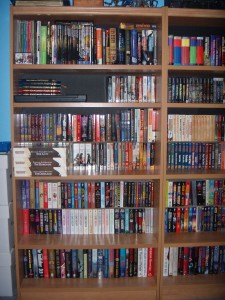 I read a lot and this is my overflow bookshelf.  It's a hodgepodge of comic trades, D&D novels, zombie fiction, and a very extensive sampling of works from Isaac Asimov, Clive Cussler, Jeffery Archer and Sidney Sheldon.
Bookshelf #4 – Novels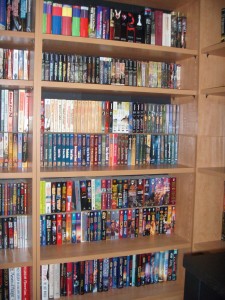 This bookshelf is where I keep my complete collection of Eberron and Ravenloft novels. There's also books form Dark Sun, Dragonlance, Star Wars, Harry Potter, Twilight (yes, I've read the Twilight series), Thieves' World, Fighting Fantasy, Guardians of the Flame by Joel Rosenberg, and the Ender series by Orson Scott Card.
Bookshelf #5 – Novels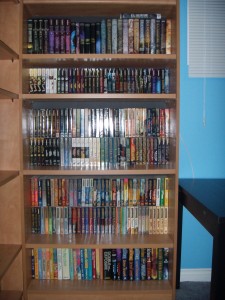 (The glare from the flash makes reading some of the titles difficult. Here's a slightly different view.)
This is my Forgotten Realms bookshelf. I own every Forgotten Realms novel ever written except one, Murder in Halruaa (does anyone know where I can get a copy at a reasonable price?). On the bottom shelf are Piers Anthony's Incarnations of Immortality series and the first dozen Xanth novels.
Dice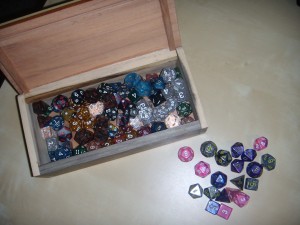 After taking pictures of my game room it occurred to me that this kind of profile should include a shameless picture of my gaming dice. The ones in the box (yes it's a cigar box that I use to hold all of my dice) are in waiting until my active sets, the ones on the table, let me down once too often.
Now that I've finish this vanity exercise what do you think? What is my game room missing? How does my gaming space compare to yours? Do you see anything on my shelves that completely surprised you?

Looking for instant updates? Subscribe to the Dungeon's Master feed!