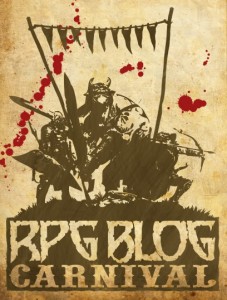 When it comes to fantasy role-playing there are a lot of things you have to just accept in order for the game to function. Magic exists. Dragons exist. Elves exist. I have no problems with any of these things. They may be fantastic but they're familiar and acceptable. But when it comes to the amount of gear a typical adventurer can carry in his backpack many players believe that anything goes. This is not a fantasy that I'm willing to accept. There needs to be some common sense applied some of the time to D&D and for me the buck stops with your backpack.
The way I see it there are two real issues when it comes to the reality of your backpack: 1) How much can it hold, and 2) How easily you can grab something out of that backpack in the heat of combat. I have had way too many players push the boundaries of what is actually possible in both cases that I've had to introduce a house rule when it comes to equipment the first thing that goes into any character's backpack is a healthy does of reality.
This month Game Knight Reviews wants to know "What's in *your* backpack?" as part of the August RPG Blog Carnival. I expect we'll see a lot of posts where people list off their favourite must-have items. Here at Dungeon's Master we've decided to approach the discussion from a slightly different angle.
Storage Capacity
Eventually any adventurer worth his salt acquires a Bag of Holding or some other receptacle with an extra-dimensional space. This was clearly invented for D&D when the first DMs realized that it was going to be physically impossible for heroes to carry all the fantastic loot they discovered while adventuring. Give them a Bag of Holding and the problems and additional recordkeeping that come with encumbrance are eliminated. Magic trumps physics and we move on. But until PCs get a Bag of Holding they have to rely on the more mundane, traditional way of carrying their wares, on their back.
A lot of players like to believe that as long as an item is recorded on their character sheet it's safely secured in their backpack. For the most part I'm ok with this interpretation. However, there are some exceptions. After all a typical backpack is, at best 2-3 feet long, so any item that is larger than that is not going to fit inside the bag easily. Now for most PCs the only things they'll have that are bigger than their backpack (and won't fit inside of it) are weapons and armor. Big weapons are usually strapped on their person somewhere (over their back or at their hip in most cases). Armor is always worn during an adventure and very few PCs will bring back-up armor, especially if it's metal simply because it's too big, bulky and expensive.
A disturbing trend I'm seeing a lot more often than I ever used to, are players who feel that they have to spend every gp during character creation that their PC gets at the beginning of play. After purchasing their weapons, armor, holy symbol, spell book or other adventuring necessities, they start going through the equipment list and taking one or more of anything and everything. This isn't necessarily a bad idea, but that reality that we put in the bag at the outset limits what you can actually get inside the backpack. In a recent adventure a PC claimed that he'd been carrying around three 10-ft poles since the adventure started. This was three levels later. This same character crawled through narrow fissures, and used disguise to pretend to be a town guard. Neither of these tasks would have succeeded if he had three giant poles sticking out of his backpack. Yet it was on his sheet so he stood fast and said he had it.
I'll admit that I'm not looking to add unnecessary recordkeeping to the game. I don't really want to worry about encumbrance, but players have to work with me. They need to apply some common sense and limit themselves to things that actually believe they could fit into a real backpack. You may have it written on your character sheet that you have two suits of plate mail but the reality is that this simply doesn't make sense.
It's funny because the carrying capacity by weight or volume never seems to be problematic when it comes to treasure. PCs have gold pieces and gems which I agree will fit into any nook and cranny of their backpack. By the time they have enough coins and gems for weight or storage space to become an issue they either spend the coins or convert them to greater denomination. It's the regular, everyday, mundane items that always seem to cause the most problem in these fantasy games.
Accessibility
Just because you've got a knife in your backpack doesn't necessarily mean that you'll be able to get to it quickly or easily. I realize that during combat no one wants to waste a lot of action taking off their backpack and routing around for that one specific item they need. In fact I'm usually pretty generous and forgiving when this happens. But again I do still apply a healthy does of reality.
I always assume that a standard D&D adventurer's backpack is full of pockets and compartments. The idea is that the things you're most likely to need (potions, scrolls, caltrops, a torch, more daggers) will be stored in an easy-to-get-to pouch or pocket. This is a good way to explain why it only takes a minor action to get at these items quickly when you need them most. But we must never forget the all-important dose of reality that's also in your backpack.
Items that you use often or are likely to need in an emergency are certainly going to be easy to access, but this doesn't apply to every single item in your inventory. Something has to be at the bottom of the bag, and it's usually the larger, bulkier things that are not usually needed in the heat of combat. I'm all for players being imaginative and trying to come up with alternative ways to use mundane equipment, but don't expect that you can retrieve anything and everything with a minor action.
Reality is Boring
Despite my insistence of having a healthy does of reality in your backpack the truth of the matter is that reality is boring. That's one of the reasons we play fantasy role-playing games in the first place, to experience the incredible and unbelievable. My preference is that players try to be realistic when it comes to what's in their backpack, but every now and then – as an exception – I will allow them to stow something that they shouldn't be able to, carry an item that is obviously too heavy, or just look the other way when they want something outrageous. I make this exception because it's often these things that will add a dose of humour or unexpected inspiration to an otherwise routine encounter. So as much as I want there to be a healthy dose of reality in your backpack, I know that there should still be at least a little bit of room for the fantastic.
What are some of the most outrageous things you've tried to carry in a regular backpack? As a DM what have you allowed that you knew was clearly impossible? How do you handle carry capacity in games where the Bag of Holding doesn't exist or is not readily available? Should players ever have to worry about encumbrance?
Related reading:

Looking for instant updates? Subscribe to the Dungeon's Master feed!