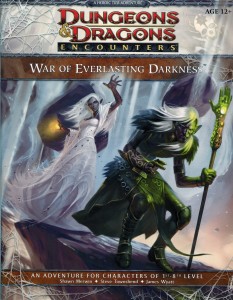 On October 24 D&D Encounters begins its eleventh season. This promises to be very different than any previous season of the program. For starters it's the first time PCs will advance beyond level 3. It will also bend some of the existing 4e mechanics and borrow elements from the D&D Next play testing underway right now. I've read over the materials and I have to say that I'm really excited. This is still 4e D&D and still D&D Encounters, but there is so much more happening this season.
This is the third and final installment of the Drow-themed Rise of the Underdark story-arc. By the end of the adventure the PCs will either crush the Drow uprising or be enslaved by the dark elves. It's up to you to fight The War of Everlasting Darkness and defend the surface world.
Below I'll provide a detailed preview of what you can expect this season. This will remain spoiler-free and will just give you the foundation of what you need to know to play. Hopefully it will entice more players to come out and try D&D Encounters or get veterans of the program to return and try this new format.
It's stated right at the beginning of the adventure that the elements of D&D Next they're really trying to incorporate into this season of D&D encounter are finding a balance among the three significant elements of the D&D experience: exploration, interaction, and combat (the "three pillars"); and making combat take less real-world time, to allow more exploration and interactions in a game session. In order to do this there are some tweaks to the 4e rules and mechanics that DMs and players need to be made aware of before they play this season.
The most significant change this season is that each week's session is a mini-adventure in itself. During each session players will have multiple "encounters," admittedly some of them will be short and quick. There are no short rests or extended rests during a play session even though the story may see the players spend hours or days between events of that week's session. This means that you can only spend healing surges when powers allow you to do so. Likewise all encounter powers are usable only once each week. They flat out state that they're not making any effort to explain this change in game, just accept it as a test of the modified mechanics.
At the end of each week's mini-adventure the PC advance to the next level. So the eight-week season will see the PC rise from level 1 to level 8. When the PCs level up they get all the normal benefits that come with an extended rest.
There is no random magical treasure awarded this season. Instead players should use the inherent bonus system for their characters described in the Dark Sun Campaign Setting and the DMG2. PCs will get a static +1 bonus to attack and damage rolls at level 2 and level 7. They get a +1 to all defenses at level 4. There are magical treasures awarded but they are specifically named and each has a specific purpose that will become more evident as the adventure progresses.
The overall adventure takes place over the course of two years of game time. Each week's mini-adventure covers a relatively short time frame (usually a week of in game time at most). Between sessions months will pass which helps explain how and why the PCs level up so often. It also helps explain how the PCs can be in such a wide variety of locations from week to week.
Many of the sessions have more than one combat encounter. However, when this is the case one of the encounters is usually against minions or just one opponent. In these cases they recommend not using a map and just describing combat. This will speed things up and allow you to cover more each week.
The scenarios are often dynamic and not as rigid or scripted and we've seen in previous adventures. Multiple options are presented in order to account for the flexibility and often unpredictability of players' actions. In some cases they can fight, flee or talk. With more going on each session avoiding combat won't kill the week's session. The advice is to let the story and role-playing guide the game and for the DM to just go with it if the players go in an unexpected direction. Having fun is a more important objective than railroading the party.
The session that stood out most for me was week 6. In this session the PCs have to help defend a town from the pending attack of a monster army. They have nine days in game to fortify the town and get things ready. Each of the town's defenses (catapults, riders, town watch, etc.) has a battle value. As the PCs do things to prepare the town's defenses these scores increases or decrease. When the attack finally happens the overall outcome is determined by the final battle value. The PCs being the heroes of the story have a fantastic confrontation with the monsters which has a huge bearing on the town's final battle value, so the fate of things truly is in the hands of the PCs.
These changes to the traditional weekly adventure have me really excited. I'll admit that after 10 season of the same old thing, the repetition became a bit stale. It seems that Wizards realized this and has taken huge strides to shake things up. Giving the PCs a chance to play higher level characters should entice a wider audience of players, including those who might have stopped coming out because they didn't want to keep playing the really low levels every season.
I'm predicting that this season will be the best yet and will recharge the Wizards public-play program. I think it will remind people that just because D&D Next is on the horizon there are still a lot of great reasons to keep playing 4e.
Character Creation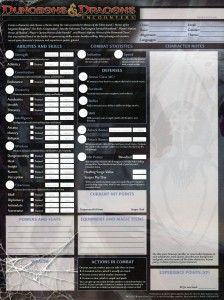 For the past few seasons Wizards has provided great paper character sheets for the players. This is one season where it might actually be a good idea to use them and create character without using Character Builder.
This season the characters can use any of the D&D Essentials books or any of the Player's Options books to make characters. This will open up a lot of races and classes that have not been legal over the past few seasons. With the characters leveling up every week DMs should strongly encourage players to play classes that follow the Essentials builds. They're easier to play and much easier to level up. For newer players or those without access to Character Builder simplicity is important.
Remember that leveling up is a part of D&D so DMs should help new players learn how to do this and not just take on the responsibility of doing it for all the characters. Having the paper sheets at the table might make this exercise a lot easier. Ideally leveling up should be done between sessions, but for the first couple of weeks you may end up spending the first 30 minutes of every session helping the group level up characters.
Although no new pre-gens were provided this season, if you need characters you can find every one Wizards has ever provided along with some fan-made ones in the Dungeon's Master Pre-Generated Character Library.
Amazing Maps
As we've come to expect, Wizards of the Coast has once again provided six fantastic full colour poster maps. The big difference is that this season some of the maps may never be used. As the sessions are quite fluid some weeks the players will have the option of where to have things happen. If they're in the town, use the town map; if they're in the wilderness, use the wilderness map. In some cases you won't even need a map. I'm really curious to hear how different groups handle similar encounters when they choose to use different maps.
Be sure to check out our D&D Encounters Map Gallery.
Rise of the Underdark Card Box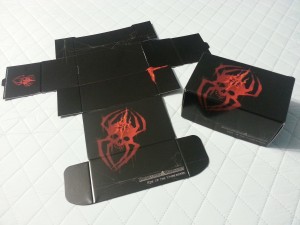 This season the player reward is not Fortune Cards (and there was much rejoicing!). Instead the reward is a great-looking card box emblazoned with the Rise of the Underdark logo. There may not be enough of these for every player so the instructions recommend awarding them to players with good attendance.
Initiative Tracker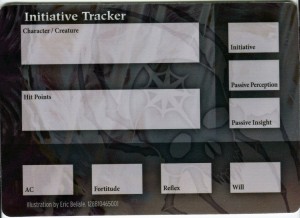 There's not really much more I can say about the Initiative Tracker cards that I haven't said before. They look great and they're convenient to use. If you've got Initiative Trackers from multiple seasons mixing and matching them will certainly make it easier to distinguish the heroes from the monsters.
Instructions
Poster
This season's poster shows the cover of the adventure on one side (as always) and has an excellent Rise of the Underdark Drow-themed poster on the other side. I've got to hand it to the Wizards' advertising department, they always do a great job with these posters. I was a bit surprised that they didn't include a renown tracker for FLGS to hang in their shop. I suppose they found few stores actually posted the results? Who knows.
I've included a close up of the Drow poster. I thought the Drider in the background deserved some attention. Looks great!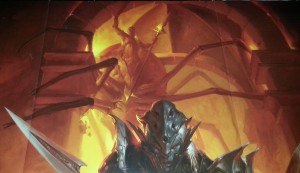 D&D T-shirt Advertisement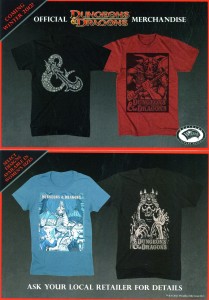 Included in the DMs kit were ads for D&D T-shirts. I guess we'll see these coming to our FLGS soon. No prices are listed. You now have all the information I have. They certainly look cool. I especially like the giant ampersand from the old D&D logo made up of dice. I think that's the one I want most.
The Adventure Begins
D&D Encounters: War of Everlasting Darkness (season 11) begins on October 24 and runs through December 19. Gather you friends, create a party, and do your part to fight in the War of Everlasting Darkness.
Be sure to visit Dungeon's Master every Thursday for our ongoing weekly coverage of D&D Encounters. Also be sure to listen to Recounting Encounter, the weekly podcast in which Alton (from 20ft Radius) and I provide our post-game report. Recounting Encounters is now available in iTunes!
Visit the Dungeon's Master D&D Encounters Archive for all of our ongoing weekly coverage as well as other great D&D Encounters articles and resources.

Looking for instant updates? Subscribe to the Dungeon's Master feed!