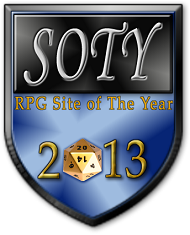 For the third year in a row Dungeon's Master is among the gaming websites in the running for the Stuffer Shack RPG Site of the Year (SOTY) Award. You get to vote for your favourite site in a round robin of voting. Today you have your chance to vote for Dungeon's Master on the first ballot. The top site from each day's voting will advance to the final where a panel of qualified judges from around the gaming community will decide on a winner.
According to Stuffer Shack they conduct the SOTY Awards as a "way of rewarding our community's awesome gaming bloggers. It's a celebration of gaming, showcasing the best of the best gaming blogs. It's a free contest in which readers submit their table-top gaming websites – in the hopes of taking home the prizes and SOTY Shield, but more importantly, the title of RPG Site of the Year."
In 2011 the SOTY went to Critical Hits. In 2012 the SOTY went to The Id DM. Which site will win in 2013? Hopefully it will be Dungeon's Master. If you agree, then we encourage you to visit Stuffer Shack today and vote. Thank you. Good luck to all the gaming sites in contention this year.

Looking for instant updates? Subscribe to the Dungeon's Master feed!