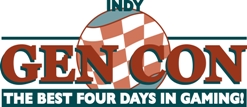 In less than a month GenCon 2013, The Best Four Days in Gaming will be upon us. I've been counting down the days since Christmas and according to the app on my phone there are only 29 days to go.
GenCon, like any gaming convention, presents you with the opportunity to play your favourite games, try new games, make new friends in the gaming community, and essentially geek out for four straight days. Every year I post my schedule for two reasons: 1) to highlight the great events I plan to participate in, and 2) to make it easier for you to find me at the con.
Here's what my schedule looks like so far. Some things may change on the fly but this is what I already have tickets for or what I plan to wait in line with generic tickets to play.
D&D Next
This year there is no Living Forgotten Realms (LFR) at GenCon. It's as if 4e is a dirty secret we're not supposed to remember or discuss. The only official 4e game Wizards has sanctioned is the D&D Championship (which I'll cover in the Competitive D&D section below). If you're looking for a D&D fix at GenCon it's D&D Next or nothing.
As soon as I realized this I encouraged my home group to switch over to the D&D Next playtest and I began running D&D Next tables at D&D Encounters. I wanted to make sure I was familiar enough with the rules that I'd know what I could do when I played and not feel lost while I was trying to keep up with the new playtest rules.
Thursday, August 15
8:00 a.m., RPGA1347683
10:00 a.m., RPGA1347684
Delve: Confrontation at Candlekeep
Candlekeep is under siege, and it needs adventurers to help protect it! Heed the call to defend the legendary monastery and stand against the tide of evil.
This adventure offers an interactive experience using the playtest rules, and participants receive the exclusive D&D Gen Con dice set.
The convention delve is traditionally a great adventure that shouldn't be missed. The delve was a consistent high point when I've played it at previous GenCons. The down side is that you can't purchase tickets ahead of time, you have to stand in line with your generic tickets and wait for an open table. I don't like that Wizards took this route again. My schedule is busy enough and waiting in line seems like a waste of time that could be better spent playing something else. However I'm a slave to D&D so I'll be in line like everyone else.
My plan is to get into one of the first slots on the first day. Hopefully others will still be arriving in Indianapolis or getting up at 8:00 a.m. on day 1. I've left enough time on the first morning that I can wait up to three hours. If I'm not in by then I'm passing on this one.
On the plus side participants get an exclusive D&D GenCon dice set just for playing. Last year Wizards awarded a special Drow die at each of their event stations, but it meant you had to play everything. I eventual got all the dice but it was a real time sink. This year I can get my dice simply by playing this one game. Between the chance to play D&D and the free dice I'll wait in the line.
Friday, August 16
8:00 a.m., RPGA1347673
8:00 p.m., RPGA1347676
Murder in Baulder's Gate Launch Weekend
Something foul is afoot in Baldur's Gate. An old evil stirs. On the eve of celebration, a brutal murder occurs. Will you answer the call for help?
This scenario launches the new adventure Murder in Baldur's Gate, and sends heroes catapulting into the events of the upcoming D&D Encounters seasons. The experience uses the playtest rules, and participants receive the exclusive D&D Gen Con dice set if they haven't yet received one.
Anyone who plans to play D&D Encounters season 15 should pencil in this event. From what I've been hearing online it sounds as if this adventure may be different each time you sit down to play it. It's with that hope that I signed up to play it twice. We'll see if I can get up to make the 8:00 a.m. slot on day 2. Playing in this event is another way to earn the free dice I mentioned above.
Competitive D&D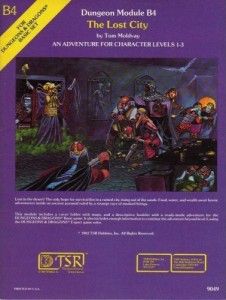 Thursday, August 15
1:00 p.m.
RPG1347714
2013 D&D Championship: The Lost City
The cult of Zargon threatens all you hold dear. Your only hope of stopping them lies below the ruins of their ancient city. A challenge for experienced players, this adventure features five 7th-level pre-generated characters.
The city of Cynidicea was once the capital of a rich and fertile kingdom. It fell into chaos and ruin when its people turned to the worship of a terrible monster called Zargon. Now, hundreds of years after the fall of Cynidicea, the cult of Zargon has returned, more dangerous than ever. The only way to stop them is at the source: Zargon must be destroyed. This year's Championship is inspired by the classic B4 "The Lost City" by Tom Moldvay. This event consists of an open entry round, with top-scoring tables participating in a final round on Sunday. The format and scoring have returned to a more free-form play style, so come try your hand at a return to the classic style of the D&D Championship.
I can play D&D any time I want with my home group, but I can only play competitive D&D at gaming conventions. I've participated in the D&D Open Championship in each of the previous five years I've attended GenCon. In my first year I made it to the finals but lost. Last year we placed 3rd and won some pretty great prizes. This year we're hoping to improve on our 3rd place finish by wining it all.
During a big sale at my FLGS I recently acquired a copy of the Tom Moldvay's original module B4: The Lost Cit that served as inspiration for this year's adventure. Hopefully knowing it by GenCon will give me and my team an edge.
Teams of five play against the clock and earn points by completing objectives and not dying. Teams that form before the con always have a competitive edge so we're looking to round out our team ASAP. If you're going to GenCon this summer and you're playing in this slot we want you to join the "Natural 1s" (the Dungeon's Master/20-Foot Radius team). Leave me a comment below or contact me by Twitter or email if you're interested.
Saturday, August 17
10:00 a.m.
RPG1340291
Fourthcore Team Deathmatch (FTDM) Championship Tournament

This is a contest of skill, wits, luck, and winning. Small teams are pitted against each other in a frenzy of carnage in a team-based, player-vs-player competition.
This is a contest of skill, wits, and luck. FTDM is about winning D&D. Small teams of 1st Level dungeoneers are pitted against each other in a no-holds-barred frenzy of carnage in a team-based, player-vs-player competition. The competition will consist of individual encounters called matches. Each match will last sixty (60) minutes. At the end of every match, the number of dungeoneer deaths will be tallied, and the team with the least number of deaths will be declared the winner. The winners will proceed to the Afternoon Finals match. Terrain powers and hazards will be displayed on our website. Fast, frantic play is encouraged. Any dungeoneer deemed to be stalling, delaying (including using the Delay or Ready actions), or in any way slowing the game will be killed ("gibbed") at the Dungeon Master's decree.
In this D&D competition the characters actually fight other characters in a timed and scored battle royal. Team Moose Hoceky Maple Syrup Eh? are the reigning 2012 FTDM Champions and we will be defending our title this year against some fierce competitors. We've already enlisted players to fill our vacancies and have a solid team ready to go. Good luck everyone else! (Trash talking is a big part of this event.)
Board Games
During the con I spend a lot of time in the board game hall. I try to play some new games and see others demoed to get a better idea of whether or not I should purchase them. I can't possibly play everything so I'm content to pick a couple of my favourites and see how I do against others with a competitive spirit as fierce as my own.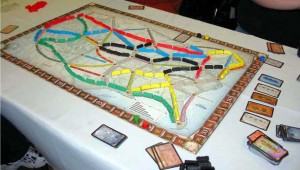 Friday, August 16
6:00 p.m.
BGM1340733
Ticket to Ride 1910 Variants
This is the game I teach new players who think that all board games are like Monopoly. This is a great entry-level, gateway game. It's also the one I've played most often over the past few years. I have all the routes memorized which gives me a huge competitive edge (call it cheating if you will). I've made it to the T2R tournament finals the last two years but was unable to win it all. Maybe this will be my year?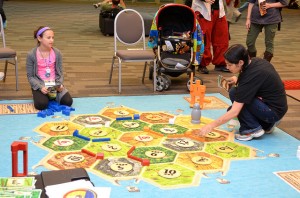 Saturday, August 17
1:00 p.m.
BGM1349061
MAMMOTH Settlers of Catan
The classic game of building and trading, on a set so large it won't fit on a table! Play this on our giant floor-carpet version of the game!
I love Settlers of Catan. I play it a lot at home. I wouldn't normally waste precious time at the con playing this one, but who can pass up the chance to play Catan on a board so big it needs to be on the floor! This event has a huge novelty factor for me, and if I can win so much the better. I can't wait to roll the giant dice.
D&D Special Events
At the previous few GenCons I've spent so much time playing games that I haven't had enough time to socialize and participate in some of the special one-off events that are unique to the con. This year I've registered for two very special events hosted by Wizards of the Coast. With the Sundering about to dominate the Wizards release schedule for the next year and the eminent arrival of the new version of D&D at next years GenCon I figured I'd better take in these two events so that I'm not left in the dark.
Thursday, August 15
7:00 p.m.
ENT1346625
A Night with Dungoens & Dragons
Spend the evening in Baldur's Gate at the official Sundering launch party! Mingle with D&D designers, authors, and other industry luminaries while enjoying food, drinks, music, adventure and more.
We already know that that the Sundering will crossover between six novels and five adventures that will be part of the D&D Encounters program throughout the next year. We also know that players can report the results of how things play out at their FLGS and the arrogate results will impact the outcome of this event. I want to know more and this seems like the player to find out.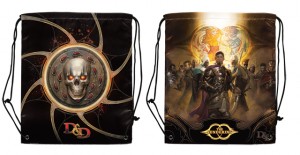 After I'd already signed up and paid for my ticket Wizards announced that they'd be giving away special keepsake Sundering dice bags at this event. Bonus for me, and another reason why you might want to check this out.
Saturday, August 17
6:00 p.m.
SEM1344169
Candlekeep Presents: The Harpers at Twilight
The Harpers of Twilight Hall have called for a gathering of sages, loremasters, and adventurers of all stripes to Candlekeep! Featuring luminaries Ed Greenwood, James Lowder, and many secret guests!
Join in fellowship with other fans of our beloved panoramic fantasy setting, the Forgotten Realms! This is the much anticipated sequel to 2012's first annual Candlekeep Seminar.
After hearing about how great last year's Candlekeep seminar was I wasn't going to miss it this time around. We heard some great fist-hand accounts when we interviewed Eric Scott de Bie that sealed the deal for me. If you're a D&D fan then this seems to be the place to be at GenCon on Saturday night.
Seminars
Friday, August 16
2:00 p.m.
SEM1346631
D&D Digital: Past, Present, & Future
D&D's digital future is brighter than ever and jam-packed with awesome new gaming offerings on multiple digital platforms. Find out what's in store for D&D in the present and future.
The only seminar I was able to squeeze into my schedule this year was this one. With so little on the D&D release docket this year (that we know of so far) I suspect this will be the go-to seminar for D&D enthusiasts and bloggers who want to see what's coming down the pipe. Perhaps Wizards will announce plans to release a D&D Next Character Builder, monster compendium, or apps for iPads, iPhones, and Android phones. I've also got my fingers crossed that they'll keep the 4e Character Builder active once the new editions of D&D is officially released. Hey, I can hope can't I?
Social Media
While at GenCon I'll be doing my part to keep my gaming peers up to date on what's happening. Expect a stream of Tweets throughout the con and perhaps even a few choice pictures. Since my cell phone plan is Canadian I've got serious data restrictions while in Indy but I'll still do my best to Tweet the important stuff. Be sure to follow me on Twitter (@ameron_dm).
GenCon is but four short weeks away. Are you going? What are you most looking forward to? If we have any of the same events booked, email or Tweet me and maybe we can game together. After all GenCon is all about meeting new people, trying new games, and having fun with like minded gamers.

Looking for instant updates? Subscribe to the Dungeon's Master feed!