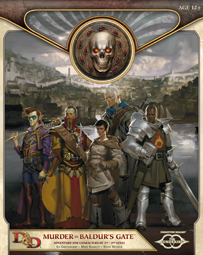 During the last session the PCs spent a few days investigating acts of vandalism throughout Baldur's Gate including the theft of hands from numerous statues around the city. When the hands from the Beloved Ranger statue were stolen the PCs led the investigation to recover them. They eventually captured two young nobles and recovered the hands from the Ranger statue.
About two weeks had passed since the events of the last session. The PCs had already earned a good reputation as heroes after their role in the events that happened on Founder's Day, but their part in the recovery of Minsk's hands elevated their reputations even more.
This week at Harry T North in Toronto we ran two tables of D&D Next. One of our DMs couldn't play this week and his group of six all agreed to just do a double session next week. Another DM ran a full table with his six regular players. I began with five players, but about 15 minutes into the session two more of our regulars showed up. So I ended up running a party of seven PCs: a Dwarf Fighter, Human Cleric, Half-Elf Paladin, Halfling Rogue, Elf Wizard, Human Monk and Elf Ranger.
We seem to have lost a few players over the past couple of weeks. I suspect that has something to do with everyone going back to school. I hope that as they get back into a regular routine we see them come back and possibly even bring a few friends to try our D&D. Most of my players read the weekly posts on this website and on the D&D forums so if they do return I know they'll have a pretty good idea of what they've missed and we won't have to spend a lot of time getting them caught up.
Sanitation Strike
The party is still working with the Flaming Fist and they are taking regular patrols along side the other mercenary soldiers. Every morning they receive a briefing in which a Fist Sergeant assigns active members their daily duties. Today they learned that there was a sanitation strike and a lot of people were not happy about it. As they carry out their patrol of Lower City they heard a lot of complaining and saw tempers flare over garbage.
During the next few days things got progressively worse. The Fist Sergeant realized that there wasn't a whole lot the Flaming Fist could do and suggested all members try to keep Baldur's Gate's citizens from lashing out at their neighbours over garbage disputes. In his desperation he went so far as to say that if anyone had any ideas on how to resolve the strike he encouraged them to share their ideas. Creativity would be rewarded.
The PCs decided to find some of the striking workers and ask them about what's going on. They have no trouble finding a dozen sanitation workers having beer and nachos at a tavern in Lower City. When asked about the strike they learn that Duke Adrian had promised that in the coming months the sanitation workers would get pay raises. With his passing the remaining Dukes have reneged on that agreement. They talk of more important matters and won't agree to honour the deceased Duke's promise. Until they put an agreement in writing the workers will remain on strike.
The PCs felt this was a reasonable course of action given the circumstances so they didn't press the issue. However they noticed one of the striking workers had a sizable coin purse and happily paid for a round of food and beverages. For a man without income he seemed pretty flush. When asked about it he told the PCs he won it in a card game. They completely flubbed their checks to detect deception so they moved on.
At this point the two late players arrived. When their PCs arrived at the tavern they brought word that Ravengard wanted to see the PCs at the Hissing Stones bathhouse.
The Hissing Stones
With all the trash piling up in the streets the stench was becoming exceptionally foul. There was no escaping it. As such the bathhouse was a very popular destination. The PCs cut the line by claiming official Flaming Fist business. However the proprietor wouldn't let them enter without paying. In light of the bathhouse's increased popularity he charged the PCs and all other patrons double the normal rate. They begrudgingly agreed to pay.
Once inside the PCs needed to completely strip. Fortunately they were all playing male characters (even the lone female player) so that made things a bit easier. They found Ravengard in a private sauna. Once alone with him he asked the PCs for a favour.
He explained that according to his sources his name was being thrown around as a possible successor to Duke Adrian. Although this was not a job he sought he would accept it if nominated. However, another name has recently started coming up as well – Wyllyck Caldwell.
Caldwell is a Wizard who specializes in alchemy and he made his fortune selling alchemically treated lumber. He's a good man but Ravengard doesn't feel he's Duke material. He's concerned that he's being coerced into accepting a nomination for Duke. He asks the PCs to talk to Caldwell and explain that he should publicly declare that he's not interested in becoming a Duke.
The PCs agreed to meet with Caldwell but did not like that Ravengard seemed to be using them to further his own political ambitions. They decided that they would not ask Caldwell to decline a nomination for Duke unless there was a really good reason.
A Meeting with Caldwell
On their way to the meeting, the Monk decided to follow-up on a lead pertaining to a bandit he was hunting down. During a previous session he managed to secure a bounty on a wanted scoundrel from Waterdeep named Quid. The Monk already scoped out one of Quid's haunts but didn't find him. He decided to check out another one while the party met Caldwell. His investigation took about two hours and despite making some friends by helping to clean up some garbage, he made no headway on finding his quarry.
When the rest of the PCs arrived at Caldwell's manor his servant told them he was sleeping. A small bribe got them in the door and had the servant wake Caldwell. When he joined the PCs he was still in his bedclothes and slippers (I described him as Professor Farnsworth from Futurama). He was clearly very old, enfeebled and a bit senile. Before the PCs could ask him anything substantive Caldwell's nephew joined them. The Ranger immediately recognized the "nephew" as Quid, the scoundrel the Monk was tracking. However, as none of the other PCs were aware of this, the Ranger didn't do or say anything to tip off Quid.
It became clear that Quid was manipulating Caldwell and was propping him up as a candidate for Duke. It seemed that Caldwell had a solution to the city's garbage problem; however Quid didn't want him to implement it until he was ready to announce his nomination. Quid asked the PCs if they'd endorse his uncle for Duke. They were reluctant to do so.
Meanwhile the Rogue and Wizard managed to sneak away fro the party and easily found Caldwell's lab. Among the alchemical equipment they found a book of summoning spells open on his desk. This was not the kind of magic Caldwell was known for so this was odd. They decided to steal the books and then rejoin the party.
As the party was leaving Caldwell's home the Ranger told Quid that he would endorse his uncle. He said he'd try to get the rest of the party on board too. He said he'd arrange for the party to meet Quid the following night to solidify their support and determine how they could be the most help. Quid suggested they all meet for dinner at his favourite restaurant to discus it.
A New Nominee for Duke
Once back at Wyrm's Rock the Wizard reviewed the spellbook. He realized that Caldwell had found a spell that would summon and tame carrion crawlers. They could be magically summoned into the city streets and eat the garbage. After a short time they'd then disappear. The spell was pretty straight forward and could easily be case again and again. When he shared this knowledge with the party they came up with a plan.
It was obvious that Caldwell was nothing more than a puppet for Quid and possibly others. But the party didn't necessarily think Ravengard was a better candidate either. They instead decided they would get Carl the party's Paladin nominated for Duke. After all the PCs were already heroes. They could use Caldwell's spell to clean the streets and give Carl the credit.
When the Monk learned of Quid's involvement he suggested they ambush him at dinner, have him arrested, and get him out of the way. This would take Caldwell out of the running for Duke and stop Quid from interfering once the party's plan started moving forward. Once Quid was dealt with the PCs would wait until nightfall and then start summoning the carrion crawlers to clean the streets. They felt that there was too much risk if they did it during the day when people were about and on the streets. At night there were fewer bystanders and less chance of any creatures accidentally hurting anyone.
While the Wizard gathered his components and practiced the summoning spell the PCs met with Quid. He had no idea he was about to get arrested and welcomed them to his table with open arms. The Monk used flurry of blows to punch Quid in the face three times. He hit twice, once with a natural 20. Quid fell face first into his food. The PCs explained to the patrons that they had a warrant for this man. That kept things calm and orderly. After collecting their bounty the PCs got ready for the big event.
The Wizard easily summoned a large carrion crawler and it gorged itself on the trash in the streets. He repeated this a few times and the beast cleared many of the most congested and disgusting streets. As this was happening, the party was knocking on doors and singing the praises of Carl the Paladin. The locals were flabbergasted. As they saw the result of Carl's creativity they instantly fell in love with him and rallied behind him.
As the Wizard continued to cast and recast the spell it eventually got more and more difficult for him to keep control of the summoned creature. Finally the beast wrestled control away from the Wizard. Instead of vanishing after the spell expired it duplicated. Two wild carrion crawlers began moving toward nearby locals. The PCs quickly put themselves between the monsters and the people.
The fight was the first real test this party had faced together. These beasts were powerful and dangerous so the party didn't hold back. However, they soon learned that the monsters could easily kill them if they didn't act intelligently. After battling both simultaneously they finally realized that they should focus fire. Once they changed tactics it was a lot easier. Everyone took a hit or two and at least half of the party fell victim to the creatures stunning poison. In the end the PCs defeated the monsters and that only made them look more heroic to the growing crowd of admirers.
Ravengard's Favour
When all was said and done the PCs returned to Wyrm's Rock. The story of their deeds preceded them and the fort was abuzz of their actions. Ravengard asked to speak with them privately. He thanked them for their creativity and initiative regarding the monsters and the garbage problem. They told him that Caldwell was not going to accept a nomination for Duke (now that Quid as out of the picture). Although this was what Ravengard asked for, he did not expect that one of the PCs would now be his main rival. He kept a calm demeanour but it was obvious that he was not happy at how things had turned out.
Thoughts
I had a lot more fun with this week's encounter than I did with last week's. Once again there was no combat in the adventure as written but I decided that there needed to be some fighting this week. As the DM I wanted to run a combat encounter and I knew that the players really wanted to kill stuff. So I made sure that happened.
In order to make the combat meaningful and dangerous I pumped up the Carrion Crawlers stats and gave them each 80 hit points, up from the 30 they should have had. Since the party had seven PCs I didn't see this as a problem. The fight took about 20 minutes of real time and everyone seemed to really enjoy it. However, even after just 20 minutes I remembered how boring D&D Next combat is compared to 4e. I think the key with D&D Next is to have lots of little fights against a variety of monsters and not one massive battle like you would in 4e. I'll have to keep this in mind the next time I throw in a combat encounter.
There was one other detail that DMs might have introduced this week involving a ceramic pot that the PCs discover in the trash. I decided to leave this detail out for now and will work it in next week. It just didn't seem to fit once I saw where the PCs were going this week.
With a PCs now vying for Duke I'll have to tweak some of the upcoming sessions. There are some tips in the adventure for what to do if the PCs decide not to support any of the three main NPCs and it seems like I'll have to start looking at those pointers. We'll see if the PCs continue to push for Carl as Duke or if they instead have Carl throw his support behind another candidate.
How did you PCs handle the sanitation strike? How did your party handle the meeting with Caldwell? For groups that are not aligned with Ravengard how did the DM handle his request for this favour?
Recounting Encounters Podcast
Recounting Encounters is a weekly podcast I record with fellow Toronto DM, Craig Sutherland, and Marc Talbot (Alton) from 20ft Radius in which we recount that week's experiences with D&D Encounters. We share the highlights from our respective FLGS and we talk about what worked, what didn't and what we might have done differently. Find all episodes of Recounting Encounters on iTunes.
Actual Play Podcasts
We continue to record our D&D Encounters sessions and make them available to you for download every week. These recordings are made in a loud, crowded game store so at times it may be difficult to hear everyone. Some language may be inappropriate for all ages, although we try to keep it as family-friendly as possible.

Harry T North (Season 15 Week 5)
Play Now
|
Play in Popup
|
Download
Visit the Dungeon's Master D&D Encounters Archive for all of our ongoing weekly coverage as well as other great D&D Encounters articles and resources.

Looking for instant updates? Subscribe to the Dungeon's Master feed!