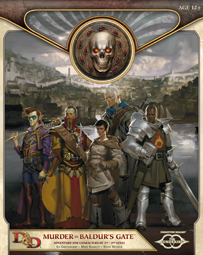 When last we saw our heroes they rescued a teenager from some kidnappers and bore witness to a massacre as hundreds of protestors were shot at by guards resulting in chaos and almost 200 deaths. The PCs helped with the aftermath, healing the wounded, but were angry and frustrated that they were unable to do more than watch as the terrible events unfolded before their eyes. They swore they'd do whatever it takes to ensure this kind of atrocity doesn't happen again.
We actually ran this session last week at Harry Tarantula North in Toronto as part of a double session because many players were going to absent this week. I think that made a big difference to how things played out as the massacre from week 8 was still fresh in everyone's mind and emotions were still running high.
None of the players left or changed tables between encounters so my party of six remained unchanged with the following PCs: Half-Elf Paladin (Carl McClure, candidate for Duke), Dwarf Fighter, Human Cleric, Elf Wizard, Human Monk, and Warforged Fighter.
The Riot
Although the adventure says that a few days pass between the massacre and the start of the riots, I decided that it made more sense to have the riots happen only hours after the events at the gate.
The PCs were still in Lower City helping the wounded and trying to understand what happened. They told Ravengard that they'd witnessed Skoond on the wall arguing with a bowman only minutes before he opened fire at the crowd. The archer was killed so he couldn't answer questions. Skoond was nowhere to be found.
As the PCs patrolled the streets cleaning up and helping people they realized that the citizens of Baldur's Gate were fed up. The tensions that had been growing were near a boiling point and the massacre at the gate was the catalyst needed to get the pot boiling over.
It didn't take long for the people to take to the streets and retaliate for the needless death of their comrades. The PC heard the growing rabble of hundreds of people heading towards them. It seemed that the entire Lower City was up in arms. People were mad and taking it out on the city and each other. A full on riot was in progress; growing as each minute passed.
The riot wasn't isolated to any one area or district. It was like a wildfire jumping from treetop to treetop, spreading in all directions without rhyme or reason. The PCs were in the heart of the city and realized that they would be hard pressed to get out without encountering rioters.
Learning from the massacre they witnessed during the previous session, the PCs as a party felt that the best way to calm the masses was to unite them under strong leadership. Since Carl the Paladin was already a well known and well respected figure in Baldur's Gate they decided to try and rally everyone behind him.
Since the rioters were not upon the PCs yet, they decided to try and round up supporters before encountering the mob. Regular folks were scared and hiding, they weren't interested in helping. However, the PCs found a few other patrols of Flaming Fist soldiers still in Lower City. With a little bit of convincing they rounded up 12 Fists to help them. Now 20 strong they decided to march slowly and carefully into the fringes of the riot.
Carl and his followers (all Flaming Fist soldiers) to move through the crowd taking no hostile actions and speaking to them calmly and diplomatically. When they reached a large open crossroads the party hoisted Carl up to roof of a nearby second story building. From that vantage point he was ready to address the crowd.
The Wizard and Cleric used their magic to create an impressive fireworks display. This got everyone's attention and the crown calmed down momentarily. Carl addressed them while the other PCs whispered helpful suggestions behind him.
The speech was powerful. It spoke of peace and friendship. It spoke of brotherhood and a community in which people helped one another. He acknowledged their frustration and outrage at recent events but insisted that this was not the way to implement meaningful, lasting changes. He pled for an end to the violence and asked for the people to help him stop the riots. Together they could lead by example. He called for all good citizens to work together, with the heroes and with each other, to wade into the riots and stoop the violence.
A few stellar Charisma rolls later from Carl and the party and the crowd was enthralled. They were looking for a charismatic leader and they found it in Carl. They stopped fighting and agreed to help. With the PCs leading the way the Fist soldiers and over a hundred former rioters walked deeper into the riot.
When the PCs reached another area of trouble and violence they made another impassioned speech. Again Carl convinced the people to stop rioting and help him calm the masses. The great rolls continued and another band of over a hundred people stopped fighting and started helping.
The PCs continued to do this at strategically significant spots in the city and each time the checks got easier. As more of the regular citizens fell behind Carl his words carried even more weight. After an hour or two Carl and those who heard his message had quelled the riots in the streets of Baldur's Gate.
Thoughts
This week's session is by far the simplest and shortest. The only real direction for DMs is "There's a riot. Have PCs deal with it." This provided the DM with a tremendous amount of creative freedom. It also meant that the session would be as long or as short as the players wanted it to be. After all they could, at any time, decide to sit back and let events play out around them.
Having just witnessed the massacre at the gate, my players were eager to make a difference once they realized something was brewing. However, the session still only took about 30 minutes of real time. Not a problem when smushed together with a two hour session, but it could have been if they'd played this session as it was intended.
Fortunately none of my players decided to use the riots as an excuse to fight, despite their yearning for more combat. I think most groups likely realized that their best chance of calming down the locals was through diplomacy, or possibly through bribery. It seemed odd to me that the PCs could have a direct impact on the events this week (the riot) but not so much last week (the massacre). As I mentioned last week the idea of scene in which protestors were attacked and then regular people taking to the streets to vent their frustrations was a little bit too close to some recent events for some of the players.
Based on the party's considerable success this week Carl the Paladin has become even more well know and his celebrity is unmatched by any other citizen. I think his rise to Duke is all but cemented at this point. But I'm sure some power players behind the scenes are not happy at how things are unraveling so that could still cause trouble for the party.
How did your table handle the riots? Did they get involved or just avoid danger? Did they take on a clandestine mission using the riot as cover? If they stopped (or tried to stop) the riot, what tactics did they use and were they successful?
Recounting Encounters Podcast
Recounting Encounters is a weekly podcast I record with fellow Toronto DM, Craig Sutherland, and Marc Talbot (Alton) from 20ft Radius in which we recount that week's experiences with D&D Encounters. We share the highlights from our respective FLGS and we talk about what worked, what didn't and what we might have done differently. Find all episodes of Recounting Encounters on iTunes.
Actual Play Podcasts
We continue to record our D&D Encounters sessions and make them available to you for download every week. These recordings are made in a loud, crowded game store so at times it may be difficult to hear everyone. Some language may be inappropriate for all ages, although we try to keep it as family-friendly as possible.

Harry T North (Season 15 Week 9)
Play Now
|
Play in Popup
|
Download
Visit the Dungeon's Master D&D Encounters Archive for all of our ongoing weekly coverage as well as other great D&D Encounters articles and resources.

Looking for instant updates? Subscribe to the Dungeon's Master feed!