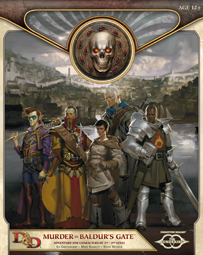 We've reached the end of another season of D&D Encounters. Murder in Baldur's Gate was a season unlike any we'd had thus far. It was a new kind of adventure and it introduced some significant changes to the way the D&D public play program works. Many long-time participants of D&D Encounters were upset that they now had to buy the adventure, but the quality of the product Wizards produced was substantive and quickly won over many of the naysayers.
There were plenty of good things about this season, but there were certainly areas for improvement. Today we'll look at the season as a whole and go over the good and the bad. We welcome your feedback and want to know if you agree or disagree with our assessment. We also want to hear about anything we missed that you feel was important.

Breaking news from Baldur's Gate!
Duke Torlin Silvershield became Chosen of Bhaal.
More details here.
Good
Plenty of Role-Playing
This season more so than any that came before it focused on role-playing. In fact there were many sessions where there was no combat and even no need to role dice. The PCs were caught up in the politics of a city in peril and due to their actions or inactions things happened. For players who wanted to get immersed in the story and really develop their characters, this season was a godsend (no pun intended).
Talk About Detail
The 32-page adventure booklet was packed full of great material. The 64-page Campaign Guide was better than icing on the cake. The sheer volume of quality stuff packed into these two books was absolutely worth the cost. Once the DM had a chance to read all of the materials it made running this season a lot easier. It also allowed DMs to veer off of the main story and easily introduce additional side quests involving actual people and places in Baldur's Gate.
Your Actions Matter
The ending to this adventure was not set in stone. Depending on what the PCs did throughout the season, each of the three villains scored points on the Bhaal Corruption Tracker. By the end the villain with the most points became the Chosen of Bhaal. If the PCs killed the three villains, or any one PC displayed multiple acts of violence, they could become the Chosen of Bhaal at the end. Regardless of who became the Bhaal Spawn the heroes eventually had a chance to overcome evil (and I assume most did by killing the Bhaal Spawn).
Launch Weekend
In order to generate excitement for the upcoming season of D&D Encounters, Wizards coordinated a launch weekend as the season began. It was an expanded version of the week 1 events. Players who participated in launch weekend certainly seemed to have a more vested interest in the campaign. It also brought in a few new players who stuck around all season long.
Any Edition
Providing official support to run this adventure as 3.5e, 4e, or D&D Next was genius. Although we only ran D&D Next this season, it brought in players who were more familiar with the previous editions. It did a good job of bringing players together despite their favourite version of the game.
Available Everywhere
This season was the first time DMs had to play for the materials. On the plus side you certainly got your money's worth (as we've already talked about above). By making it a regular product that anyone could purchase it opened up D&D Encounters to people who were not previously able to play at their FLGS. Now they can play the same adventure as everyone else in their own home, no matter where they lived.
Story Over Mechanics
With so much focus spent on providing a riveting story I didn't even realize that there was no guidance for awarding treasure or XP printed in the adventure. This was no doubt a deliberate choice since these details would change depending upon which edition you're using. Although I arbitrarily leveled up the PCs after a few sessions I didn't feel that it was necessary. I didn't award any magic treasure and only awarded a few gp during the season and none of the players felt they were missing anything. It's a compliment to the writers when the players are more focused on the story than the material rewards.
Bad
No Combat
With so much of the story spent focusing on the social maneuvering and politics, there was almost no combat. When there was combat it was minor and seemed insignificant. The overwhelming majority of foes the PCs faced were NPC rather than monsters so they had to pull punches and adjust tactics. Most players equate D&D with killing monsters. You can't go 12 weeks and only give them a real monster in the first and last session. There needed to be better balance.
Talk About Detail
Page and pages and page of detail. It's great but it was almost 100 pages worth. I didn't get my copy of Murder in Baldur's Gate until the day before I was expected to run the first session. I didn't have anywhere near the time required to adequately prep. I felt this way all season long and I believe it hurt my game. There's absolutely no way a new DM could pick up the books and run a session on the same day. This was something that D&D Encounters always had going for it and by changing their format it will limit the opportunities for new DMs to jump on board.
No Maps
Considering all the details that were provided, a lot of people felt cheated by the absence of maps. The tactical maps were a staple of D&D Encounters in previous season. I understand that given the non-linear nature of the adventure and the opportunity for PCs to pretty much go anywhere and do anything to accomplish their objective it was impossible to give maps for every possibility, but a few generic maps wouldn't have been a bad idea. How about just providing a full sized poster map of Baulder's Gate?
Your Actions Matter
Each week the three villains all put their plans into motion. If the PCs didn't stop them the villain got one point, but if the PCs did stop them they villain scored no points. Great in theory but on a few occasions it flat out said in the adventure that the villain's plan could not be stopped and they automatically score points that week. I disagreed with this and at least once my party did stop the unstoppable plot by trying some very creative tactics. Having the adventure tell me it automatically succeeded annoyed me and angered the players.
Launch Weekend
As good as the idea of the launch weekend is, I don't think the designers handled it as well as they could have. Many of the players at my FLGS played the launch weekend adventure. When they showed up the first weekend realized that they were going to replay the same encounter they were not happy. Take a page from Vault of the Dracolich – have the launch weekend be a stand alone prequel, not just an expanded version of week 1. Reward the loyal players for being at both; don't insult them and waste their time by making them play the same events twice.
Any Edition
The problem with making the adventure edition neutral was that no monsters were provided. Wizards made additional resources available on their website for all three editions, which was great. The problem is that the DM had to know this and prep it ahead of time. This meant extra time and expense to print them up and have them on hand during the games. Wizards made a big push to encourage players to use the new D&D Next rules this season. The problem was that the D&D Next rules are not finalized and as such they changed twice during the course of this adventure. Two of the DMs at my FLGS stuck with the version that was available during week 1, while the third DM changed as the new packets came out. It made things more confusing and complicated, especially when new players showed up mid way through the season.
Available Everywhere
Many DMs who participate in D&D Encounters have done so because they got to keep the adventure when the season was over. The exclusivity of the adventure and having something very few other DMs had was quite appealing. Now that it's just a store bought adventure that anyone can purchase I suspect some DMs may stop participating. Not only that but some DMs I know don't have an extra $30-40 on hand to make this kind of purchase every few months. I know some FLGS have been good about absorbing costs but they don't have to and I know many don't. The other problem we had was that some players who bought the adventure read it while they were playing. They essentially pulled back the curtain and saw everything. I don't know why a player would want to do that, but I know some did.
The Verdict
I think I can sum up this season with this one sentence: It works great as a home adventure, but is too complicated for D&D Encounters. The quantity and quality of the materials provided were well worth the price and will continue to be valuable to DMs who plan to use Baldur's Gate in their home campaigns. From a D&D Encounters point of view I think you got out of it what the group put into it. If your table was invested in the role-playing, political intrigue, and chance for character development then you likely had a great time. If your group just wanted to kill monsters they were likely disappointed. Groups that had the same players for the whole season likely enjoyed this season more than groups with changing players from week to week. If I had a chance to do this season all over again I'd try to coordinate the tables at my FLGS and run it like a battle interactive where all the tables are playing in the same setting and can influence each other's story. This would encourage each table to align with different patrons so that they could try and cover more ground and see what was really going on behind the scenes. It would be a lot more work to coordinate, but if done right it would make for a really interesting season. Based on my game play experience this season I'm giving Murder in Baldur's Gate an 8 on a d10. What were your thoughts on the season a whole? Do you agree/disagree with my points? What did I miss? What would you do differently if you played this adventure again?
Recounting Encounters Podcast
Recounting Encounters is a weekly podcast I record with fellow Toronto DM, Craig Sutherland, and Marc Talbot (Alton) from 20ft Radius in which we recount that week's experiences with D&D Encounters. We share the highlights from our respective FLGS and we talk about what worked, what didn't and what we might have done differently. Find all episodes of Recounting Encounters on iTunes.
    Visit the Dungeon's Master D&D Encounters Archive for all of our ongoing weekly coverage as well as other great D&D Encounters articles and resources. Follow @ameron_dm

Looking for instant updates? Subscribe to the Dungeon's Master feed!