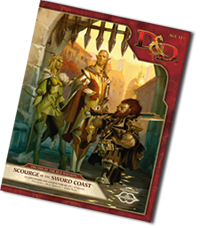 Beginning with D&D Encounters season 17 Wizards of the Coast is taking the program digital. The adventure Scourge of the Sword Coast will only be available from dndclassics.com as a digital download. No word yet on how much it will cost.
It also sounds like this adventure will only support D&D Next rules. As of yesterday (December 15) the D&D Next rules are no longer available as a free download from Wizards of the Coast. But don't worry; they will be available at dndclassics.com for digital download as well! And no word on how much they will cost either.
So beginning in February DMs will have to shell out for the adventure (in digital format) and for the rules (also in digital format). If DMs want hard copies it will be up to them to print off of the materials at their own expense.
The only thing wizards is still providing for free is the Launch Weekend kit which will come with a hard copy introductory adventure, special d20s, player maps, NPC cards and all the other goodies we've received over the past few seasons.
Personally I've come to terms with the fact that I have to pay for the adventure. I'm still not happy about it, but after seeing the final product for Murder in Baldur's Gate and Legacy of the Crystal Shard I felt like I got my money's worth.
Making the materials exclusively digital is going to take some getting used to. I imagine the reasons Wizards had for going digital were primarily dollars and cents. By eliminating the expensive costs of printing and shipping adventure booklets I assume Wizard stands to make a lot more money. Of course going digital means that people are a lot more likely to share one copy than all DMs buying their own, but that's the nature of the beast and I'm sure they've taken that into account.
Personally I'm still a pencil and paper guy. I like having the tangible pages on the table in front of me. But I realize a lot of gamers are going digital. With my home group five of seven players stopped printing character sheets and just have them handy on their tablet or laptop when we play. Giving DMs a high quality, high res, searchable PDF version of the materials will actually make things easier for a lot of DM. So as much as I'd prefer to have a nice copy of the adventure and campaign book in my hot little hands, I can't fault Wizards for opting not to give me that option anymore.
As far as the adventure itself, here's what we know or can extrapolate based on the few details we have so far. It sounds like D&D Next will be the only system supported for this seasons of D&D Encounter. That would make sense if Wizards is hoping to make a few extra bucks by forcing new DMs to pay for the rules download. On the other hand, if they keep providing 4e and 3.5e conversion notes it will encourage players to purchase 4e source books or the recently released reprints of the old 3.5e books. But we'll see. My money's on D&D Next exclusive for the next little while as Wizards tries to get all players on board leading up to the official release next summer.
The adventure continues the Sundering storyline (no surprise there). It takes place in and around Daggerford (South of Waterdeep on the SwordsCoast). The events in this new adventure are connected to events in Ghosts of Dragonspear Castle. This seems like a good way to promote the Dragonspear Castle adventure which coincidentally enough is also available for digital download from dndclassiscs.com (funny how that works, isn't it?).
The adventure won't contain a rigid structure as the older season of D&D Encounters did; rather it will be a free-flowing series of events that the PCs can interact with as they see fit. This is how things are set up in the current Legacy of the Crystal Shard adventure and it's working pretty well so far. It does mean that DMs have to keep an eye on the overall timeline and keep players moving at a reasonable pace. It may also mean a bit of railroading to ensure the adventure is completed within the number of weeks allotted for the season. The season begins with the Lunch Weekend on February 15-16. After that the players have 12 weeks to get through the adventure (Feb 19-May 7).
My hope is that the PDFs will be made available for purchase at least a few weeks before the adventure is set to being. In both of the previous seasons I didn't get my copy of the materials until a week before I was expected to run t. That didn't give me enough time to read everything before the first game and I felt like I was playing catch up all season.
I'm sure this change of direction will cause a lot of people involved with the public play program to kick and scream, and whine and complain. I reserve judgment until I see the price point of the PDFs, the quality of the materials, and the support (or lack thereof) for editions other than D&D Next.
What do you think of this move to PDFs only? Do you think it will help or hurt D&D Encounters? If it goes D&D Next exclusive will that make you any more or less likely to participate in D&D Encounters?
Additional reading:
Visit the Dungeon's Master D&D Encounters Archive for all of our ongoing weekly coverage as well as other great D&D Encounters articles and resources.

Looking for instant updates? Subscribe to the Dungeon's Master feed!