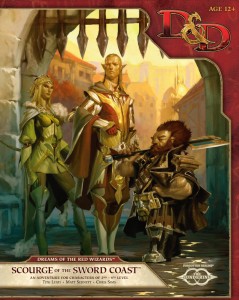 On Wednesday, February 19, we begin Scourge of the Sword Coast, season 17 of D&D Encounters. This is the first of a two part story arc called Dream of the Red Wizards that concludes next season in the adventure Dead in Thay. Scourge of the Sword Coast is also the third of five adventures in current story-line running through all Wizards product lines called The Sundering.
Any players or DMs who are familiar with the adventure Ghosts of Dragonspear Castle may recognize some of the locales and NPCs in Scourge of the Sword Coast. The events of this season's adventure take place after those of Ghosts of Dragonspear Castle.
A High Level Overview
So what's in store for this season of D&D Encounters? For starters, this season play is focused exclusively on D&D Next. No 3.5e or 4e conversions as there were the previous few season despite what we were told on the message boards and on Twitter by Wizards staffers. As much as I may not like this decision, it makes sense that Wizards wants everyone playing the new system with the official release coming later this year.
The PCs begin this season at level 2 and should reach level 5 by the end. Since this is being billed as part one of two, the expectation is that next season players will be allowed and encouraged to continue on with the same PCs they used this season. That would mean next season's adventure would likely be in the level 5-8 range. Of course this is just speculation as Wizards has not confirmed anything beyond the title at this point.
There is a Launch Weekend scheduled for February 15-16, but it is fairly lack-luster when compared to the last few Launch Weekends. If your FLGS sanctioned the Launch Weened in time they should have received their kits by now. Inside each kit is a poster map, a bag of special d20s, NPC cards, and 20 player handout maps of the Sword Coast (more on these below).
There is no special adventure booklet or mini-module for Launch Weekend like there's been before. If you want to run Launch Weekend then you just play the introductory section of the adventure.
And speaking of the adventure it's only available as a PDF download from dndclassics.com. That's right, there are absolutely no hard copies of anything adventure-related this season. A few seasons back we had to begin paying for the adventures (something I got over pretty quickly when I saw what I was getting) but now we don't even get a hard copy. The price of the PDF is half of what the printed copies went for last season, but it's still a big change.
Fortunately most FLGS should have received an email from the WPN that provided a direct link to dndclassics.com with a code embedded. This allows the FLGS to download a free copy of the PDF. All copies are watermarked and show the name and order number. This should cut down on illegal redistribution of the PDFs initially. My FLGS got their copy and immediately shared it with the DMs so at the end of the day I ended up getting my copy for free. I'm still on the hook for print outs but I can live with that expense.
The D&D Next rules are no longer available for free download on the Wizards website. Anyone who does not have the last packet will be pleased to know that each PDF copy of the adventure also comes with a zip file containing the D&D Next rules.
The Adventure
The adventure itself is actually pretty straight forward. It begins with the PCs heading to Daggerford. Once there they have plenty of opportunity to interact with the locals and get an idea of what's going on in the area. From there they have a chance to follow clues that will lead them to five different areas of interest in the area surrounding Daggerford. As they explore each area they'll find additional information that will give them a better idea of what's going on and where to go next.
As simple as this sounds there is a lot of material covered in this adventure. The notes in the adventure suggest the DM allot two full session for the players to explore each location outside of Daggerford. This time frame only allows for two sessions in Daggerford itself. Likely one or two at the beginning or maybe one at the end.
Based on my experience with D&D Encounters I don't think that will be nearly enough time to do a thorough job of things. DMs need to be very cognizant this season of how many weeks they have in which to complete all the important points in this adventure. It may be necessary to skip one of the locales to stay on track.
It's interesting to note that XP is not tracked this season. The adventure denotes milestones after which the PCs should level up. The monsters printed in the last 20 pages of the adventure PDF do not have XP values listed either. I doubt many DMs actually track and award XP during D&D Encounters public play, but for those how do (or did) you won't need to this season.
The way this adventure is set up with the PCs coming and going back and forth to Daggerford is reminiscent of old school D&D modules. The PCs have a home base where they can leave their stuff between runs and return to after they've completed their mini-quest. They know that they have a safe refuge where they can resupply and heal their wounds once the adventuring is competed. It should make for some interesting scenarios and possibly unorthodox choices during game play.
Maps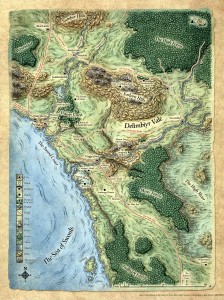 Since D&D Next doesn't really need or make use of grid maps like 4e did, large poster maps are no longer provided. However, two maps were provided with the Launch Weekend kit. One was a map of the Sword Coast and the other a map of Daggerford. The two maps were printed side-by-side on one side of the poster map included in the kit.
Also included in the Launch Weekend kit were handout maps like the ones we had last season. This time the handout is the Sword Coast map. It's the same one printed on the DM's poster map, just smaller (8.5 x 11).
For more maps, be sure to visit our D&D Encounters Map Gallery for all the maps Wizards has provided with the D&D Encounters adventures since the beginning.
NPC Cards
Another DM resource provided in the Launch Weekend kit were two packs of NPC cards. Each package contained 6 NPC cards (shown below). On the back of each is a brief description of the NPC along with pointers for how to run them. None of the NPC's game statistics are printed on the cards.
I found these cards really useful last season. It helped me and the players remember who was who, especially early on when they were meeting many new NPCs each session. The only down side is that if an NPC has a card provided it's a pretty good tip off to the players that this is someone important or at least important to the greater story.
Lord Darfin Floshin
Curran Corvalin
Sir Isteval
Jekk Ironfist
Maldwyn
Daggerford
Pencheska
The Free d20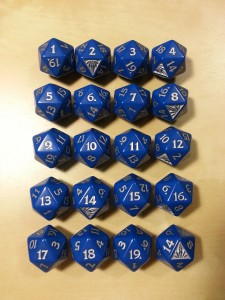 The final free goody in this season's Launch Weekend kit was a bag of d20s. This is the fifth season in a row where Wizards provided a free d20. This time around the dice are royal blue with silver numbers. The symbol on the "20" is a dagger, fitting since the adventure is set in and around the town of Daggerford.
It's up to DMs and the FLGS to decide how and when to award the d20s. These are exclusive to D&D Encounters and I've seen single d20s from previous season going for over $10 each online.
At my FLGS we've begun charging players a nominal fee to help offset costs. Once they paid we gave them a special d20 and a complimentary map (while supplies lasted). This encouraged new players to come back and keep playing rather than just get the collectible d20 and never return. It's up to you and your FLGS to decide what will work best with your group.
Instructions
The Launch Weekend kit came with the familiar instruction booklet. It provide a brief overview of what's in the kit, how to run Launch Weekend, and contact information for reporting and questions. I've scanned it and provided the pages below for your reference. Just click on the images to enlarge.
The Adventure Begins
D&D Encounters: Scourge of the Sword Coast officially begins on Wednesday, February 19. There is no week 0 for character creation any more, you just dive right in on the first week. If you want to run a Launch Weekend event at your FLGS, Wizards suggests you do it on February 15-16. Season 17 runs 12 weeks with the final session happening on Wednesday, May 7. Good luck and have fun.
Visit the Dungeon's Master D&D Encounters Archive for all of our ongoing weekly coverage as well as other great D&D Encounters articles and resources.

Looking for instant updates? Subscribe to the Dungeon's Master feed!