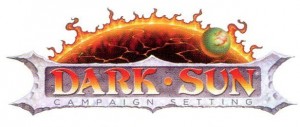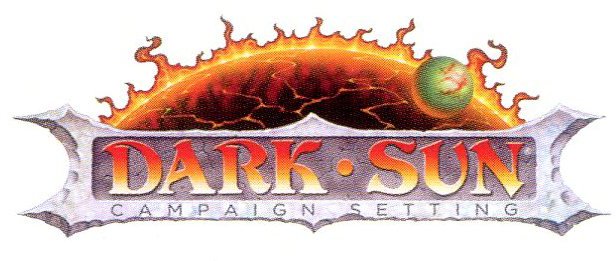 The Dark Sun Campaign Guide won't be out for another two months. But you can get your Dark Sun fix starting on June 9 when the the second season of D&D Encounters begins. The adventure – Dark Sun: Fury of the Wastewalker – gives players and DMs their first taste of Athas, the world of Dark Sun. Yesterday we posted the pre-generated characters Wizards of the Coast provided with the D&D Encounters kit. Each character has some flavour unique to the Dark Sun setting, including character themes. What are character themes you ask? Good question. Here is the sidebar from the page 8 of the adventure.
Character Themes
The Dark Sun Campaign Setting presents a new character option: a theme. All six characters included in this adventure have it. A theme is a career, calling, or archetype not tied to a particular class or role. Just as race or class helps to identify you, a theme serves to refine your place in the world. You might be an elf rogue, but are you an elf rogue dune trader, an elf rogue nomad, or an elf rogue who spies for the Veiled Alliance? Each theme offers a different twist on a basic concept. If a background details how or where your character grew up, theme describes how and why your character became a hero.
A theme embraces characters of any class. For example, many templar characters are warlocks, but a templar who serves chiefly as commander of the sorcerer-king's troops could be a warlord, whereas a templar who is part of the sorcerer-king's secret police might be a rogue. Similarly, gladiator characters are often fighters – but barbarians, battleminds, rangers, rogues, or warlords can be just as successful in the arena. "Templar" and "gladiator" are themes that, although particularly appropriate for warlocks and fighters respectively, extend beyond the warlock and fighter classes.
Combat in Dark Sun presents new perils now that you have to worry about whether or not your weapon will break during combat. Since Athas is a world where metal is extremely rare, weapons are made of inferior materials. But just because your weapon may break doesn't mean that you need to take it easy. Rule for reckless breakage present players with a new dynamic to consider during combat. Here is the sidebar from the page 8 of the adventure.
Weapons of Inferior Materials
Metal is so scarce on Athas that most armaments are made of bone, wood, or stone. These substances are weaker than metal and fracture more easily. A broken weapon is at best an improvised weapon. Damaged magic weapons loose their enhancements, properties, and powers until repaired. The following option simulates the relative fragility of nonmetal weapons, making combat more unpredictable and exciting.
Reckless Breakage: When you roll a natural 1 on an attack roll, your weapon has a chance to break. You can accept the result, automatically missing the attack as usual, but keeping your weapon intact. Alternatively, you can reroll. Regardless of the reroll result, a nonmetal weapon breaks once the attack is complete. A metal weapon breaks only if you roll a natural 5 or lower on the reroll. This rule gives you a say in whether a weapon breaks. You can play it safe and except the errant attack, or you can attempt to avoid a miss by risking your weapon.

Looking for instant updates? Subscribe to the Dungeon's Master feed!